Social Media Contest Management
Contest Management refers to a system of measures used to highlight an organization, service or brand's specific traits. By kicking off an attractive contest, you can showcase your products and services on a very public stage and drive new attention to your business.
There are several reasons why you might consider running a contest. 
Increasing Sales:

After creating awareness and getting new subscribers, the key benefit of running a contest is that it will also help you to increase sales. By running a contest, you can easily convert your potential leads into valuable, paying customers.
Increasing Engagement:

Contests are also fantastic for increasing user engagement online when you do them right. If your page is able to draw in new and relevant viewers, then it will be tremendously effective in helping to drive engagement (whether that be comments, shares, likes, etc.), because you have just successfully reached the right audience for your business. And since your page is relevant to these users' interests, then they are also going to stick around and keep up with any new developments or content you might put up in the future. You can also take this chance to establish a deep sense of connection between your brand and your customers, by running a contest that revolves around user-generated content, such as photos or video entries.
Building Awareness:

Successfully executing a contest can be extremely beneficial to somewhat young/new brands. If your efforts really take off and capture people's attention, then that is going to do wonders at getting your name out there and raising your public profile.
Gathering New Data:

With the appealing addition of entering to win a prize, many of your users will now be willing to share some of their information with you. This is a great way to collect new, useful data, as well as engage with your audience.
So if your team has been struggling to integrate contests into your campaign strategy, the social media experts here at Overdrive Interactive have the knowledge and experience to implement and manage contests to drive new engagement and capture new customers. Click to know more about our Social Media Services.
This definition is part of the Demand Ops Map. Get your PDF map with links here.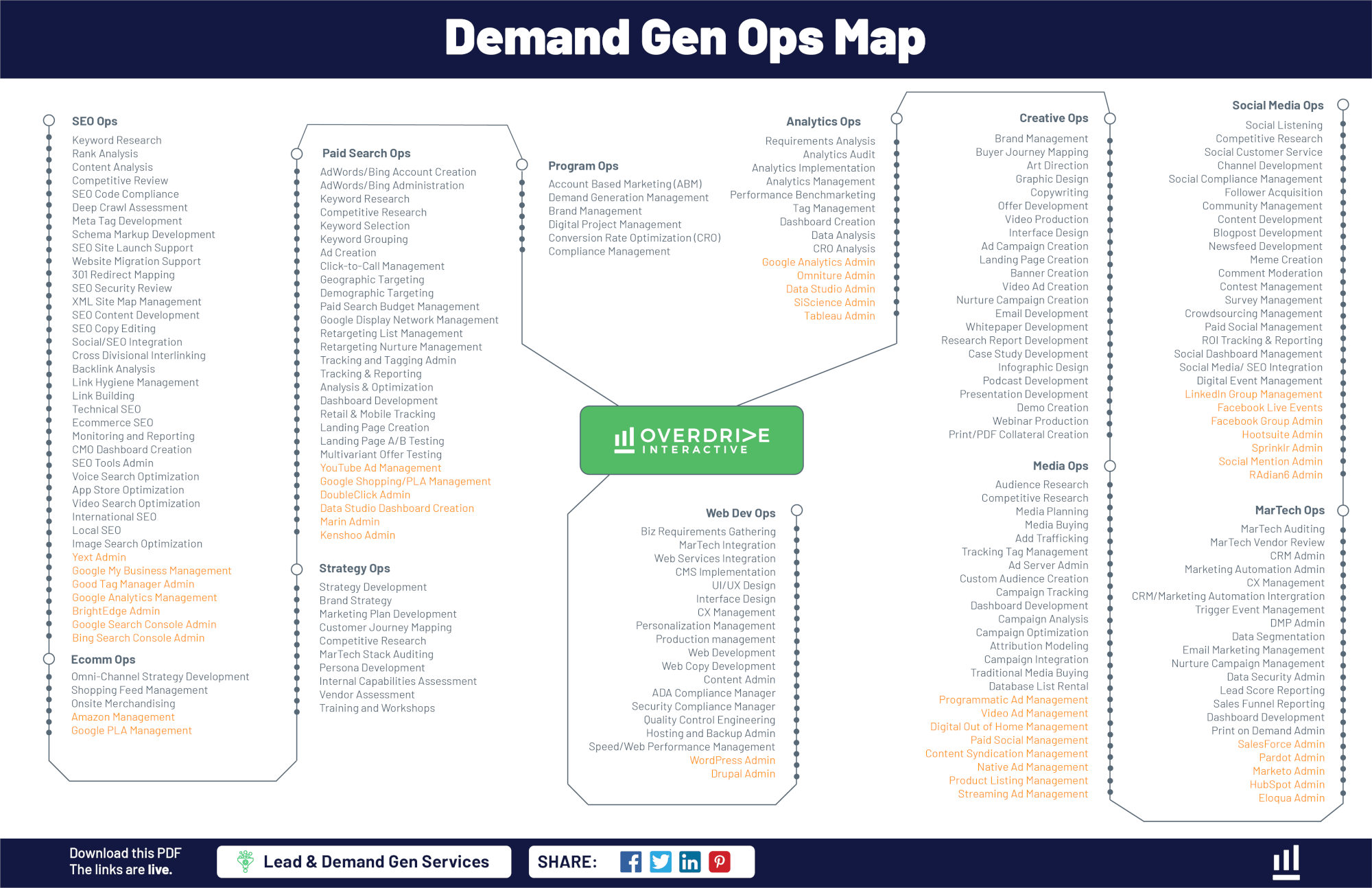 Click here to get the Demand Ops Map
Knowledge Center
Learn. Share. Succeed.
Benefit from our Demand Gen Expertise
Take action. Achieve your goals.