Yext Local Search Listing Management
Yext Local Search Listing Management with Overdrive
One of the pillars of local SEO strategy is maintaining consistent information about your company across the many business directories that users rely on to find your organization. When there are significant or even slight variations between listings, the confidence of Google in the accuracy and legitimacy of your business is eroded, and your ranking on search engine results pages (SERPs) will suffer.
Yext local search listing management technology is an industry-leading tool for managing location-related information on a wide variety of business directories. Yext helps to identify listing opportunities, audit active directory listings, and update listings to ensure that ensure information is relevant, active, and consistent.
As a certified Yext partner and a full-service digital marketing and local SEO agency, Overdrive can help to take advantage of Yext local search listing management to ensure that business listings are accurate and optimized across all business directories.
Crafting the Customer Journey
In order to optimize your website performance, one must truly be able to visualize an end-to-end customer journey and experience! You need to understand how all the media, marketing stack components and action-oriented creative of modern marketing fit together to drive initial contact to potential prospect and eventually a satisfied customer.
Watch Harry J. Gold, CEO of Overdrive, explain how all the elements of digital marketing work together, so you can succeed!
Access Now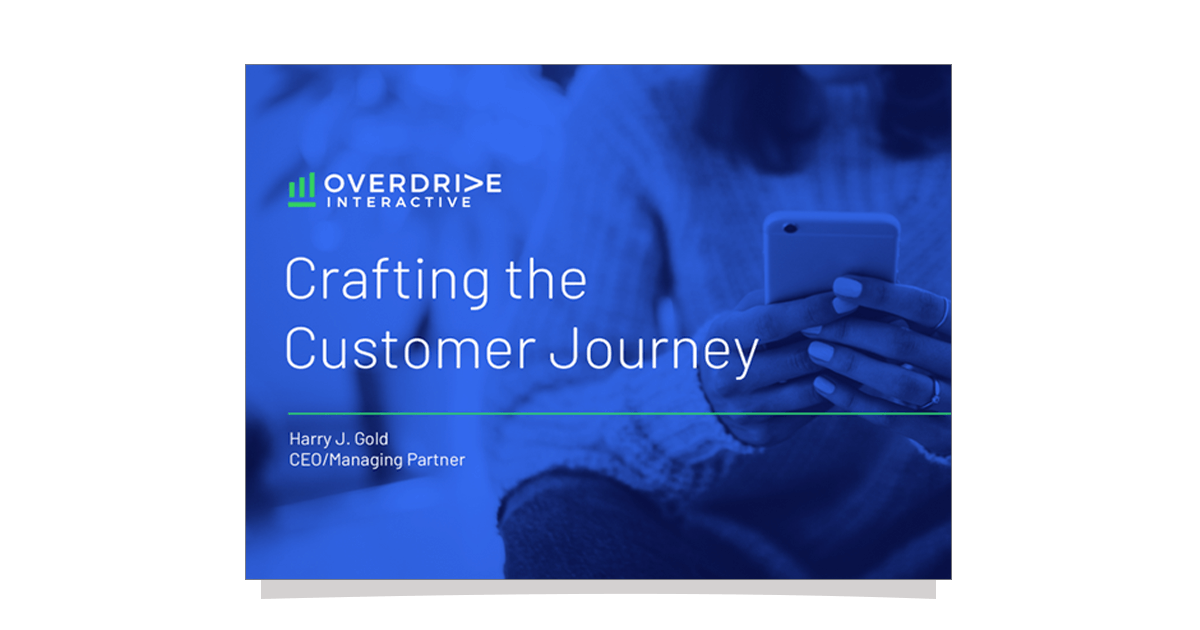 Why Do I Need Yext Local Search Listing Management?
Nearly half of all searches on Google today have local intent, and more than 75% of people who perform a local mobile search visit a business within 24 hours. Clearly, local SEO is essential for marketing businesses with any kind of local footprint, from one-store brick-and-mortar operations to healthcare, banking, real estate, and insurance marketing teams promoting multiple locations and branches.
Customers search for information about businesses on many platforms, and business listings receive 2.7 times more views than a brand's own website. Ensuring that information is presented accurately and consistently is not only important for building trust with buyers, it's critical to building trust with Google and improving rankings on search engine results pages. However, tracking, and correcting listings on all business directories is a challenge for time-starved SEO teams, and many businesses aren't even aware of all the platforms where their business listing appears.
The Yext local search listing management platform integrates with hundreds of directory listing sites to ensure that business information is accurate, consistent, and optimized, enabling users to have rich experiences and search engines to have confidence in business data.
Search Marketing Map
Wrap your head around Search Marketing with the latest Search Marketing Map. Updated with 26 categories that account for 260 of the best sites, tools and resources of today. The Search Marketing Map helps marketers quickly become better marketers.
Access Now
How Does Yext Local Search Listing Management Work?
Yext ensures that your business can be found everywhere consumers search, including Google and Google Maps, Amazon Alexa, Facebook, Yahoo, Bing, Yelp, and Apple Maps. Yext local search listing management gives you control over the information about your business across 150+ directories and digital services, delivering information from one central source of truth and ensuring consumers find accurate data no matter where they search.
Yext local search listing management technology also enables:
Rich media. Because enhanced content receives more than 4x views than static content, Yext lets businesses provide a rich media experience to achieve higher differentiation from the competition and drive greater results.
Featured messages. Yext's clickable Featured Message turns paid search listings into measurable marketing opportunities with a free, 50-character clickable field that appears across each listing.
Google Q&A. Yext lets you monitor and answer questions that customers ask about your business on Google and sync pre-answered FAQs to provide answers before customers ask.
Social posting. Yext Social Posting helps to maximize paid social advertising with posts that add to organic reach, simplifying the task of managing local social posting at scale.
Empower Yourself
A good online strategy unites all the moving parts that comprise a consumer's digital journey and the path to purchase.
Visit Overdrive's Knowledge Center to prepare yourself and your team with the practical steps and best practices that organizations need to master to successfully launch a digital marketing platform that delivers the full power of the web.
Get access to guides, reposts, videos, templates and much more.
Access Knowledge Center
Overdrive Services for Yext Local Search Listing Management
As a full-service digital marketing agency, Overdraft Interactive provides comprehensive SEO services – including mobile SEO strategy services – while also enabling you to integrate SEO best practices into copy, content, and campaigns throughout the organization.
Overdrive is a leader in digital and search marketing based in Boston. In addition to end to end marketing services, Overdrive provides strategy, content, execution, and reporting services to augment the capabilities of in-house SEO teams. Our experts can provide Yext local search listing management services that enhance local SEO results while allowing businesses to direct valuable SEO resources to other priorities.
FAQs: What Is Local Listing Management?
What is local listing management?
Local listing management is the task of ensuring that business details – including the name of the business and location and contact information — are represented accurately on online business directories. Accurate representation not only helps to increase consumer confidence in a business, but to improve ranking on search engine results pages.
Why should businesses optimize local SEO?
Buyers are increasingly using search to find local businesses. Nearly half of all Google searches are local searches, and more than 75% of people who perform a local mobile search visit a business within 24 hours. To compete effectively, businesses must optimize websites and content to improve rankings for keywords in terms related to local search.
How does Yext improve the process?
Yext simplifies and automates the process of providing accurate and consistent information to online business directories. Yext integrates with 150+ online directories to deliver business data from a single source of truth.
What is an online business directory?
An online business directory is a listing that provides specific information about businesses, including the name, address, and contact information along with services and products that are offered.