Healthcare Marketing Analytics
Master Healthcare Marketing Analytics with Overdrive
Healthcare spend continues to rise, creating ample revenue opportunities for healthcare providers, payers, pharma companies, and healthcare vendors. With the healthcare marketplace becoming more complex than ever: from increasing competition and evolving reimbursement models to nontransparent purchasing processes, healthcare marketing professionals face enormous challenges when seeking to reach target audiences or increase market share.
Precision healthcare marketing analytics can help cut through the confusion, focus medical marketing initiatives and budgets, and continually refine programs to drive higher ROI. From measuring the success of demand and lead generation programs to optimizing conversion rates for local SEO campaigns and improving return on marketing spend, mastering healthcare marketing analytics is the key to achieving the performance results and revenue goals your C-suite demands.
As a full-service digital advertising and healthcare marketing agency, Overdrive can help you identify, configure, and monitor the metrics that will drive your healthcare marketing analytics initiatives. Our analytics services deliver all the data your team needs to measure performance and optimize programs. Ultimately our healthcare marketing analytics expertise can help you minimize friction in the buyer's journey to capture more leads, build more revenue, and maximize ROI.
Becoming a Marketing Engineer – Webinar Slides & Video
Today, in order to be a great marketer, one must truly become a Marketing Engineer. Learn how all the best practices and platforms we use come together to create a marketing infrastructure, customer journey and sales funnel.
Watch the Webinar
Essential Metrics for Healthcare Marketing Analytics
The important metrics for healthcare marketing analytics will vary by type of organization – providers, payers, pharma companies, and medical device manufacturers have slightly different takes on critical KPIs. But in general, most healthcare marketing analytics are based on metrics that fall into four categories:
Volume of activity – these metrics measure everything from number of impressions and clicks in online advertising to the number of downloads and views in content marketing, likes and shares in social media, and email opens in nurture campaigns.
Number of conversions – these measurements quantify success in converting marketing qualified leads (MQLs) to sales qualified leads (SQLs), clinical conversions from leads, new patient conversions in total, and the number of patient conversions per campaign.
Velocity – these metrics evaluate the speed of the buyer's journey and time spent in the sales funnel. Metrics include average time to sale and average time for escalating MQLs to SQLs.
Value – these metrics are most important to the C-suite at any healthcare organization, measuring everything from cost per lead (CPL), cost per acquisition (CPA) of new customers and patients, patient lifetime value, and return on marketing investment (ROMI).
Lead Gen Metrics Timeline
Get Overdrive Interactive's new Lead Gen Metrics Timeline and understand which metrics really matter for lead generation programs. The timeline provides the important metrics needed to truly "close the loop," marking the journey from spending to ROAS (return on ad spend).
Access Now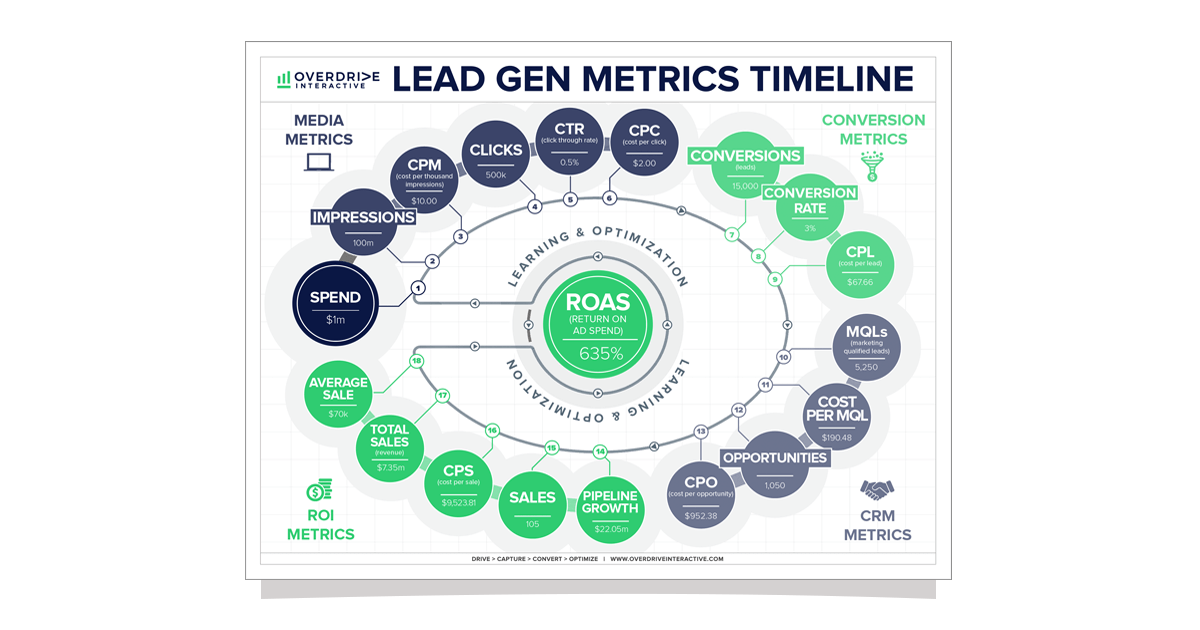 Overdrive Healthcare Marketing Analytics Services
 To help you design and implement a healthcare marketing analytics program, Overdrive provides services that include:
Audits of existing analytics programs, performance data and KPIs.
Design of a comprehensive analytics framework to determine goals, identify events to be tracked, filter results for accuracy, and manage tags that collect data from your website.
Tracking performance of marketing campaigns, content marketing, off-site conversions, user actions, and accurately attributing conversions to each element of your marketing efforts.
Reports and dashboards that regularly deliver insight into performance and recommendations for improvement.
FAQs
What Are Healthcare Marketing Analytics?
Healthcare marketing analytics are metrics and data points that tell you how your marketing campaigns are performing. Metrics such as conversions, organic traffic, patient visits, appointments made, or other measurements specific to the healthcare industry all fall under the umbrella of healthcare marketing analytics.
What problems can you uncover with healthcare marketing analytics?
Healthcare marketing analytics can help you uncover several solvable problems with your campaigns.  Using volume of activity or number of conversions can inform you of any issues with your platform, or possible improvements to your landing pages where users make appointments.
Metrics like keyword ranking, value, and any data from your paid search campaigns can tell you how well your site is optimized for your target keywords. Knowing which keywords to target and how to choose your bids can significantly impact your healthcare campaigns.
What are the best metrics to track?
The best metrics to track for your healthcare marketing campaigns are any metrics related to the traffic, and conversions coming into your platforms. Metrics such as volume of activity, velocity, value, and number of conversions inform you of the overall health of your campaigns and tell you where optimization opportunities are.
What platforms can track your analytics?
Metrics tracking platforms such as Google Analytics, Google AdWords, Google Search Console, or any number of keyword tracking platforms can tell you everything you need to know about your healthcare marketing campaigns. Tracking platforms will tell you where you currently stand for all your key metrics, and pinpoint your optimizations for future initiatives.