Increase Online Visibility with Overdrive
Online visibility is a simple concept – it's the ability of a business to be seen by its target audiences online, whether on social media or on search engine results pages.
Achieving online visibility, on the other hand, is not a simple endeavor. The competition is incredibly fierce for attention on social media and for the top positions on search engine results pages. It takes a mastery of search engine optimization, paid search engine marketing, and social media marketing to significantly increase online visibility.
Overdrive, a leading online marketing agency, provides comprehensive services that help to boost online visibility. Designed to complement your internal capabilities, our online marketing solutions deliver the skills, experience, and bandwidth you need to quickly increase visibility through SEO, SEM, and social media campaigns.
Crafting the Customer Journey
Today, in order to be a great marketer, one must truly be able to visualize an end-to-end customer journey and experience – and then you need to make it happen! You need to understand how all the media, marketing stack components and action-oriented creative of modern marketing fit together.
Access Now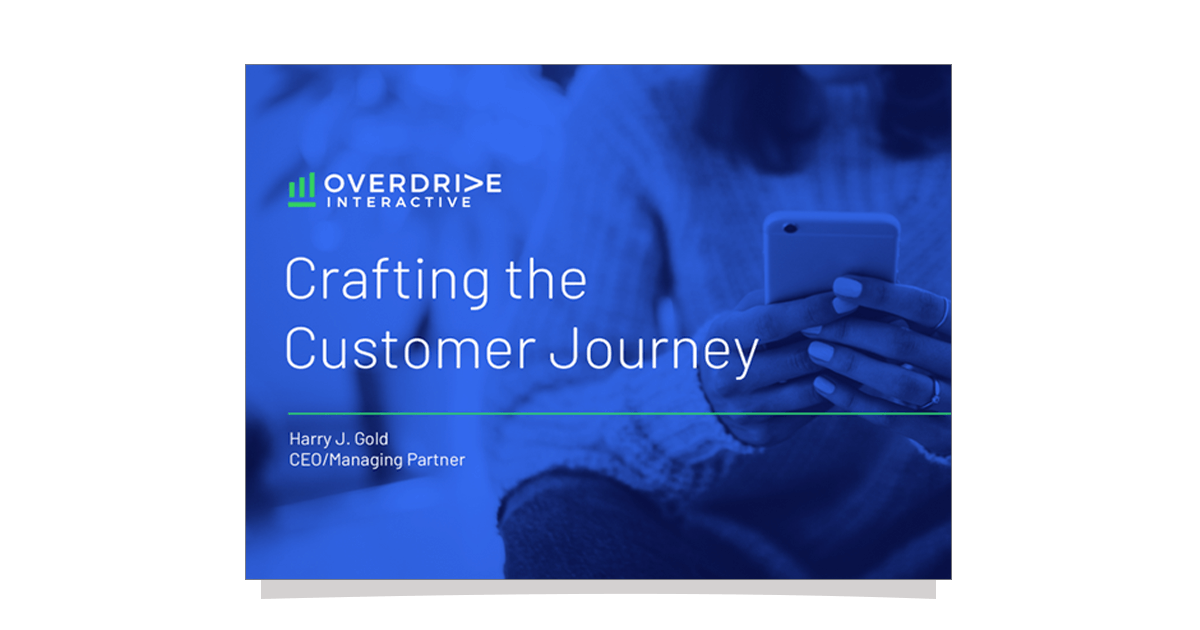 Paid Search Campaigns to Augment Online Visibility
Paid search campaigns are perhaps the most important thing you can do to increase online visibility quickly. SEO is also important, but it can take weeks or months for those efforts to pay off. On the other hand, paid search campaigns can be implemented in a few days or less, and you can start to see results just as fast.
Paid search, or pay-per-click advertising, refers to the paid listings within search engines that appear when users search on a specific term. Paid search lets you put your brand's message in front of your target audience at the exact moment they are looking for you and your products or services. This intersection of targeting and timing is called the "critical moment," and it's the most effective way of increasing online visibility.
Paid search is highly competitive – there are only a limited number of ads that appear on a search engine results page (SERP), after all. At Overdrive, we employ a number of best practices and online marketing strategies that help to increase our clients' visibility:
Improving Quality Score. Winning ads on Google are based in part on the Quality Score of the keyword that an advertiser bids on. To improve Quality Scores, we work to ensure that ads, copy, keyword groupings, targeting, and the landing page experience are highly relevant to the user's search.
Enhancing landing pages. By creating unique landing pages and offers for each ad, you can significantly increase the ad ranking while also improving conversion rates.
Adopting sophisticated bidding strategies. Our SEM specialists will recommend specific strategies for bidding on keywords (such as targeting search page location and outranking share) that can help to improve ad rankings and online visibility.
Demand Gen Infrastructure
Discover DCCO: Drive. Capture. Convert. Optimize – Overdrive's four-step approach to demand generation. This four-part infographic will help you to visualize the tactics and technologies you need to drive traffic, capture leads, nurture prospects, and optimize for ever-increasing ROI.
Access Now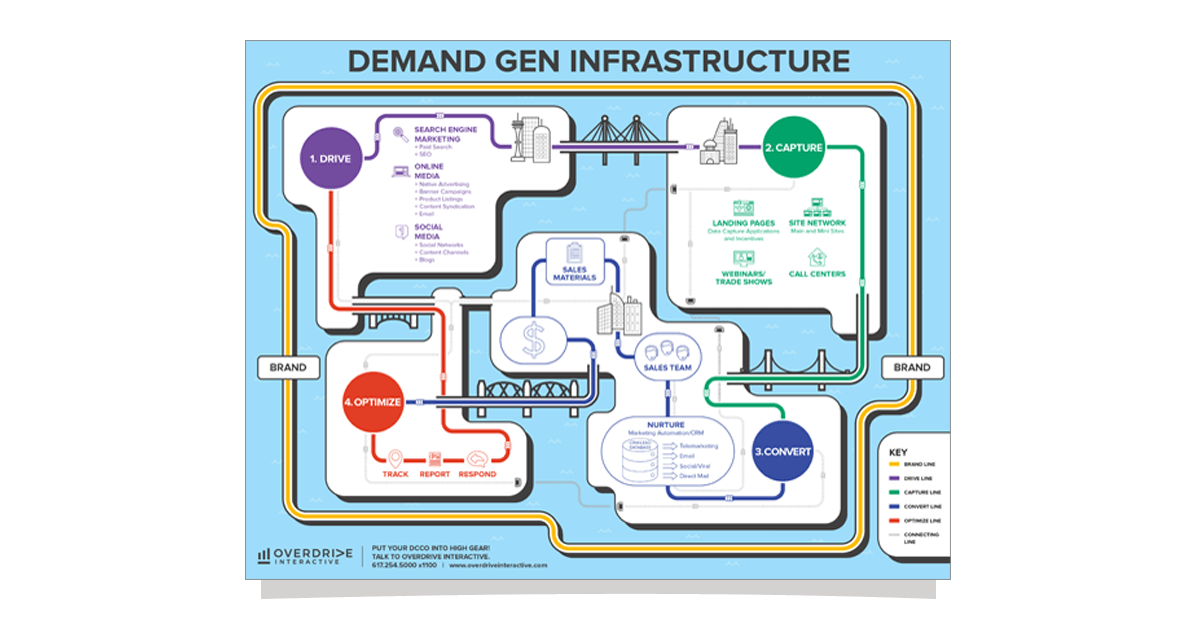 Boosting Online Visibility with SEO
89% of customers begin their buying process with a search. That makes the task of optimizing your websites, landing pages, and content for search incredibly critical to achieving online visibility.
SEO is both an art and a science, and there's no end of recommendations online for how to increase SEO performance. Here are a few of the best practices that Overdrive most often recommends for our clients:
Speed up your site. Website performance and load times are critical to increasing SEO performance as Google's algorithm prioritizes faster sites when ranking results.
Use video. A website with video is more than 50x more likely to reach the front page of Google . Video increases the amount of time a user dwells on a page, signaling to search engines that the page is of higher value.
Get reviews. Customer reviews add the kind of third-party credibility that influences search rankings.
Optimize for mobile. Mobile-friendly pages rank higher on SERPs under Google's new mobile-first index. Using buttons that are the right size for fingers and providing navigation that is easy to manage on small screens are essential first steps.
Find influencers. Pages that establish online authority by cultivating links from influencers can significantly improve results, as these kind of backlinks are critical to competitive ranking on SERPs.
Eliminate errors. Broken links, 404 pages, and errors in site map files are not only obstacles for users, but they will reduce a page's SEO rankings.
Leave breadcrumbs. Breadcrumbs on a webpage make it easier for search engines to understand the relationships between products and product categories, improving rankings.
Authorship to Authority
Authoritative content leverages subject matter experts, which improves the quality and ranking of pages.
Learn the SEO best practices you need to know to be a successful content developer who strengthens business presence using authoritative content.
Access Now
Online visibility: Best Practices
In addition to investing in SEO and SEM campaigns, we often recommend the following best practices for clients wishing to improve online visibility.
Blog more. Blogs help boost SEO performance and provide valuable content that can be referenced in social media posts. Blogs create trust with potential customers and position your company as an authority on specific subjects.
Get reviewed. Encouraging customers to provide reviews on search engines, social platforms and other directories can increase online visibility. Online reviews are the digital equivalent of traditional word-of-mouth and can significantly influence potential customers – 95% of shoppers read online reviews before they make a purchase, and displaying reviews can increase conversion rates by 270%.
Create and curate content. Marketing effective content that addresses and/or solves your prospects' problems can help to significantly boost online visibility among your target audience while also helping to improve SEO rankings.
Maintain an active social media presence. Interacting with followers on social media, promoting posts, and placing ads is essential to boosting online visibility on social platforms.
Marketing Minute Video: The Secret to Content Marketing in 2 Minutes
What makes great content for content marketing? Discover the four cornerstones of great content with Harry J. Gold, CEO of Overdrive.
Access Now
Overdrive Services for Online Visibility
Overdrive, a premier digital marketing and online advertising agency, provides access to seasoned experts and consultants who can deliver the skills and bandwidth required to plan, execute and analyze SEO, SEM and other elements of an integrated online marketing campaign to increase online visibility.
Our services include:
SEO services. Our SEO teams provide turnkey SEO programs that cover everything from planning and consulting to keyword research, rank and competitive benchmarking analysis, link tracking, Google Analytics and Google Tag Manager configuration and audits, SEO marcom stack deployment, conversion rate optimization, and optimization for local, voice, mobile, and video search.
SEM services. From selection, bidding, and tracking to offers, keyword ads, and display retargeting to landing page testing, post conversion tracking and ROI reporting, we manage, test, track, analyze, and optimize every step in your interactive online advertising program.
Social media services. Our social team provides social planning strategy, channel development, channel and profile maintenance, content development, fan and follower acquisition, social promotions and contests, and social media tracking and reporting.
FAQs
What is online visibility?
Online visibility refers to the degree and ease with which businesses can be found and seen online by prospective customers.
Why is online visibility important?
Online visibility is critical to driving revenue and building a bigger customer base. 88% of consumers perform research online before making a purchase either online or in a store , making online visibility essential to winning customers and driving sales.