Improve Mobile SEO with Overdrive
Mobile search engine optimization, or mobile SEO, has been an important part of enterprise SEO strategy for several years. But with mobile search now eclipsing desktop search and with Google's recent shift to mobile-first indexing, mobile SEO must now be a top priority for every SEO team.
Mobile SEO requires a paradigm shift in the way companies approach their web content and user experience. That's fine for businesses building new websites, but for organizations with tons of existing content, optimizing for mobile presents a huge challenge.
At Overdrive, a full-service digital marketing and SEO/SEM agency, our SEO team has the deep expertise, vast experience, and available bandwidth to provide any level of assistance as your organization optimizes for mobile by developing mobile SEO strategy, executing campaigns, and analyzing results of your mobile SEO efforts.
Crafting the Customer Journey
In order to optimize your website performance, one must truly be able to visualize an end-to-end customer journey and experience! You need to understand how all the media, marketing stack components and action-oriented creative of modern marketing fit together to drive initial contact to potential prospect and eventually a satisfied customer.
Watch Harry J. Gold, CEO of Overdrive, explain how all the elements of digital marketing work together, so you can succeed!
Access Now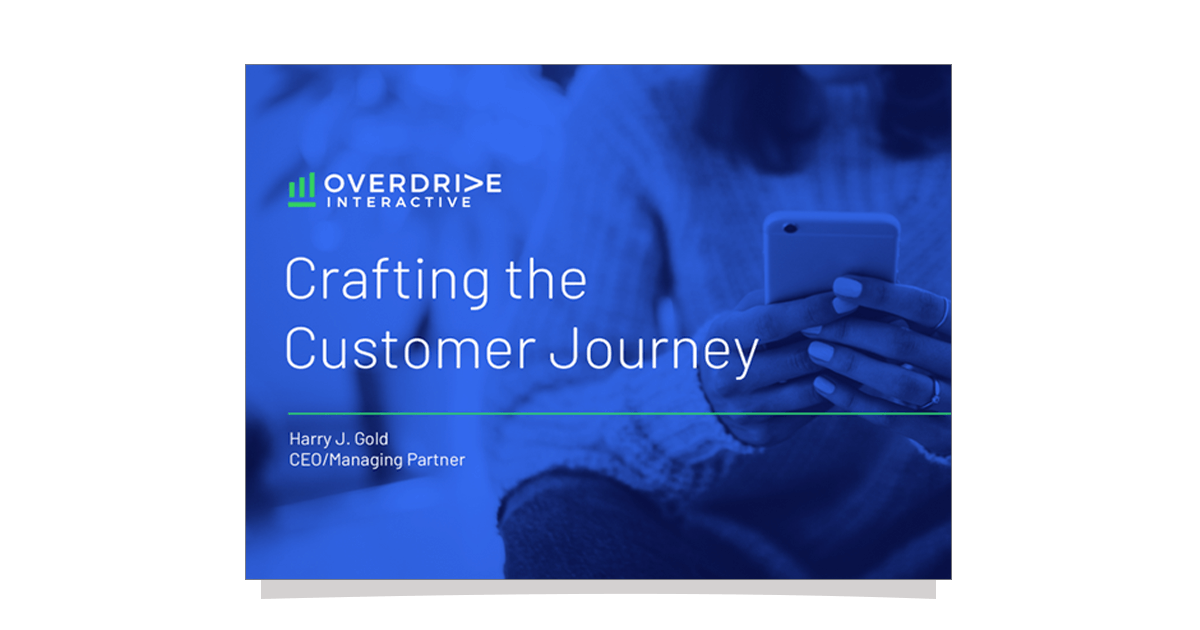 The Rise of Mobile SEO
If you're not sure about the critical importance of mobile search, consider these statistics:
More than half (55%) of the world now uses smartphones, and by 2023 that ratio will increase to two of every three people on the planet.
Mobile search has steadily been growing and has now outpaced desktop search.
40% of people prefer to use mobile devices to research and buy a product.
When it comes to mobile search, Google accounts for almost 95% of the market. As of 2019, Google will use mobile-first indexing for all new sites – the Google bot will now evaluate mobile versions of websites first before desktop versions and that mobile websites will be seen as the primary version of an organization's web presence.
This development means that, to achieve higher page rankings for Google searches, focusing on mobile SEO is critical.
Ultimate SEO Dashboard for CMOs – Video & Slides
Break through the clutter of weekly and monthly reports by learning the KPIs that are most important.
Harry J. Gold, CEO of Overdrive, shares some of Overdrive's SEO dashboards that dazzle CMOs and makes heroes out of SEO pros.
Access Now
Strategies for Improving Mobile SEO
When you work with Overdrive, our SEO team will guide you through all the mobile SEO steps required to improve your rankings on mobile search. We may include recommendations to:
Improve site speed. Mobile devices tend to load more slowly. But 30% of mobile visitors expect pages to load it one second or less, and 45% of visitors won't return to a site if it performs poorly. That means pages that don't load quickly won't do well in search engine results. Techniques for improving mobile site speed include compressing images, using a CDN or caching technology to make pages load faster, and combining or minifying JavaScript and CSS code.
Load above-the-fold content first. By coding webpages to send above-the-full content to servers first, you can render a visible page for users more quickly.
Optimize content for mobile devices. People interact with content on smaller mobile screens differently than on larger screens. To improve mobile SEO, use shorter headlines, sentences, and paragraphs as well as the appropriate font size, making copy easier to read on small screens. Use multiple subheads to make your site easier to scan. Make navigation and interaction easier by ensuring that buttons, especially CTAs, are the right size for people's fingers. Using clean lines, bold shapes, bright colors, and lots of white space helps to make a mobile site more visually appealing, keeping visitors on the site longer.
Optimize for voice search. People are increasingly using voice search, especially with mobile devices. For mobile SEO, that means using structured data markup, incorporating more conversational/longtail keywords, and optimizing on terms that start with "what", "where", "when", and "how".
Adopt responsive design. While there are several ways to maintain a mobile website, adopting a responsive design for your mobile site will go a long way toward increasing mobile SEO performance. A website with responsive design means you'll have a single URL for pages on all devices (instead of a mobile URL and a desktop URL), making it easier for users to link to your content. You'll reduce the load time of your website and increase the crawling efficiency of Google bots. And you'll ensure that your webpages will deliver an excellent user experience across all devices and screen sizes.
Be cautious with interstitials. While using pop-ups can help with conversion optimization, pop-ups that completely cover a webpage on a mobile device or that can't be closed easily will result in poor UX mobile devices, leading to a high bounce rate.
Get local. Mobile search is often related to local businesses and products, making local SEO critical to improving page ranking.
Test everything. As mobile SEO transforms your approach to creating and optimizing content, testing becomes more important than ever to make sure the changes you are implementing are working to improve performance.
Empower Yourself
A good online strategy unites all the moving parts that comprise a consumer's digital journey and the path to purchase.
Visit Overdrive's Knowledge center to prepare yourself and your team with the practical steps and best practices that organizations need to master to successfully launch a digital marketing platform that delivers the full power of the web.
Get access to guides, reposts, videos, templates and much more.
Access Knowledge Center
Strategies for Improving Mobile SEO
As a leading online advertising agency, Overdrive provides clients with an SEO team of highly experienced experts who can put all the necessary strategies, tactics, and technologies into play when optimizing for mobile SEO. Offering comprehensive digital marketing services, we provide much more than a mobile or local SEO agency, enabling your SEO efforts to be integrated seamlessly across all channels and campaigns. And our offerings go far beyond simply making recommendations that anyone can find by googling "mobile SEO checklist" – we actually deliver any copy, code, creative and social content that our clients' SEO teams require to execute a winning strategy.
Our mobile SEO services include:
Strategic mobile SEO planning and consulting
Deployment and configuration of marcom stack technology for mobile SEO
Analysis of existing sites for mobile friendliness
Managing local SEO, including Yext local search listing management
Development of new mobile-friendly content and mobile optimization of existing content
FAQs
What is mobile SEO?
Mobile SEO, or mobile search engine optimization, is the practice of working to make your website as accessible as possible to mobile users and to ensure that your pages rank highly on search engine results pages.
Why is mobile SEO important?
The number of mobile searches grows every day, and Google now considers the mobile version of a company's website to be the primary version. That means focusing on mobile SEO is likely to improve search engine rankings across the board.
What tools do you use to measure mobile SEO?
There are many tools available for measuring mobile SEO visibility and performance, the mobile search behavior of audiences, competitors' mobile search performance, mobile site speed, and other criteria for measuring mobile search performance. Some of the most important tools include:
• Google Analytics
• Google Keyword Planner
• Google Search Console
• AccuRanker
• Botify
• DeepCrawl
• Moz
• OnCrawl
• OnPage.org
• ScreamingFrog
• SearchMetrics
• SEMrush
• SEOmonitor
• SERPWoo
• SimilarWeb
• Sistrix
• Sitebulb
• Stat