Simplify International SEO with Overdrive
For companies focused on markets in other countries, international SEO is a critical but complicated endeavor. From creating an international-friendly URL structure and using language tags correctly to creating and maintaining content in other languages, international SEO involves a myriad of tasks for which the average enterprise SEO team may not have the bandwidth or skills.
Overdrive Interactive, a full-service digital marketing and international SEO agency, offers comprehensive international SEO services that can complement the capabilities of your resident SEO team to effectively optimize your website and content, reaching new target audiences abroad and drive greater ROI.
Crafting the Customer Journey
In order to optimize your website performance, one must truly be able to visualize an end-to-end customer journey and experience! You need to understand how all the media, marketing stack components and action-oriented creative of modern marketing fit together to drive initial contact to potential prospect and eventually a satisfied customer.
Watch Harry J. Gold, CEO of Overdrive Interactive, explain how all the elements of digital marketing work together, so you can succeed!
Access Now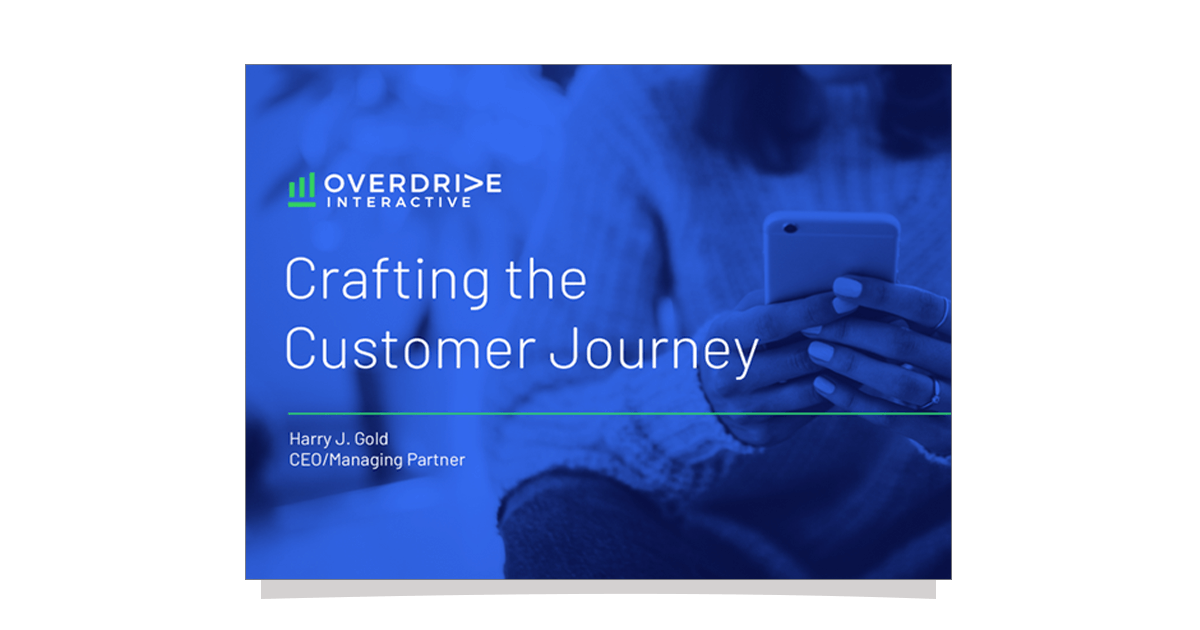 Best Practices for International SEO
When you work with Overdrive on international SEO, you'll get a team of SEO specialists with vast experience applying best practices to international SEO projects. Here are a few of the best practices we recommend for our clients operating in international markets:
Do keyword research for each international market, audience segment and language. It's impossible to simply translate your keywords from one language to another. You'll need to work with native speakers to understand how each audience segment may search for your products and services in each language and develop a keyword list specific to each language and region.
Localize content. It's not enough to simply translate your content into another language. To improve international SEO, you'll need to localize webpages to each audience segment in each country. This may include targeting specific audience behavior in different country markets and describing products and services in different ways, using local idioms and references. Localizing content includes revising headers, metatags, image descriptions, and all other on-page elements that affect international SEO. And of course, never use automatic or machine translation tools when translating content for different languages.
Implement hreflang and language tags correctly. The hreflang tag (for Google) or meta language tags (for Bing) help search engines understand which language your content is written in. It's critical to ensure that everything from site navigation to content and CTAs is in the primary language of the region you're targeting. Getting language tags right is critical to improving international SEO and preventing keyword and content cannibalization for geo-specific webpages that search engines may view as duplication.
Avoid forced redirects based on IP addresses. Rather than automatically redirecting visitors and search engines based on an IP address or browser setting (which can annoy users and confuse search engines), let users know about alternate language versions of the content through language or icons in the navigation at the top or bottom of the page.
Establish new links. To increase authority and improve search ranking, you'll need to develop country or region-specific linking for your international content.
Optimize for the right search engine. While Google is the dominant search engine in much of the world, users in China, South Korea, Russia, and several Eastern European countries tend to use other search engines more frequently.
Track international SEO separately. You'll want to create individual profiles in Google analytics for tracking each individual international version of your website.
Ultimate SEO Dashboard for CMOs – Video & Slides
Break through the clutter of weekly and monthly reports by learning the KPIs that are most important.
Harry J. Gold, CEO of Overdrive Interactive, shares some of Overdrive's SEO dashboards that dazzle CMOs and makes heroes out of SEO pros.
Access Now
Improve Performance with Overdrive Website Analytics Services
As a leading web design agency, Overdrive interactive can help with every aspect of web analytics for consumer, B2b, and eCommerce web design projects.
Our services include:
Strategic planning and consulting
Customer, category, and keyword research for international markets
Deployment of tools and technology for managing and tracking international SEO campaigns
Benchmarking analysis for keyword rank and competition
Security, compliance, code reviews, and recommendations
Google Analytics, Search Console, and Google Tag Manager audits and management
Link tracking, preservation, and reclamation
Content development, gap analysis, and strategy
International website migration strategy and approach
Corporate SEO training for internal teams
FAQs
What is international SEO?
International SEO is the task of optimizing a website so that search engines can understand which countries and languages a webpage is targeting. The goal of international SEO is to improve ranking on search engine results pages (SERPs) for webpages that target international audiences.
Why is international SEO important?
International SEO is critical for any company that targets markets in other countries and other languages. While a webpage for a product that target U.S. audiences in English may rank highly in a Google search, the same content targeting audiences abroad and in different languages will not automatically achieve the same search results. International SEO practices are designed to help companies improve search engine rankings for webpages that are targeted to international markets.