Improve Conversion Optimization with Overdrive
CRO, or conversion rate optimization, is the key to achieving the holy grail of digital marketing: high conversion rates. All your efforts in lead generation, SEO, online advertising, and social media marketing amount to nothing if you can't convert prospects to visitors to leads and leads to customers.
While the goal of conversion rate optimization is straightforward, the methods for achieving it can be incredibly difficult. That's why more organizations look to Overdrive, a full-service digital marketing and web design agency, to provide expert guidance and hands-on help for strategies to improve conversion optimization.
Crafting the Customer Journey
Today, in order to be a great marketer, one must truly be able to visualize an end-to-end customer journey and experience – and then you need to make it happen! You need to understand how all the media, marketing stack components and action-oriented creative of modern marketing fit together.
Access Now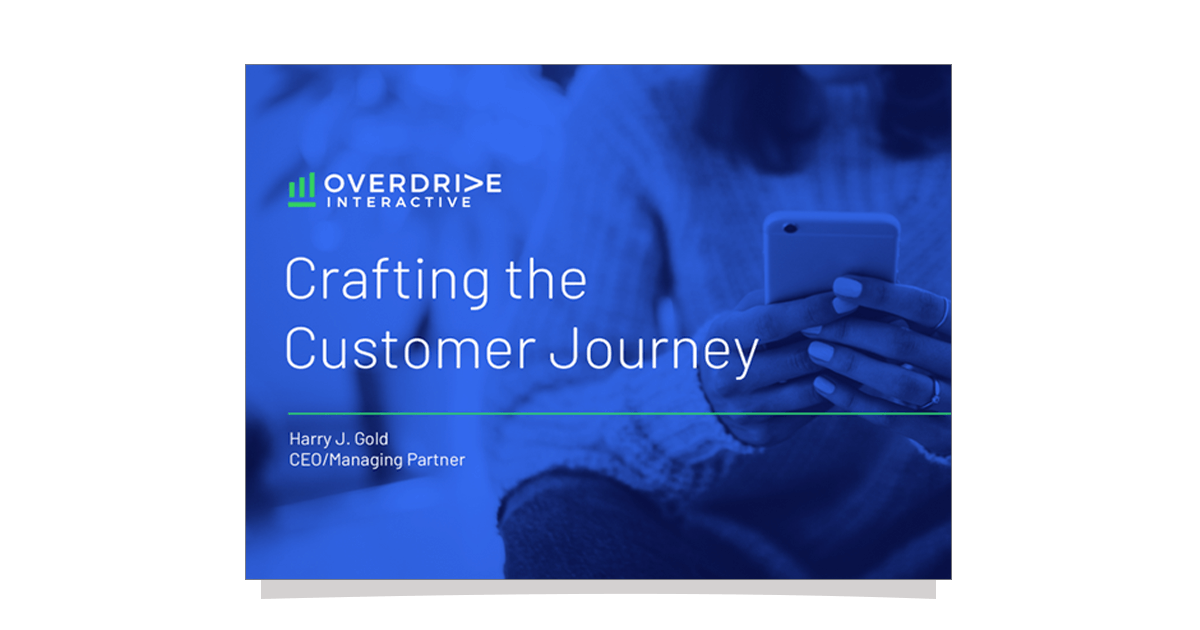 Essential Elements of Conversion Optimization Strategy
The first step in conversion optimization is answering three critical questions:
What do visitors want from your site? Understanding the various buying personas of your customers and each discrete step in their buying journey is critical to crafting the communications that will best engage them and encourage them to convert.
What do you want visitors to do? You must be able to clearly identify the exact action that you want visitors to take on any given page and at any given moment in their journey.
How can you best address the needs of each customer personas while achieving your marketing objectives? Identifying the overlap between your customers' needs and your objectives is key to crafting the messaging, offers, and calls-to-action (CTAs) and tracking the website analytics that will improve conversion optimization.
Demand Gen Infrastructure
Discover DCCO: Drive. Capture. Convert. Optimize – Overdrive's four-step approach to demand generation. This four-part infographic will help you to visualize the tactics and technologies you need to drive traffic, capture leads, nurture prospects, and optimize for ever-increasing ROI.
Access Now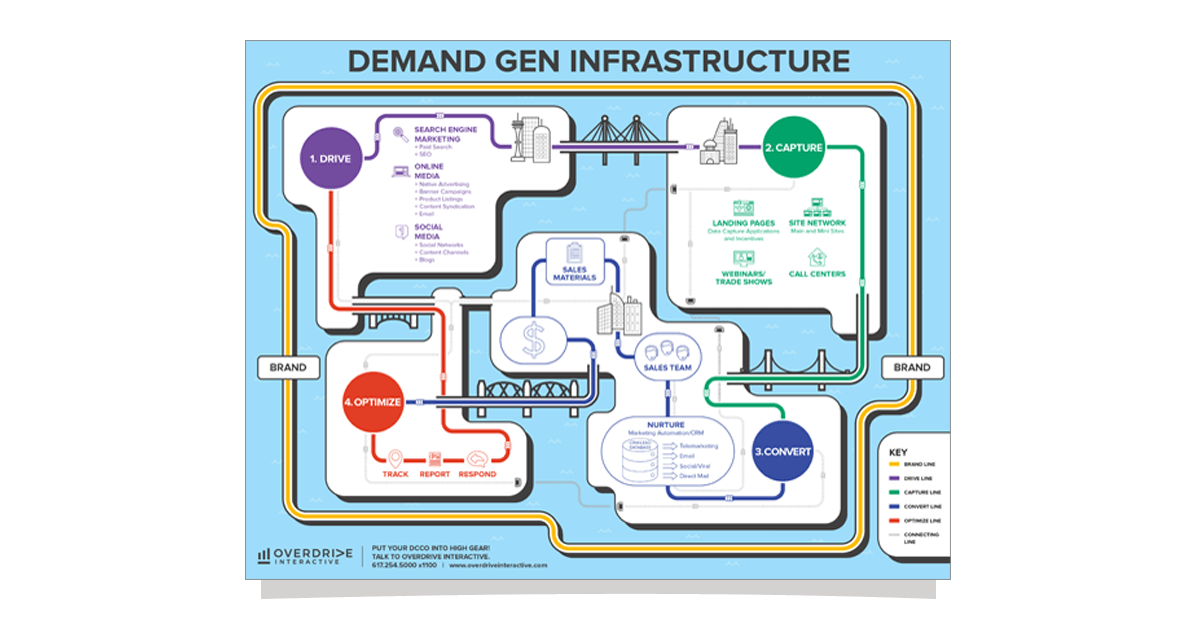 Best Practices for Conversion Optimization
Once you have mapped the steps on the customer journey for each buying persona, you can begin to implement the following best practices for conversion optimization.
Customization

Customize pages, content, and CTAs. With an understanding of each customer's needs, wants, intent, and history, you can increase conversion rates by tailoring webpages and content offers to individual buyers at each stage of their customer journey.
Create one landing page for each conversion. Landing page design and copy should be customized for each CTA. Messaging, offers, and CTAs must fulfill the specific expectations of each buyer when arriving at a landing page, and focus on getting the visitor to take one specific action.

Eliminating obstacles

Help visitors get answers quickly. Live chat support provides an easy way for visitors to answers to their questions and support for their journey, eliminating obstacles to conversion.
Focus on barriers to checkout. In eCommerce web design, eliminating obstacles on the checkout page is a critical conversion optimization technique. Some studies estimate that cart abandonment on eCommerce retailer websites is as high as 70%. By analyzing the reasons and points at which users abandon the checkout page, retailers can eliminate the hurdles that users perceive during the buying process.
Improve site speed. A one second delay in the speed load time of a mobile webpage can impact conversion by as much as 20%.

Content and page elements

Build trust. Use testimonials, citations, references, and third-party validation to increase the viewers perception of the value and trustworthiness of your brand and offer.
Create a sense of urgency and scarcity. Customers are more likely to act immediately when they think a valuable offer will end soon.
Use video. Videos on landing pages are a proven tool for conversion optimization.
Go light on form fields. Users don't want to enter more information than they believe is absolutely necessary, especially on mobile devices. Minimizing the number of form fields can help to prevent users from abandoning the conversion flow.
Reengage by retargeting. To increase impressions, use retargeting to ensure your offers are top of mind wherever your prospects surf after leaving your website.

Visual design and layout

Eliminate distractions. Less is more when it comes to page design. It's often the simpler pages that are more likely to focus the visitor on the critical messages and CTA and get the conversion.
Optimize for mobile. Superior conversion optimization means optimizing web pages and landing pages for mobile screens, ensuring that all content can be rendered quickly with an aesthetically pleasing appearance.
Use buttons. Make your CTA items look like buttons that can be clicked, rather than flat and unclickable graphic elements.
Make social icons prominent. Make it is easy as possible for visitors to share your content with their friends and followers.
Be visual. Users appreciate high quality images and can spot the difference between original and stock photos. Creating a strong visual experience on a website with images and graphics can have an extremely positive impact on conversion rates.
Be directional. Use visual elements like arrows that guide visitors to the most important elements of your page – usually the CTA.
Lead Gen Metrics Timeline
Get Overdrive's new Lead Gen Metrics Timeline and understand which metrics really matter for lead generation programs. The timeline provides the important metrics needed to truly "close the loop," marking the journey from spend to ROAS (return on ad spend).
Get Access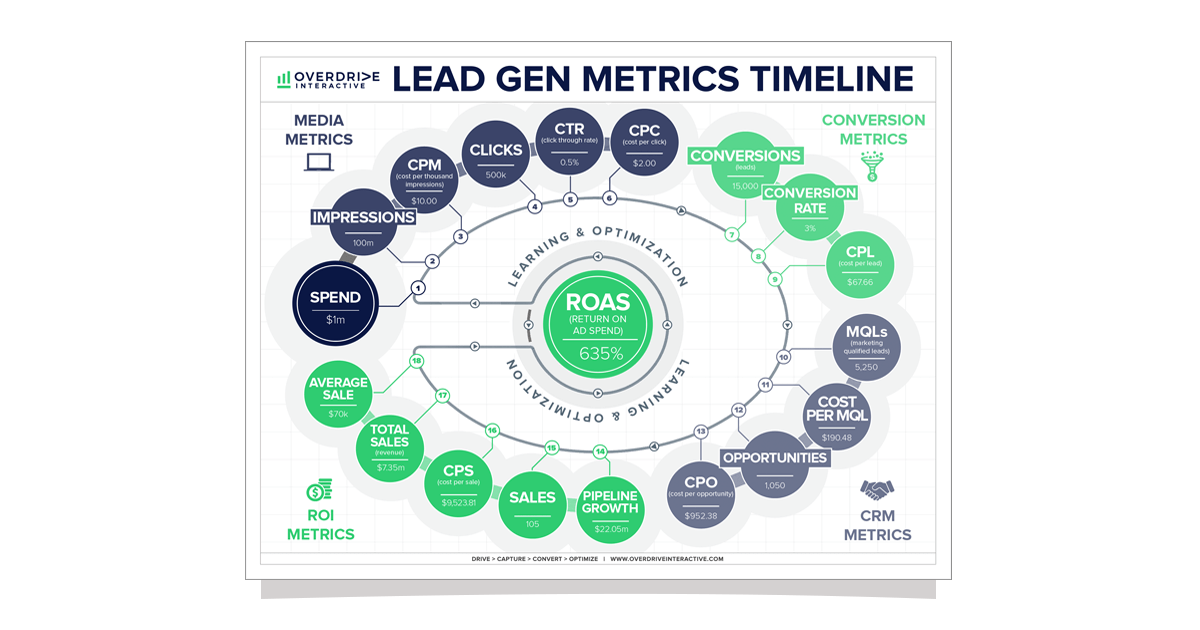 CRO Analytics and Testing
The beauty of conversion optimization in digital marketing is the ability to measure and test the effectiveness of each element of your conversion process. Tracking metrics such as site speed, average time on site, bounce rate, and the conversion path can help you quickly take advantage of low hanging fruit to improve conversion optimization.
Strategies for conversion optimization testing and analytics include:
Our team designs and manages all aspects of lead generation services, including:
Using maps to see where your visitors have clicked on buttons, hovered with their cursors, or tried to click on unclickable images. With a better understanding of how users engage with your pages, you can revise copy and redesign layouts to better focus the user's attention and increase conversions.
Use call tracking to understand which marketing channels generate phone calls and which do not.
Analyze your top-performing pages to gain insight that can help with conversion optimization on poorly performing pages.
Perform A/B tests to determine which headlines, copy, offers, CTAs, layouts, colors, images, and page elements have a positive impact on conversion rates.
Explore Our Client
Check out some of the companies who have come to Overdrive to build their brands, fill their sales funnel and lead their digital marketing transformation.
Clients
Overdrive Services for Conversion Rate Optimization
As a leading digital marketing and website design agency, Overdrive provides conversion optimization services – along with a full suite of digital marketing services – to many of the world's largest brands.
Our conversion optimization services include:
Strategy for audience segmentation, messaging, analytics, and conversion optimization testing.
User persona models for each stage of the buying journey that can help to refine messaging, offers and CTAs to increase conversions.
Action-oriented creative that gets prospects to act and that constantly guides users along the sales funnel to deliver higher value.
Integration of website development with marcom technologies to take advantage of the opportunities within your existing technology stack.
A/B and multivariate testing to continually optimize every aspect of the customer buying journey.
FAQs
What is conversion optimization?
Conversion optimization, or conversion rate optimization (CRO), is the process of refining messages, offers, calls-to-action (CTAs), visual elements and the entire user experience on a website to continually improve the percentage of visitors who take an action like making a purchase, signing up for a newsletter, or downloading content.
How do you calculate CRO?
The conversion rate is determined by dividing the number of people who take a specific action on a website by the total number of visitors to that website.
Why is conversion rate optimization important?
Conversion optimization is a critical priority because it focuses on identifying and implementing the improvements that will increase sales, sign-ups, downloads, and other forms of conversion.
How do you test conversion rates?
Testing is an essential part of conversion optimization, allowing marketers to compare the effectiveness of different elements of a website in terms of encouraging visitors to convert. Headlines, copy, CTAs, graphics, layout, and page elements such as videos or testimonials can all be tested to see which pieces help or hurt conversion rates.