Fill Your Pipeline with Overdrive Lead Gen Services
As your company works to keep the pipeline full of sales qualified leads (SQL), lead generation services from an integrated marketing or lead generation agency can help to augment the capabilities of your in-house marketing team. Lead generation services may include everything from improving conversation rate optimization for your website and landing pages to managing online advertising and paid and organic search campaigns. With the right lead generation services, you should be able to fill your pipeline with quality leads at a reasonable cost per lead, enabling sales to deliver greater revenue and marketing to deliver higher ROI.
Overdrive provides comprehensive lead generation tactics and services to complement your in-house efforts, bringing knowledgeable insight to lead generation strategy and deep expertise to lead generation marketing campaigns, helping you capture and influence more prospects and buyers.
Becoming a Marketing Engineer – Webinar Slides & Video
Learn how all the best practices and platforms we use come together to create a marketing infrastructure, customer journey, and sales funnel.
Watch the Webinar
Core Competencies
Our capabilities provide you with the 1001 marketing tasks your enterprise needs to launch high-powered marketing programs that last and yield measurable insights you can take to the bank. Our teams blend the critical talents of modern marketing into a single agile and global solution.
"What are we really selling? We're selling conversions." Harry J. Gold, CEO, Overdrive Interactive
Five Essential Services Your Lead Generation Agency Must Deliver
Online lead generation encompasses all the tactics that digital marketing offers and few in-house marketing teams have the level of marketing expertise and/or bandwidth to manage them all. When working with an agency, there are five critical lead generation services you should expect them to deliver.
Expert strategy. A superior lead gen agency, like Overdrive, given our wide range of clients and diverse industry learnings, will bring to the table a wealth of expertise and data-driven knowledge from multiple campaigns, infusing your lead generation strategy with proven tactics, unmatched insight, and the very latest in best practices – details an in-house team is unlikely to provide.
Content mapping. Content can drive lead gen, but only when it is accurately matched to each stage of the buyer's journey and designated personas. Too often, marketing teams make the mistake of believing content is one-size-fits-all. Your lead gen agency can help you develop buyer personas based on deeper insight and the competitive set into buying preferences, habits, and decisions throughout the journey, and map your content (or create new content) to address your buyers' needs at every stage.
Conversion optimization. Overdrive has deep expertise in helping you optimize your efforts to improve conversion rates. From incorporating video and rewriting CTAs to redesigning forms and landing pages to eliminating unnecessary page elements that confuse visitors, a great agency will have a plethora of ways to optimize all aspects of your campaigns for greater results.
Nurture automation. For escalating leads, automated nurture campaigns are incredibly effective – and incredibly complex to design and manage. A superior lead gen agency can help you design a highly effective automated drip campaign, provide hands-on help to execute it, and deliver the reporting and analytics you need to continually refine it.
Reporting and analytics. Testing and measuring every aspect of your lead generation programs is critical to achieving your objectives. The right agency can help you plan for testing from the outset, defining top KPIs and metrics and configuring tools for measuring and reporting on them.
Lead Gen Metrics Timeline
Get Overdrive's new Lead Gen Metrics Timeline and understand which metrics really matter for lead generation programs. The timeline provides the important metrics needed to truly "close the loop," marking the journey from spend to ROAS (return on ad spend).
Access Now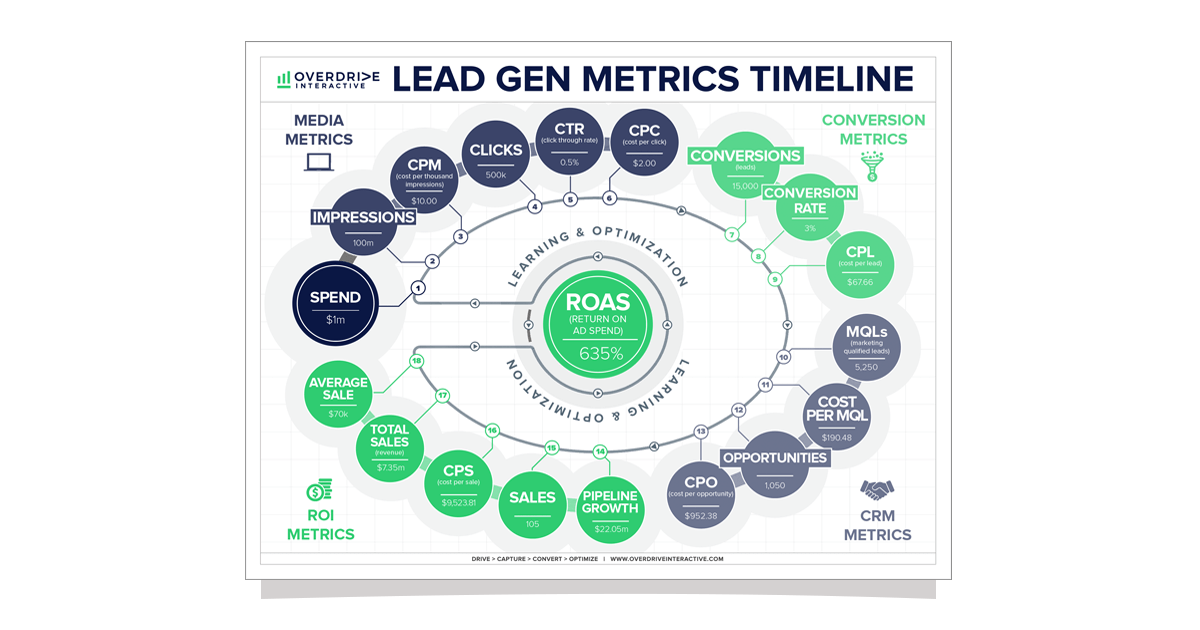 Lead Generation Services from Overdrive
At Overdrive, we offer comprehensive and strategic marketing services designed to quickly drive measurable ROI. Our lead generation services help our clients to launch, manage, and optimize always-on lead generation channels that deliver the kind of leads that salespeople love and the kind of campaigns that make marketers' lives easier.
The success of our programs is driven by constant optimization of tactics to strike a perfect balance between lead volume, lead quality, and cost per lead. Our lead generation services include:
Search engine optimization (SEO)
Paid search marketing (SEM)
Content development and cost-per-lead content syndication
Landing page development and testing
Email list rental and newsletter sponsorship campaigns
Retargeting and programmatic display
Account-based marketing (ABM)
Social media and inbound marketing
Paid social media management (LinkedIn, Facebook, Instagram, etc.)
Mobile and click-to-call advertising
Trade and consumer media planning, buying, and management
Digital PR and native advertising
Marketing automation and end-to-end nurture campaign development
Dashboard development and reporting
Get in touch today with our lead generation services experts to see the full range of our tactics and the power of our lead labeling technology, as well as case studies that demonstrate ROI success for some of the nation's biggest brands.
FAQs
What is lead generation?
Lead generation is the act of finding, engaging, and nurturing leads – the people and businesses who are likely to buy your products and services. Lead generation is the cornerstone on which successful sales efforts are built. Successful lead generation ensures that salespeople are continually working with leads that are more likely to convert, and that the cost per developing each lead is reasonable and optimal.
What are lead generation services?
Lead generation services include a wide range of tactics and activities to identify and communicate with potential customers, effectively nurturing them toward a sale. Lead gen services may include website optimization, content marketing, organic and paid search, social media campaigns, webinars, and other forms of advertising.
What are demand generation vs. lead generation services?
While lead gen services are designed to develop lists of individuals and organizations most likely to become customers, demand generation strategy is geared toward building wider awareness and understanding of your products and services. Demand generation supports the entire sales and marketing lifecycle, while lead generation targets a narrower aspect of the sales process.
How do I choose an agency for lead generation services?
Choosing a lead gen agency can be daunting – there are many firms marketing a wide range of tactics, talents, and approaches. The right lead gen services agency must offer comprehensive services, as it's important to have every weapon in the arsenal available when developing strategy. Your agency should also be able to easily augment the capabilities of your in-house team, so that you're only paying for services you truly need. Your lead gen partner must be hyper-focused on both lead quality and cost-per-lead metrics – as lead generation services that produce mediocre leads or that hike up the cost of lead gen campaigns will ultimately fail to serve your best interests.
What are the most common lead generation services?
Usually, lead generation services center around outreach, content marketing, qualification, and delivering verified leads. These steps, however, can be combined with more in-depth services such as SEO, paid search marketing, account-based marketing, and a more involved PR and automation approach to boost the organic reach of your targeted content. There is always room to improve your lead generation by digging deeper into your own platform.
What are the most valuable lead generation services a company can offer?
The most valuable lead generation services are going to come from developing the platform itself. Performing outreach campaigns and making cold calls is easy, but it only scratches the surface of where true value lies. Finding services that optimize your platform, improve your traffic and analytics, dig deep into the sources and look at the data of where your prospects come from is where true value is waiting to be discovered.
What is a quality lead?
A quality lead is more than someone who answers a cold call. They are a decision maker who is in need of a timely solution. Finding quality leads requires more than just a rolodex. It requires a deep understanding of the data and analytics of your business. Analyzing where your traffic comes from and how the visits to your landing pages translates to conversions is crucial to understanding how your potential clients see you, and how you can facilitate the points of contact.