Drive Conversions with Superior Website Analytics
Website analytics are critical to the digital marketers #1 objective: optimizing websites to increase effectiveness and improve ROI. By providing a wide range of data points on who your visitors are, where they came from, what they want and how well your website engages them, your web analytics program is essential to driving conversions.
As with all aspects of digital marketing, website performance is highly measurable and delivers vast amounts of data that can be used to continually optimize efforts. Most companies have no problem collecting more data than they can ever use. However, accurately interpreting that data for actionable intelligence for B2B or consumer marketing is where most digital marketers need the help of website analytics experts to separate the noise from the insight.
Overdrive, a leading digital marketing and website design agency, provides invaluable expertise and hands-on assistance to develop a website analytics program that can deliver all the insight CMOs need to continually improve web performance and drive conversion rates.
Crafting the Customer Journey
In order to optimize your website performance, one must truly be able to visualize an end-to-end customer journey and experience! You need to understand how all the media, marketing stack components and action-oriented creative of modern marketing fit together to drive initial contact to potential prospect and eventually a satisfied customer.
Watch Harry J. Gold, CEO of Overdrive, explain how all the elements of digital marketing work together, so you can succeed!
Access Now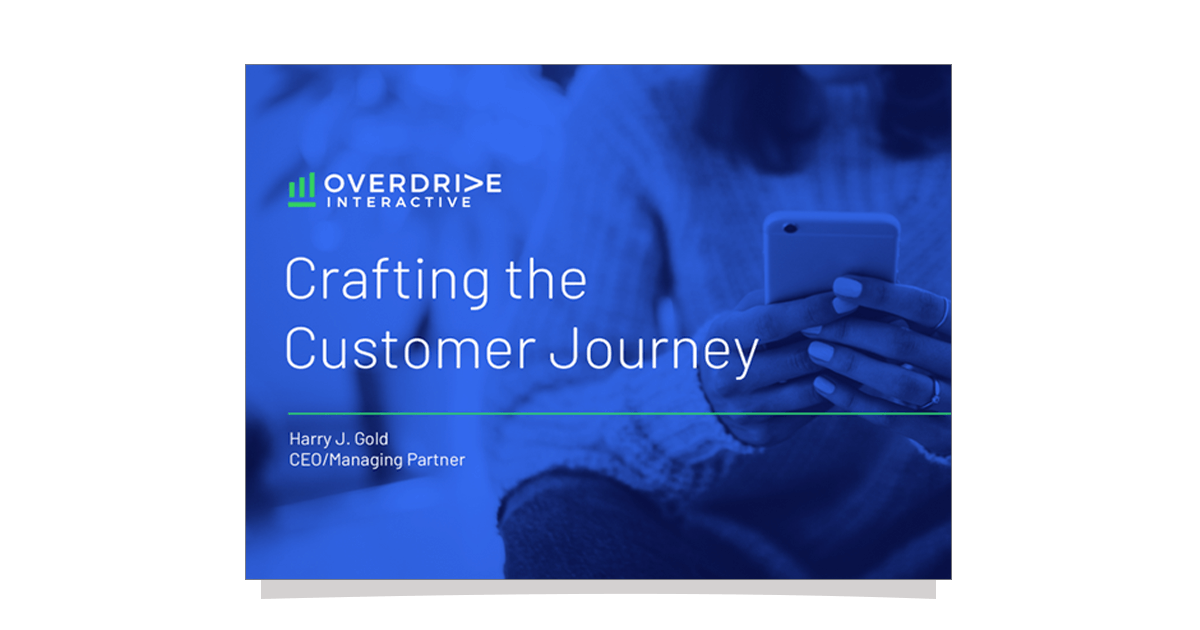 Web Analytics: Your Top Objectives
A company's website is a critical component of lead generation. A study by Corporate Executive Board confirm that 57% of purchase decisions are made before a buyer ever talks to the company from which they plan to purchase products and services. To develop and nurture these self-motivated buyers, corporate websites must be able to inform and convert users easily and without friction.
Web analytics are designed to answer five basic questions:
Who is visiting your website? Understanding your visitors' demographics, interests, behavior, and intentions can help you continually refine your messaging and offers to engage audiences more effectively.
How do visitors find you? Knowing which channels are driving the most traffic to your website allows you to put more resources toward those efforts and/or to optimize other channels to increase traffic.
How do they interact with your site? By tracking visitor behavior on your website, you can better understand where your site is capturing viewer attention and where it is failing to do so. Behavioral metrics are critical to helping you revise pages and content to keep visitors on your site longer and drive them toward conversion.
Which pages and content are performing best? Knowing which pages and which pieces of content are connecting with your visitors most effectively can help you to understand what visitors really want from your site, enabling you to optimize landing page design and other pages to engage visitors more effectively.
How effectively is your website converting visitors to customers? Ultimately, the purpose of your website is to get visitors to take a specific action – to buy, download, sign up, make contact, or otherwise engage with your company. Tracking conversions is the only way to know whether you're achieving your revenue and customer acquisition goals.
Lead Gen Metrics Timeline
Get Overdrive's new Lead Gen Metrics Timeline and understand which metrics really matter for lead generation programs. The timeline provides the important metrics needed to truly "close the loop," marking the journey from spend to ROAS (return on ad spend).
Access Now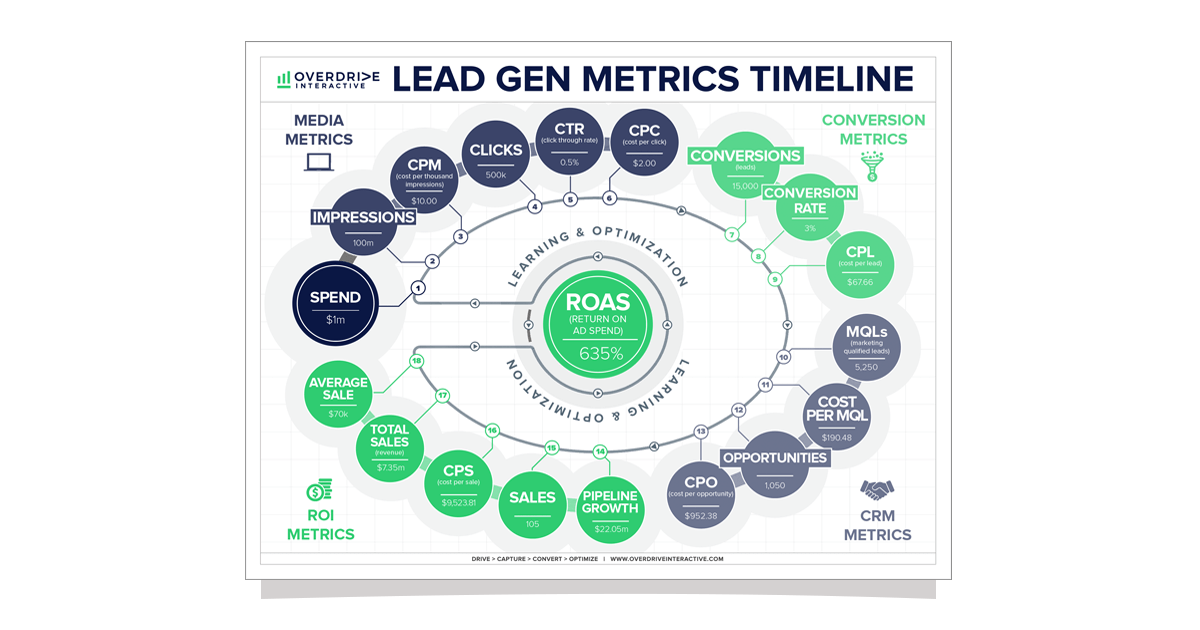 Critical KPIs for Website Analytics
To understand how well your website is performing, Overdrive recommends tracking and analyzing the following KPIs:
Traffic metrics

Total traffic – the number of visitors coming to your site and to each individual webpage.
Sources – tracking whether visitors arrive at your site via organic search, referral from another website, via social media, or by typing your domain directly into the browser. This metric helps you understand how well your various search/advertising campaigns are working to drive visitors to your website.

Behavioral metrics

Bounce rate – the number of visitors who leave your site after looking at one page, indicating they are not immediately finding what they're looking for.
Time spent on site – this metric helps you understand how effective each page on your website is and how well your website is engaging visitors overall. This metric is used by Google bots to understand how relevant your content is to users who are performing searches on certain keywords.
Top pages – knowing which pages are most popular with your visitors can help to optimize your site to deliver more value and increase conversion rates overall.
Exit pages – in addition to knowing which pages perform the best, it's helpful to know which pages are driving users off your website. The pages with the highest exit rates are typically pages where messaging, CTAs, and/or offers need to be revised or optimized.

Revenue metrics

Total revenue from web traffic.
Cost per MQL – the average cost of each MQL
Conversion rates – the percentage of total visitors who perform a desired action such as purchasing a product or downloading piece of content. Comparing conversion rates of different landing pages can help you understand which offers, CTAs, and messaging are most effective in converting target audiences.
Value per visit – this is easy to gauge with e-commerce transactions, but less obvious for transactions that involve downloads of content or sign-ups for a newsletter. For interactions that don't involve an actual sale, you can track value per visit by assigning a value to each action taken by a visitor, e.g., deciding how much you would pay for a qualified sales lead to complete a form, download a white paper, or watch a webinar.
Cost per conversion – this metric helps you to develop conversion strategies to acquire customers more cost-effectively.
Ultimate SEO Dashboard for CMOs – Video & Slides
Break through the clutter of weekly and monthly reports by learning the KPIs that are most important.
Harry J. Gold, CEO of Overdrive, shares some of Overdrive's SEO dashboards that dazzle CMOs and makes heroes out of SEO pros.
Access Now
Web Analytics Best Practices
When working with Overdrive on website development and analytics, you'll benefit from getting up-to-the-minute best practices on website analytics. These include:
Tag every page. Tags are code snippets provided by your web analytics tool that allow you capture basic data on the customers on their journey. Making sure every page is tagged is critical to getting accurate data for web analytics.
Set events and goals. Setting events (user interactions with content) and goals (a completed activity or conversion) allows for better conversion tracking in Google analytics. Assigning a monetary value for each goal helps to track value per visit and other revenue-related metrics.
Use accurate filters. Filters help to parse out data for accurate reporting in greater insight. Mislabeled filters are poorly constructed filters will make a mess of your traffic reports.
Use heat maps to evaluate customer experiences. Heat maps provide more detailed information about the way your visitors interact with pages, including where they hover, click, hesitate in the order of their visit.
Eliminate all unnecessary redirects. Redirects will skew your referral metrics.
Empower Yourself
A good online strategy unites all the moving parts that comprise a consumer's digital journey and the path to purchase.
Visit Overdrive's Knowledge Center to prepare yourself and your team with the practical steps and best practices that organizations need to master to successfully launch a digital marketing platform that delivers the full power of the web.
Get access to guides, reposts, videos, templates and much more.
Access Knowledge Center
Improve Performance with Overdrive Website Analytics Services
As a leading web design agency, Overdrive can help with every aspect of web analytics for consumer, B2b, and eCommerce web design projects.
Our services include:
Advising on choice of an analytics platform.
Configuring conversion tracking
eCommerce analytics strategy, configuration, and tracking
Setting goals, events, and filters
Advising on developing clean URLs for query parameters
Optimizing site search to deliver more relevant content
Social integration to leverage social content on web pages
Website tracking, page tracking, social tracking, eCommerce tracking, and call tracking
Designing reports and dashboards to provide CMO's with metrics on all website analytics
Landing page development and testing
FAQs
What are website analytics?
Website analytics are the metrics used to determine the effectiveness of a website in achieving an organization's goals for revenue, customer acquisition, lead generation, and other measures of success.
How do you measure website success?
Success of a website can be measured in terms of traffic (the number of people that visit a site), the amount of time that visitors spend on a website or page, the number of times a visitor returns to a website, and – most importantly – the number of conversions that a website generates.
What should I track on my website?
The most important metrics to track on website include:
• Total traffic/visits to a website.
• Sources of traffic – whether a user comes to a website from organic search, direct input of a URL, a referral site, or through social media.
• Bounce rate – the number of people who leave a site immediately or after viewing a single page.
• Top-performing pages – the webpages that users visit most and/or spend the most time on.
• Conversion rate – the number of visitors who performed a desired action such as making a purchase or downloading a piece of content.
• Pages per session – the number of pages viewed by a visitor in a single session; higher page views indicate greater user engagement.
• Value per visit – the average value of each visit as determined by the value of an eCommerce transaction or by the value placed by a company on a user's interaction.
• Exit pages – the pages which most often tend to drive visitors away from a website and which should be revised or optimized to increase engagement.
What is lead generation vs. demand generation?
Demand generation is the task of creating awareness of and demand for your products or services. B2B demand generation tactics include brand building and developing content to bring new visitors to your website or business. Demand gen supports the entire sales and marketing cycle, from creating initial awareness and interest of prospects to lead generation and nurturing to first sale and cross-selling.
Lead generation is specifically designed to create a relationship with potential buyers, nurturing and escalating them through the funnel toward an eventual sale.
What is lead generation in digital marketing?
Cost-effectiveness and quality are the keys to successful digital lead generation strategy. Generating quality leads is important because it ensures that the leads in your pipeline have the potential to actually become customers and that the money you're spending to nurture them will yield a return on your investment. Developing cost-effective lead generation programs is essential to ensuring that your marketing budgets will produce an optimal amount of quality leads. If your cost per lead (CPL) is too high, you'll may end up with really well qualified leads, but not enough of them to meet your revenue goals.