Get Your Lead Generation Strategy Right and Sales Will Follow
Your lead generation strategy is responsible for filling your sales pipeline with highly qualified leads – the individuals and organizations most likely to buy your products and services. When your strategy is working, online lead generation is easy and cost-efficient, creating the kinds of leads that make salespeople celebrate, at a cost per lead that keeps CFOs satisfied. But when your lead generation strategy is off the mark, you'll have an influx of poor-quality leads (contacts who may never convert) and/or high-cost lead generation marketing programs that spend too much to get too little.
As a premier digital marketing and lead generation agency, Overdrive offers expert lead generation services to develop strategies that strike an optimal balance between quality and cost.
Becoming a Marketing Engineer – Webinar Slides & Video
Learn how all the best practices and platforms we use come together to create a marketing infrastructure, customer journey, and sales funnel.
Watch the Webinar
Core Competencies
Our capabilities provide you with the 1001 marketing tasks your enterprise needs to launch high-powered marketing programs that last and yield measurable insights you can take to the bank. Our teams blend the critical talents of modern marketing into a single agile and global solution.
Lead Gen Metrics Timeline
Get Overdrive's new Lead Gen Metrics Timeline and understand which metrics really matter for lead generation programs. The timeline provides the important metrics needed to truly "close the loop," marking the journey from spend to ROAS (return on ad spend).
Access Now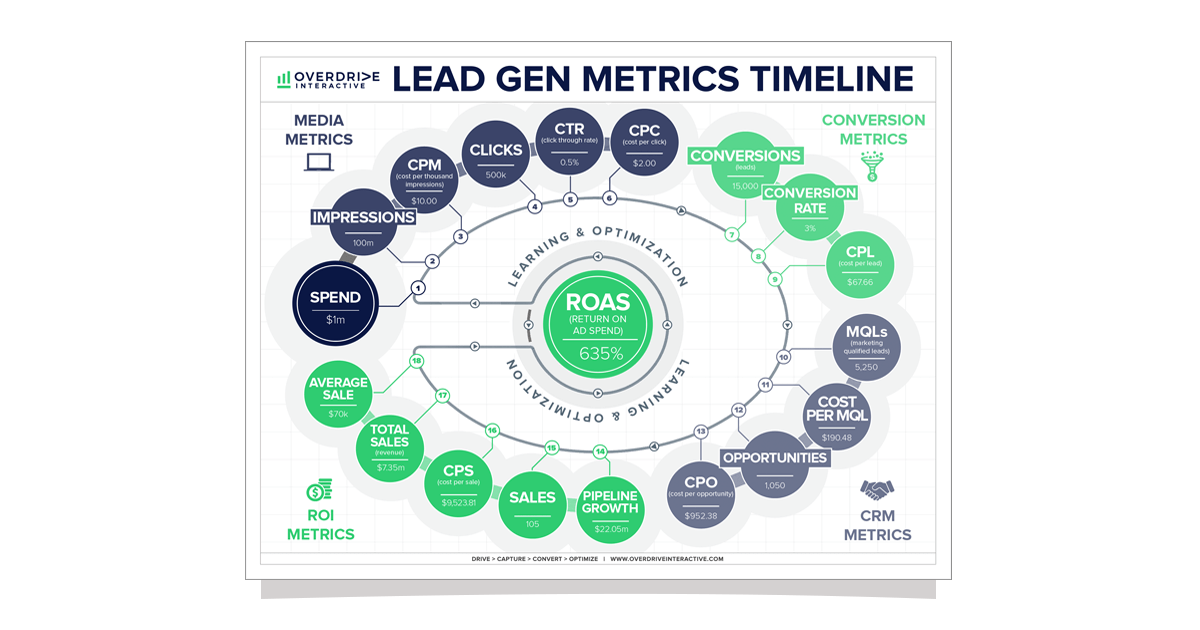 Strategies for Successful Lead Generation
Focus on creating great contentThe quality of your content is especially important for B2B buyers who typically spend a significant amount of time researching before purchase. Whether it's videos and webinars that cover the features and benefits of products and services, or blogs, eBooks, checklists, and infographics, make sure your content is genuinely valuable to prospects and speaks to their mindset at each stage of the buying journey.
Offer free tools. By developing tools that help solve a prospect's problem and freely offering them in exchange for contact information, you can both generate leads and improve prospects' perception of your company.
Test and measure everything. Too many dollars and marketing opportunities are wasted because marketing teams fail to test and measure performance. A superior lead generation strategy should lay the groundwork for testing from the outset, with special attention paid to:

A/B and multivariate testing, where different versions of copy, design, offers, and other elements of lead gen campaigns are tested against each other to see which perform better statistically.
Form analytics, to measure drop-off rates and conversion rates.
User testing, to track how users complete a task you've asked them to perform on your website.

Optimize landing pages. Your landing pages are where all your efforts to capture a lead or escalate a lead are paid off – or not. As you develop your strategy for landing pages, be sure to follow best practices for landing page design and to include highly visible, low-friction calls-to-action on every page.
Demand Gen Instrastructure
Discover DCCO: Drive. Capture. Convert. Optimize – Overdrive's four-step approach to demand generation. This four-part infographic will help you to visualize the tactics and technologies you need to drive traffic, capture leads, nurture prospects, and optimize for ever-increasing ROI.
Access Now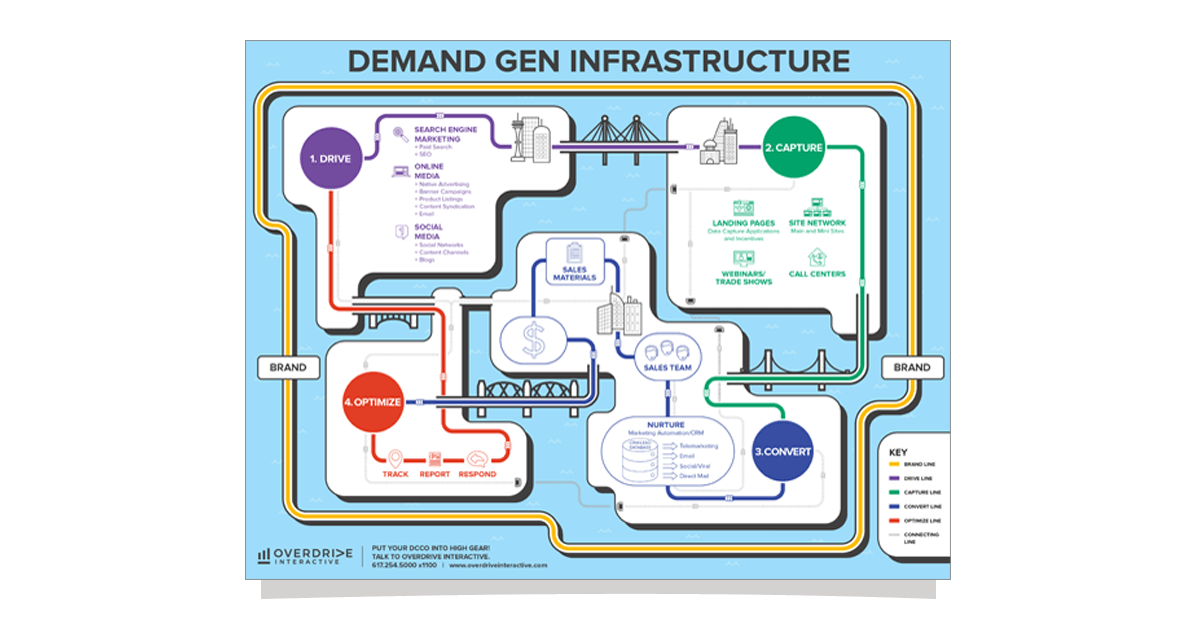 Develop Successful Lead Generation Strategies with Overdrive
At Overdrive, our end-to-end lead generation programs sync with our clients' sales efforts to generate the kind of leads that salespeople love. Expertly striking the right balance between lead quality and cost per lead, we continually optimize your online lead generation strategy and campaigns to ensure both high lead volumes and high lead quality, with tracking and reporting that delivers intelligence on all critical metrics.
Developing successful lead generation strategies can be tough for any marketing department. That's why Overdrive provides services to develop strategy for all aspects of lead gen campaigns, including:
Social media and inbound marketing
Paid social media management (LinkedIn, Facebook, Instagram, etc.)
Account-based marketing (ABM)
Content development and cost-per-lead content syndication
Mobile and click-to-call advertising
Digital PR and native advertising
Paid search marketing (SEM)
Search engine optimization (SEO)
Email list rental and newsletter sponsorship campaigns
Retargeting and programmatic display
Trade and consumer media planning, buying, and management
Landing page development and testing
Marketing automation and end-to-end nurture campaign development
Dashboard development and reporting
Contact us to learn more about our approach to developing lead generation strategies and to review case studies of clients who have achieved lead generation ROI.
FAQs
What is lead generation?
Lead generation is the task of finding, engaging, and nurturing the individuals and businesses who are most likely to buy the things you're selling. The goal of lead generation is to develop a relationship and communication with leads who can be nurtured from first contact to first sale.
What makes a lead generation strategy great?
A lead generation strategy is a roadmap for identifying and communicating with potential leads. Your strategy will determine what tactics you adopt to attract, engage, and convert prospects, and how you manage your budget for lead generation activities.
What are the essential elements of a lead generation strategy?
A successful lead generation strategy starts with decisions about the best way to find and engage contacts who fit the buyer personas you have developed, and how to move them through each stage of the buyer journey that you have mapped.
Your lead generation strategy may include tactics for engaging potential leads through:
• Content and calls-to-action on your website
• Organic and paid search
• Email marketing
• Webinars
• Social media
• Online advertising
• Conferences and tradeshows
• Direct mail
• Print advertising
• Telemarketing
What will make your lead generation strategy successful?
A successful lead generation strategy must do two things. It must produce high-quality leads, i.e. people and organizations who are highly likely to convert, and it must do so at a reasonable cost per lead. This magic formula of high-quality leads at a low cost per lead ensures the pipeline will remain full, that sales teams can meet revenue goals, and that marketing teams can remain within budget. Conversely, when your lead generation strategy results in low-quality leads, sales teams spend a lot of time spinning their wheels and revenue goals go unmet. Additionally, when the cost per lead is too high, marketing teams will either exceed their budget or fail to produce enough leads to keep the funnel full.
A successful lead generation strategy will typically include:
• Paid advertising to engage prospects
• Content that speaks to buyers' needs and interests at each stage of their journey
• Forms and landing pages on your website to capture buyer contact information
• Nurture programs that increase engagement and buyer interest
• Reporting and analytics that help to optimize ongoing campaigns
Why is a lead generation strategy important?
A lead generation strategy is important for a business because it represents all the future clients and the health of the prospects coming in. Without a lead generation strategy, your sales team is lost at sea without a compass. While good SEO and a well-built website will make your content easy to find, without a lead generation funnel with clear points of contact, it will be much harder to identify your most valuable connections.
What's the process of putting a lead generation strategy together?
Putting a lead generation strategy together begins with understanding the start and end of your conversion path. It's imperative to know the process of how your prospects discover you, and how they move through your website all the way through to the finish line. From there, it's all about putting yourself in the shoes of your key prospects and engineering each step of the funnel to be receptive to that mindset. When you've effectively targeted all your pain points, then the process becomes a smooth ride.
Who puts together a lead generation strategy?
A lead generation strategy is usually a collaborative effort from the sales and strategy people at your organization. Usually, you'll get key data from analytics about your prospects, and significant names coming from your sales representatives. With this data, your strategy team can develop a concrete plan that tackles every step of the process and outlines how the conversion path works.
How does a lead generation strategy grow your business?
Lead generation is crucial to growing your business. It all boils down to having a regulated way to renew your leads and potential clients that includes ways to share and promote your content built into every step. Eventually this process becomes self-sustaining. When each step of your conversion path organically leads your key prospects through your content and has established elements of outreach to help build your list of prospects, your business can unlock its true growth potential.