Harness the Power of SEM with Overdrive
Search engine marketing (SEM), also known as pay-per-click (PPC) or paid search, is one of the digital marketer's most powerful tools for one simple reason: it puts you in contact with buyers at the "critical moment" – the very instant when they're searching for your products and services on their most personal devices.
When SEM campaigns work well, they can be very effective at generating leads and converting sales in a highly cost-efficient manner. As marketing tools go, paid search engine marketing can be deployed incredibly quickly to provide immediate exposure. Built-in budgeting tools in SEM platforms give marketers a great deal of financial control. And because it's simple to test various elements and to measure the results of SEM campaigns, marketers can demonstrate ROI while constantly refining search marketing for greater results.
While SEM offers lots of advantages digital marketing, the medium has its challenges as well. Because paid search is highly competitive, it can take a great deal of time and constant optimization to stay on top of SEM campaigns. Search marketing is also highly complex and attending to all the details and nuances of SEM strategy and execution can be overwhelming for marketing teams that have other, equally important priorities on their plate.
Overdrive, a leading full-service SEM/PPC agency, provides comprehensive paid search management services that let your marketing team tap into all the expertise and hands-on assistance you need to manage the countless SEM tasks it takes to mount a winning paid search campaign.
Search Engine Marketing Map
Wrap your head around Search Marketing with the latest Search Marketing Map. Updated with 26 categories that account for 281 of the best sites, tools and resources of today. The Search Marketing Map helps marketers quickly become better marketers.
Access Now
SEM: An Overview
Here are the basic elements of an SEM campaign.
Search engines. Most SEM campaigns involve Google, as it is the overwhelming favorite of most users. But SEM campaigns can effectively use search engines like Yahoo, Bing, Facebook, YouTube, Amazon, and other platforms as well.
Keywords. Keywords are the terms that, when entered into a search engine by a user, prompt an advertiser's ad to appear on the results page. Advertisers can choose to only have ads appear when users type an exact keyword match, or to use a broader match between keywords and user searches
Ads. Paid search ads are the short bits of copy that appear on a search engine results page (SERP) when a user performs a search. Ads include a headline, a bit of copy, a URL, and different kinds of extensions. Because only a small number of ads can appear on each page, the search platform will hold an instant auction when a user searches for something to determine which ads will appear on the results page.
Bids and budgets. When setting up an SEM campaign, advertisers bid on each keyword by designating the amount of money they're willing to pay if a user clicks on their ad. Advertisers must also set budgets – the total amount of money they are willing to pay over a certain period of time for ad clicks. Search engine platforms will no longer show ads on results pages once the budget has been reached.
Ad rank. Ads are chosen to appear on results pages based on their ad rank, a formula that includes the bid amount and a Quality Score determined by the quality of the ad and landing page and their relevance to the user's search, as well as the context of the search and the historical click-through rate (CTR).
Targeting. Advertisers can narrow their campaigns to reach a specific set of users based on demographics and location, the device a user is searching on, the time and day of the search.
Landing pages. When a user clicks on an ad, they are delivered to a webpage hosted by the advertiser. The quality and relevance of landing pages is critical to increasing the Quality Score, while the content and call-to-action on landing page is critical to increasing conversion rates.
SEM Success for B2B Webinar – Video & Slides
Learn how you can afford to dominate the search engine results for all your keyword terms and maximize conversions while maintaining quality.
Access Now
How to Optimize Each Element of SEM
Much of the effectiveness of SEM is based on the ease with which marketers can test campaigns and measure results to continually refine efforts and improve key metrics. The two most important metrics are conversions, the number of people who become customers as a result of the campaign, and cost-per-conversion, the amount spent to achieve each conversion. To improve these numbers, marketers may focus on additional metrics that include the click-through-rate (CTR, or the percentage of people who see an add and click on it) and the cost-per-click (CPC, or the total cost of the campaign divided by the number of clicks).
Optimizing SEM campaigns requires a great deal of expertise and insight. At Overdrive, our strategies for paid search optimization include:
Improving Quality Score. Because a keyword's Quality Score figures so prominently in ad ranking, we work at improving quality by constantly ensuring that ads, copy, keyword groupings, targeting, and the landing page experience are highly relevant to the user search.
Optimizing landing pages. Landing pages that feature confusing directions or a vague call-to- action will lose more visitors than they convert. We increase conversion rates by creating unique landing pages for each ad group and ensuring that copy, graphics, offers, and CTAs all work together to get the user to take a single action and convert.
Testing constantly. From ad copy and extensions to offers and assets to landing page layout and CTAs, we constantly test every element of an SEM campaign to continually discover what works best.
Adjusting targeting. By revising targets – user demographics, geography, days and dayparts, and the devices that users perform searches on – we can often achieve significant improvement in click-through-rates and cost-per-click metrics.
Adjusting match types. When setting up keywords for an SEM campaign, you can choose Exact Match, Phrase Match, Broad Match, Expanded Broad Match and Negative keywords (words that, when used in a search, would prevent your ad from appearing on a results page). Revising keyword match strategies often improves the relevance/results of specific keywords
Bidding on brand keywords. While bidding on keywords that include the name of your company and/or products may seem unnecessary, we find it to be a highly effective strategy for dominating search engine results pages. Bidding on brand keywords also prevents your competitors from stealing clicks when users are searching specifically for you and allows you to deliver a more targeted ad/landing page experience to increase conversions.
Demand Gen Infrastructure
Discover DCCO: Drive. Capture. Convert. Optimize – Overdrive's four-step approach to demand generation. This four-part infographic will help you to visualize the tactics and technologies you need to drive traffic, capture leads, nurture prospects, and optimize for ever-increasing ROI.
Access Now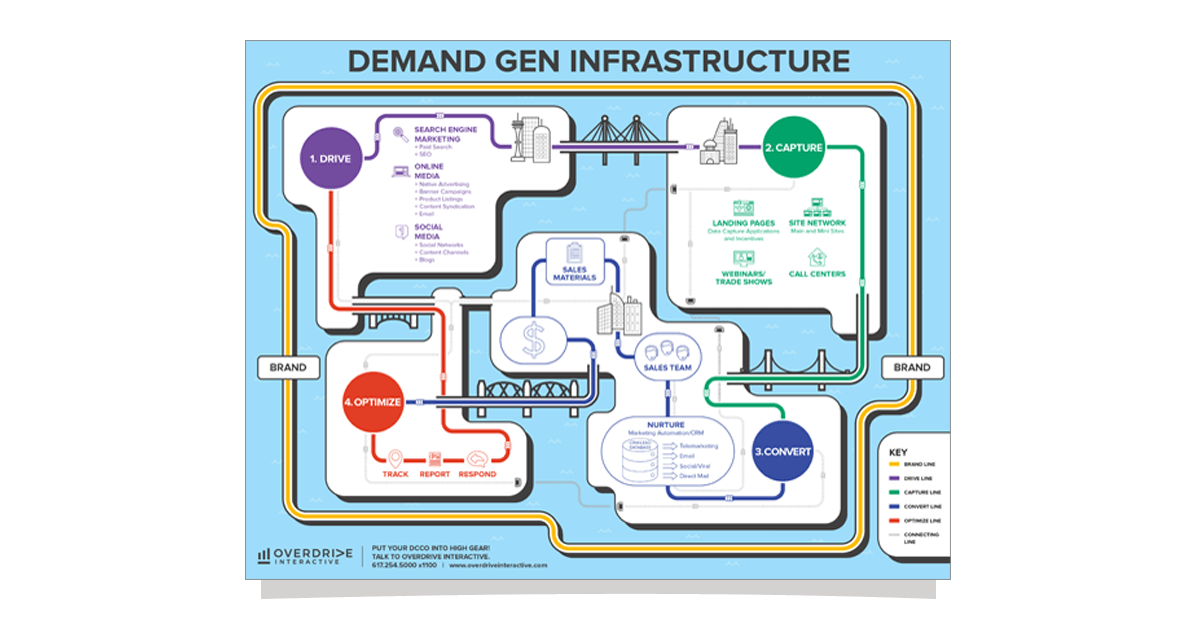 Making SEM a Full-Funnel Tactic
Many marketers use SEM campaigns to meet objectives for securing conversions at the bottom of the sales funnel. That makes sense, as paid search is an excellent way to reach users at the critical moment when they're searching for something very specific and they're ready to convert. Focusing SEM efforts on bottom-funnel prospects yields higher conversion rates and lower cost-per-click, two of the most critical metrics for any SEM campaign.
But SEM can be highly effective at other stages of the sales funnel as well. Research shows that consumers use search engines at every stage of their purchase journey, providing marketers with opportunities to engage buyers more effectively. By reaching buyers at the top of the funnel as they're starting their journey and engaging them mid-funnel as they're digging into research and getting closer to buying decisions, marketers can deliver even greater numbers at the bottom of the funnel.
The key to full-funnel SEM campaigns is to develop specific keyword groups, ads, offers, landing pages and display retargeting ads for each phase of the buying journey. The way that consumers think about and search for a product/service at the top of the funnel will be much different than their searches at the bottom of the funnel, and your SEM strategy must reflect this. Overdrive's SEM team can help you dive into audience segmentation and psychographics to expertly craft messaging that will enable your SEM campaigns to keep your sales pipeline full top to bottom.
Optimizing the Whole Customer Journey
Lift the Performance of all the Digital Components Powering your Customer Journey. This deck and video break down the essential ingredients that take a prospect from impression to sale and lists tactics that you can start employing today to improve campaign performance and sales velocity.
Access Now
Power Your SEM Campaigns with Help from Overdrive
Overdrive provides your marketing team with expert strategy, tactics, and hands-on services to complement your resident capabilities, enabling you to develop and execute highly effective SEM campaigns.
Our end-to-end services include:
Strategy and planning, including keyword selection grouping, offer and add text development, search account configuration and campaign setup, landing page development, Product Listing Add (PLA) feed setup, media and SEO integration, and attribution modeling.
Campaign management, including management of ads, AdServer, PLAs, tags click-to-call and pay-per-call advertising, and retargeting and display advertising.
Optimization, including testing and optimizing keywords, ads, PLAs, landing pages, offers, and strategy.
Reporting and analytics, including defining KPIs and setting up and configuring tracking and reporting technology.
FAQs
What is SEM?
SEM refers to search engine marketing, also known as paid search marketing and pay-per-click marketing. In SEM, advertisers pay for ads to appear on the results page when a user searches for a particular term, or keyword, on a search engine. Advertisers are charged a fee whenever a user clicks on an ad.
What's the difference between SEM, SEO and SMM?
While SEM involves paid advertising, SEO (Search Engine Optimization) involves no paid advertising – it's a technique for optimizing the copy on webpages to help them rank highly in search engines when users search on specific keywords. SMM stands for social media marketing, the technique of using social media platforms to build brand awareness and to market specific products.
How do SEM and SMM work together?
A good social media marketing campaign will produce posts and content that will show up on search engine results pages, helping to boost the credibility and effectiveness of SEM campaigns. Social platforms also work as search engines – Facebook and YouTube are two of the biggest search engines on the Internet after Google. Including social platforms in SEM campaigns can be an extremely effective way to reach users where they live. Consequently, SEM campaigns should always be executed in coordination with other types of campaigns to present cohesive and coherent messaging across channels and to maximize results.