Solve the Challenges of Insurance Marketing with Overdrive
For insurance marketing professionals, the tasks of creating demand, generating leads, nurturing prospects, closing sales, and retaining customers are full of unique challenges. Competition in the insurance industry is fierce and products are frequently quite similar, requiring insurance marketing teams to find new ways to build brands and connect with customers. Insurance companies must often reach customers indirectly through financial advisors and institutions, making messaging and campaigns more complicated. And the very nature of insurance and its intangible benefits presents a more complex value proposition.
Fortunately, insurance marketing professionals can take advantage of a wide variety of digital marketing tools for targeting audiences and measuring results that can help to get the most return on limited marketing budgets. But mastering all the channels, strategies, tactics, and analytics of digital marketing can be overwhelming for any marketing team, and the rapidly evolving nature of digital marketing only adds more complexity.
For insurance marketing teams seeking expert advice and hands-on assistance to design, execute and measure successful digital marketing campaigns, Overdrive provides a comprehensive suite of strategic marketing services tailored to the insurance industry.
Becoming a Marketing Engineer – Webinar Slides & Video
Learn how all the best practices and platforms we use come together to create a marketing infrastructure, customer journey, and sales funnel.
Access Now
Ten Strategies for Successful Insurance Marketing
With Overdrive, your team gets the benefit of working with a team of specialists with unmatched skill in all aspects of digital marketing. With deep experience gained from hundreds of clients and thousands of campaigns, we can help to guide your insurance marketing efforts toward the strategies and tactics that will deliver the greatest ROI.
Here are examples of the strategies we typically recommend for insurance marketing campaigns.
Promote your social posts. Social media is the ideal channel for connecting with customers on an emotional level and reminding them that insurance isn't just about policies and claims, but about protecting the most important things in their lives. While reaching your audience with organic social efforts is no longer viable, promoted posts and social ads are a cost-effective and highly targeted way to reach your best prospects.
Protect your online reputation. Customers increasingly rely on online reviews when making purchasing decisions. Using a repetition management tool can help to manage the acquisition of reviews from customers, to monitor your reputation across all online reviewing platforms, and to address negative reviews in ways that promote a positive and caring identity.
Offer chat. Customers often have questions or run into obstacles during the purchasing process, and many prefer to chat rather than make a phone call. Offering a chat service on your website can help to quickly address customer concerns and move them farther down the sales funnel.
Engage with video. Video is one of your most powerful marketing tools, especially for mobile users who prefer watching video over reading pages of content on their mobile screens. Use video to answer frequently asked questions, provide education on insurance topics, present quick client testimonials, and to create a human connection with your prospects and customers.
Reduce CPC with remarketing. Insurance-related terms are among the most expensive keywords in paid search. Remarketing campaigns can help to reduce your overall paid search budgets, as remarketing ads have higher conversion rates and lower CPC than search ads.
Retain customers with email automation. After your investment to secure a customer, an automated email and nurture campaign can effectively help to retain the customer and support cross-selling opportunities. Using an email automation program ensures a regular and logical sequence of communication and enables you to tailor messaging to a user's specific preferences, history, and behavior.
Optimize for mobile. Consumers increasingly shop for and make purchasing decisions on their mobile devices, and insurance products are no different. Ensuring that your email communications and website experience are optimized for mobile screens is likely the difference between keeping customers engaged and sending them elsewhere.
Marketing Minute Video: Understanding Integrated Digital Marketing
Today it's not enough to just understand search engine marketing (SEO and SEM), online media, persuasive creative, or even marketing analytics. Watch Harry J. Gold, CEO of Overdrive, explain how all the elements of digital marketing work together, so you can succeed!
Access Now
Critical Metrics for Insurance Marketing Campaigns
As a leading interactive agency, we use analytics to drive every decision about insurance marketing. From the first conversations about strategy through the final report on a campaign, we bake analytics into every aspect of digital marketing execution.
Here are a few of the metrics that are critical to insurance marketing programs:
Traffic

Sources – tracking codes can help identify how visitors found your website – through organic search, display ads, referral links, and other sources – so you can measure the effectiveness of every marketing campaign.
Unique page visits – this metric identifies how many new visitors are on your site each month and how many are returning for a follow-up visit.

Engagement

Social – measuring likes, comments and shares can help evaluate the effectiveness of your social media efforts and take steps to increase engagement.
Bounce rate – this metric identifies the visitors who move off your site after viewing only a single page. Tracking your bounce rate helps to determine where visitors are losing interest so you can take steps to optimize calls-to-action and landing pages to improve conversion, and to evaluate whether your paid search programs are directing visitors to the right pages on your site.

Conversions

Conversion rate – this metric identifies the percentage of all visitors take a desired action such as signing up for a newsletter, downloading content or purchasing a product. Improving your conversion rate by optimizing offers and landing pages is the surest way to drive more revenue.
Return on marketing investment (ROMI) – this metric determines the value generated by your marketing initiatives. Optimizing your ROMI is essential for getting more value and results from your marketing budget, and for justifying efforts in your reporting.
Demand Gen Infrastructure
Discover DCCO: Drive. Capture. Convert. Optimize – Overdrive's four-step approach to demand generation. This four-part infographic will help you to visualize the tactics and technologies you need to drive traffic, capture leads, nurture prospects, and optimize for ever-increasing ROI.
Access Now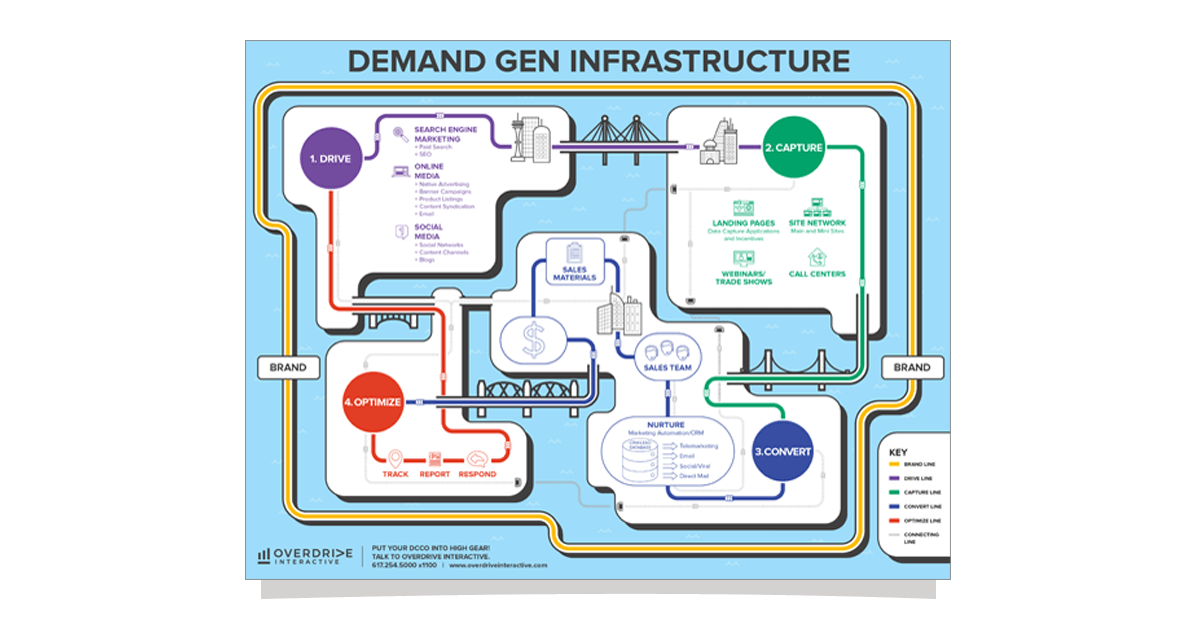 Overdrive Services for Insurance Marketing
With Overdrive, you get a full-service digital marketing agency that gives you access to all the services of a lead generation, PPC, web design and direct marketing agency combined. Overdrive provides comprehensive digital marketing services that deliver the expertise and bandwidth you need to augment in-house resources. Our services include:
Strategy – our digital strategy planning process creates a roadmap for consumer or b2b demand generation by identifying the most effective technology, tactics, creative, and media for your insurance marketing goals.
Creative – our action-oriented creative ensures that all content, copy, and visuals are designed to drive specific behavior, persuading users to buy, follow, opt-in, share, comment, read/view, or visit a nearby location.
Media – our media planners and managers are focused on ensuring that your media budget reaches the places where your audience congregates online. We maximize ROI by delivering a higher share of impressions, and we optimize campaigns in real time to ensure that your ads show up in the right places at the right time – every time.
Analytics – Overdrive measures and tracks every campaign touch point. Our tracking analytics capabilities help to inform and educate stakeholders on a wide range of objectives, and we constantly optimize every aspect of insurance marketing campaigns with the lessons learned from metrics and analysis.
FAQs
What is insurance marketing?
Insurance marketing is the process of reaching prospective customers through the wide variety of channels available online and offline. Today, much of insurance marketing is digital marketing, which provides more cost-effective strategies and measurable tactics for reaching prospects with persuasive content and offers.
What are the benefits of insurance marketing?
The objective of insurance marketing is to generate demand, increase leads and drive revenue through sales. A well-designed insurance marketing campaign will utilize every tool available to digital marketers, including organic search, paid search, social media, display advertising, content marketing and email marketing to drive traffic to a website where prospects can take specific actions like signing up for a newsletter, downloading content or purchasing a product.
How do SEO and insurance work together?
SEO, or search engine optimization, is a vital part of insurance marketing, as most consumers will use the Internet to search for and research insurance offerings before making initial contact with an insurance company. By optimizing a website for search, insurance companies can improve rankings on Search Engine Results Pages (SERPs) and gain a greater share of search traffic.