Solve B2B Demand Generation Challenges with Overdrive
B2B demand generation is a complex art. To take your audience from first impression to first sale, your demand gen campaigns must unite all the moving parts that comprise a customer's digital journey and path to purchase: strategy, search, media, social, websites, marketing automation, measurement, and more.
As a premier demand generation agency, Overdrive helps enterprise-level clients grow their revenue by launching, maintaining, and optimizing powerful online demand generation campaigns. Our strategists develop campaign roadmaps based on a clear understanding of your target audience and their behavior. Our technologists untangle your martech stack to eliminate barriers and create a clear path to conversion. And our demand gen experts complement your internal capabilities to help launch measurable campaigns that capture and influence buyers no matter where they are on the customer journey.
Demand Gen Infrastructure
Discover DCCO: Drive. Capture. Convert. Optimize – Overdrive's four-step approach to demand generation. This four-part infographic will help you to visualize the tactics and technologies you need to drive traffic, capture leads, nurture prospects, and optimize for ever-increasing ROI.
Access Now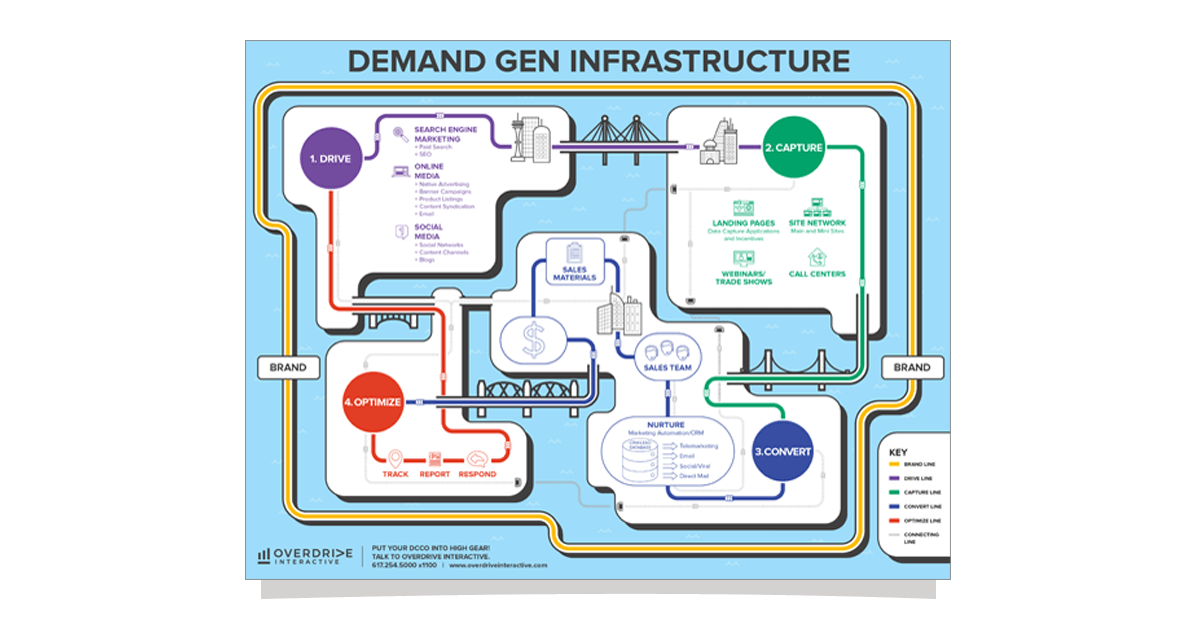 Drive. Capture. Convert. Optimize.
The Overdrive Approach to Demand Gen Marketing
Our programs are based on a four-step approach to B2B demand generation.
Drive. The first phase of B2B demand generation drives traffic to your website and landing pages and is typically where marketing teams direct the most resources. Tactics include:

Search – paid search, search engine optimization, shopping feeds
Online media – native advertising, banners, content syndication, email campaigns, video, newsletter sponsorships, product listings
Off-line advertising – direct mail, print, billboards, radio, television, telemarketings
Social media – profiles, channels, viral content, blog outreach

Capture. This second stage of B2B demand gen is possibly the most underfunded and underappreciated, but the place where often recommend targeted efforts that yield tremendous results. In this stage, we employ tactics such as:

Landing pages with compelling offers that help to capture contact information
Website enhancements to deliver content appropriate for each buyer persona and stage of the buying journey
Offers designed to move prospects to the next level of engagement
Call center scripts built on conversion-based audience personas
Webinars that give buyers more opportunities to engage

Convert. The third stage of B2B demand generation is where leads are escalated to sales. Your internal databases, email lists, CRM systems, and cookie/behavioral databases will be critical in this phase. Recommended tactics include:

Outbound marketing – email, direct mail, and contact from sales reps
Automated nurture campaigns – email, telemarketing, social/viral, direct mail

Optimize. This final phase informs all future iterations of your B2B demand gen efforts. Every aspect of your campaign should be wrapped in a tracking and reporting methodology that can quickly tell you what's working and what's not. We recommend lightweight and easy-to-read dashboards focusing on key success factors that yield actionable enhancements. Avoid data overload and make sure you have a top-level view into critical KPIs and ROI.
SEM Success for B2B Webinar – Video & Slides
Learn how you can afford to dominate the search engine results for all your keyword terms and maximize conversions while maintaining quality.
Watch the Webinar
Is Your B2B Demand Gen Marketing Working?
We are relentless when it comes to evaluating the effectiveness of B2B demand generation and optimizing your programs. From day 1, we continually evaluate the media, technical and persuasive elements of any demand gen program, asking questions that reveal critical insight.
Media

ABM & Intent: Are you reaching the right people at the right time?
Search: Are you covering the right content and keywords?
Budget: Are you paying the right price?
Download/contact/engagement: Are you targeting the right devices?

Technical

Conversions – number of leads created
Conversion Rate – the number of leads as a percentage of clicks
CPL (Cost per Lead) – the average cost of acquiring a lead

CRM Metrics

Benchmarking: Is your tracking working?
Technology: Is everything else actually working? (Glitches can damage a brand, reputation or media investment)
Martech: Is your martech stack integrated? (Marketing automation and triggered events, tags installed, APIs connected, data fields aligned, etc.)

Persuasion

Landing pages/link: Are you connecting prospects to the right places?
CX/Content: Are you making it valuable, productive and pleasurable for prospects to engage?
Sales Escalation: Are you selling the conversation?
Total Sales – total amount of revenue
CRO: Where are the high impact opportunities for conversion rate optimization
Branding: Are you building the brand?
Lead Gen Metrics Timeline
Get Overdrive's new Lead Gen Metrics Timeline and understand which metrics really matter for lead generation programs. The timeline provides the important metrics needed to truly "close the loop," marking the journey from spend to ROAS (return on ad spend).
Get Access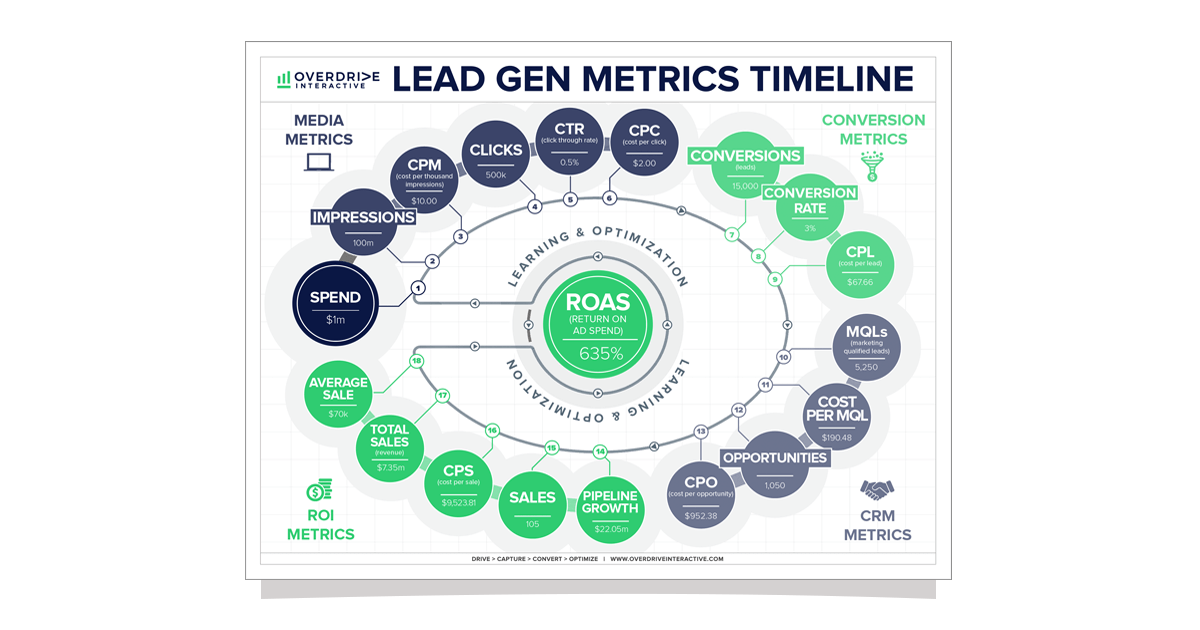 Essential Technology For B2B Demand Generation Campaigns
Technology is integral to B2B demand generation success. To manage execution of your demand gen activities and optimization of your efforts, Overdrive will help you select and/or configure a technology stack customized for the scope of your campaigns. Technologies may include:
A central marketing database to manage campaign execution and attribution as well as campaign assets and content development and delivery.
A central marketing database to manage campaign execution and attribution as well as campaign assets and content development and delivery.
Dashboards that deliver real-time visibility into campaign activities and success, presented in easy-to-digest formats that CMOs and other C-suite stakeholders can easily access.
Reporting delivered monthly that not only provides data but interpretation and recommendations as well.
Optimizing the Whole Customer Journey
Lift the Performance of all the Digital Components Powering your Customer Journey. This deck and video break down the essential ingredients that take a prospect from impression to sale and lists tactics that you can start employing today to improve campaign performance and sales velocity.
Access Now
B2B Demand Generation Services from Overdrive
Overdrive is a full-service internet marketing agency dedicated to delivering ROI for our enterprise clients. To help companies compete and win in today's hyper-competitive digitized marketplace, we provide demand generation services that include:
Digital-first demand generation strategy and planning
Martech consulting and configuration
Persuasion-oriented creative
Ad management for each channel
Account-based marketing (ABM)
Online media (display, social, video)
Content development
Website and application development
FAQs
What Is B2B Demand Generation?
B2B demand generation is an all-encompassing sales and marketing campaign directed at creating awareness of and interest in your products and services, generating leads, and moving prospects through the sales funnel from first impression to final sale. Activities involved in B2B demand generation will typically include many or all of the tactics that are common to digital marketing.
How Do You Craft a B2B Demand Generation Strategy?
Overdrive develops your B2B demand gen strategy by first carefully identifying your target audience along with detail about their behavior and the drivers of their purchasing decisions. With that insight, we map out a customer journey and identify the optimal timing-based and intent-based opportunities to reach your audience at each stage of their journey.
How Does B2B Demand Generation Reach the Right Audience?
To reach the right audience, Overdrive prepares detailed audience personas that identify your most likely buyers and the factors that govern their preferences, habits and buying decisions.