Building Effective Paid Search Campaigns
Paid search, also known as search engine marketing or SEM, is a form of advertising where businesses pay a fee every time a user clicks on an ad that appears on a search engine results page. The vast majority of paid search campaigns are built on Google, but there are additional platforms that marketers can take advantage of including Bing, Yahoo, Facebook, Amazon, and many others.
The benefits of paid search are compelling. Campaigns can be highly targeted, making paid search an incredibly cost-effective option in comparison to other marketing channels. SEM campaigns easy to measure and make it simple to test messaging, landing pages, and other elements. Paid search campaigns can be implemented immediately to accelerate time to ROI. And because search engines allow you to set strict budget limits, you have tight financial control over search marketing initiatives.
Managing a paid search campaign internally, however, can be a real challenge as the field is highly competitive. Outperforming your competition and delivering results requires mastery of the complexities of keyword selection, landing page development, targeting/timing, bid & placement management, and tracking and optimization. Many organizations find they lack the bandwidth and internal capabilities to handle paid search management with finesse.
Overdrive, a leading digital marketing and SEO/SEM agency, provides comprehensive search management that enable clients to maximize results and returns on their investment in paid search marketing. Our end-to-end paid search programs help clients grow their pipelines and boost bottom lines through the power and immediacy of paid search.
Search Engine Marketing Map
Wrap your head around Search Marketing with the latest Search Marketing Map. Updated with 26 categories that account for 281 of the best sites, tools and resources of today. The Search Marketing Map helps marketers quickly become better marketers.
Access Now
The Basics of Paid Search
Paid search is highly effective because it reaches your prospective buyer at the very moment they're looking on a search engine for what you offer. The basic elements of paid search include:
Ads created by companies to appear on search engine results pages (SERPs).
Landing pages. A page on an advertiser's website where the user will be directed after clicking on an ad. Landing pages provide a bit more information about a product or service along with a call-to-action that encourages the user to take action.
Keywords that, when included in a search query by a user, prompt an automated auction among all advertisers who are interested in having users searching on specific keywords see their ad.
Bids and budgets. A bid is the amount an advertiser is willing to pay the search engine if a user clicks on an ad. Budgets are the total amount per day and advertiser is willing to pay.
Quality score. Because there is a great deal of competition for certain keywords, search engines will rank the advertisers ads on a SERP with a quality score based on a combination of the bid amount, the quality and relevance of the content in the ad/landing page to the user's search, and several other factors.
Targeting that allows advertisers to select the users that will potentially see their ads based on demographics, location, day and time, devices, and other criteria.
Reporting and analytics that enable advertisers to measure the number of ad impressions, clicks, cost per click, cost per conversion, and other critical metrics.
SEM Success for B2B Webinar – Video & Slides
Learn how you can afford to dominate the search engine results for all your keyword terms and maximize conversions while maintaining quality.
Access Now
Optimizing Paid Search Elements End-to-End
While the basic elements of paid search are fairly straightforward and familiar to most marketers, the strategies for optimizing these elements to produce highly effective and cost-efficient campaigns are difficult to master. Marketers are frequently frustrated when click-through-rates don't reach the levels expected, when increases in bids and budgets don't show a correlating increase in conversions, and when competitors seem to always get more favorable placement on search engine result pages.
Paid search optimization is the key to successfully resolving these issues and winning search marketing campaigns. By continually measuring and refining each element of paid search, marketers can quickly see dramatic improvement and results.
Top strategies for optimization include:
Focus on conversion rates. It's great to get lots of clicks, but conversions are what drive sales and success. Many companies fail to effectively track conversions and consequently have no idea if their campaigns are working. Make sure your conversion tracking technology is accurate and that your tags are active.
Modify targeting. Paid search gives you the option to target in dayparts, geography, and devices, enabling you to test your keywords with each of these criteria and discover which choices lead to better performance.
Revise match types. Search engines will allow you to determine how closely you want to match keywords that users are searching on, from exact matches to broad matches. Narrowing or widening your match criteria may produce better results.
Use negative keywords. Negative keywords – search terms that you don't want to bid on – are helpful in defining your target audience more narrowly.
Modify targeting. Paid search gives you the option to target in dayparts, geography, and devices, enabling you to test your keywords with each of these criteria and discover which choices lead to better performance.
Give your landing page a makeover. Too many companies fail to create specific, personalized, targeted landing pages for each paid search ad or groups of similar ads. Landing pages should pay off the expectation that users have when they click on an ad and present them with a single action you want them to take. Using a company's homepage as a landing page – a practice that happens far too frequently – provides users with no direction and inevitably squanders a potential conversion as well as the money you're spending on paid search.
Focus on high-performance keywords. If certain keywords are not performing well, you can pause them or replace them with other relevant keywords.
Test everything. The beauty of paid search campaigns is how easy it is to test elements and measure success. You can test everything from ad copy, landing page copy and design, offers, keywords and targeting.
Demand Gen Infrastructure
Discover DCCO: Drive. Capture. Convert. Optimize – Overdrive's four-step approach to demand generation. This four-part infographic will help you to visualize the tactics and technologies you need to drive traffic, capture leads, nurture prospects, and optimize for ever-increasing ROI.
Access Now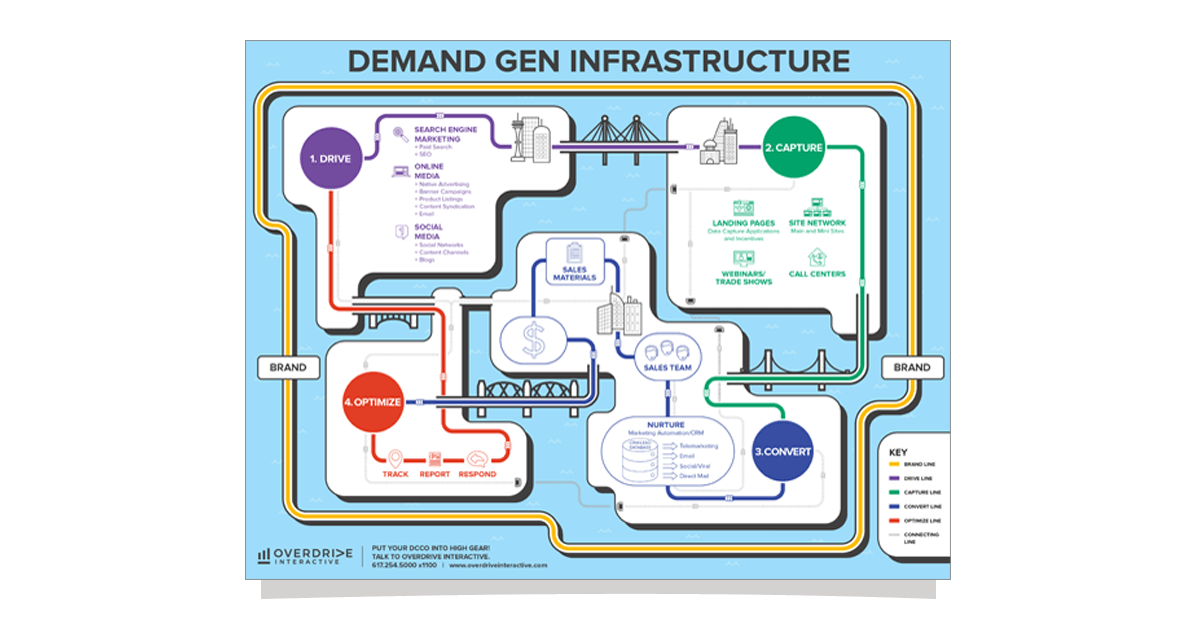 Key Metrics for Paid Search Campaigns
There are four key metrics and four key efficiencies you can use to measure the quality of your paid search efforts.
Impressions – the number of people who see your ads
Clicks – the number of people who click on your ads
Cost – the cost of each ad and the total daily/weekly cost of your campaign
Conversion – the number of people who click on the CTA on your landing page
Click-through-rate – the number of click divided the number of impressions
Cost-per-click – the total cost of your campaign divided by number of clicks
Conversion rate – the number of clicks on a landing page CTA divided by the number of clicks on ads
Cost-per-action – the number of conversions divided by the total cost of your campaign
Using these metrics, you can take advantage of the simplicity of testing elements in a paid search campaign to see which choices and changes improve performance on all metrics, and especially on the two most important metrics: conversions and cost-per-action.
Lead Gen Metrics Timeline
Get Overdrive's new Lead Gen Metrics Timeline and understand which metrics really matter for lead generation programs. The timeline provides the important metrics needed to truly "close the loop," marking the journey from spend to ROAS (return on ad spend).
Access Now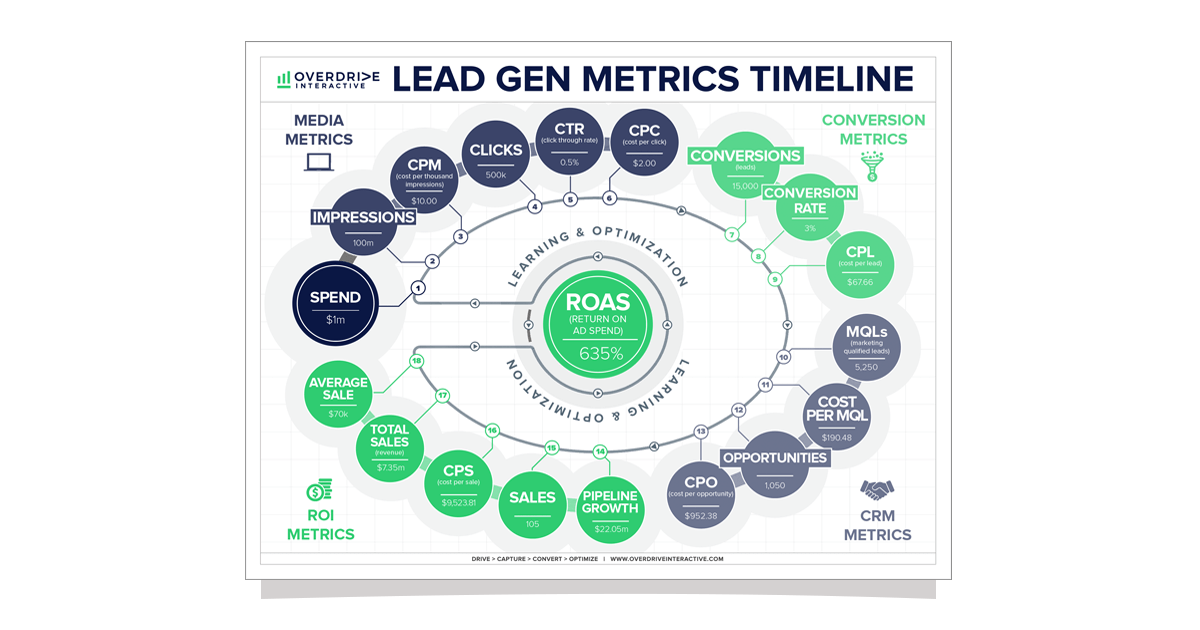 Paid Search Engine Marketing Services from Overdrive
To help your organization plan, execute and analyze effective paid engine search marketing campaigns, Overdrive provides comprehensive services to add expertise to your in-house capabilities and extra bandwidth to your internal resources. Our paid search services include:
Strategy and planning, including keyword selection and grouping
Development of ads, offers and landing pages, mapping them to each stage of the customer journey
Configuration of search accounts and set up of campaigns
Set up, management and optimization of Product Listing Ad (PLA) feed setup
Ad management for each channel
Development and management of retargeting and display advertising
Implementing and managing Google Tank Manager (GTM)
Integration of media and SEO best practices
Attribution modeling and AdServer management (Dart)
FAQs
What is Paid Search?
Paid search is a segment of digital marketing encompassing paid ads on search engines. This means that you create ads within Google or Bing's tools, choose which keywords you want them to appear for, and make bids on when you want your ads to appear. The way the platforms work is that the higher your bids, the more your ads will appear.
Paid search is a very useful tool for digital marketing because it offers immediacy and precision. You can choose exactly which keywords to rank for, and if you want to rank higher, you simply increase your bids.
What's The Difference Between SEO and Paid Search?
SEO and Paid search are two sides of the same coin. They complement each other very well and work to augment your digital marketing goals when used together. Paid search is about ranking immediately and precisely for specific keywords and being able to control exactly how and when you appear. This makes it useful for branded keywords, or specific initiatives. SEO, on the other hand, is more of an inbound effort than an outbound one. SEO is all about capturing the existing search volume your audience is already generating, and ensuring your website is a well optimized product for Google and for your audience.
Essentially, paid search is about sending an outbound message, and SEO is about making a well optimized product for once they arrive.
What Are The Key Benefits of Paid Search?
The key benefits of paid search are being able to completely control how, when, and where your message is spread across search engines.
SEO is a valuable discipline, but there is always the uncertainty of how the algorithms will interpret your edits.
In paid search, there is no uncertainty. If you bid high enough for position 1 on a keyword, you'll be there guaranteed, and the ad will be exactly as you want.
How Do You Measure Paid Search?
Measuring paid search can be done through a variety of platforms. Tools such as Kenshoo or Doubleclick can track your paid search performance, and let you make bulk changes to your bids and strategies.
Within Google Analytics, you can track and monitor all the paid traffic coming into your site and ensure everything is being place where it's supposed to, and with the correct keywords.