How to Build a Successful Lead Generation Program.
Lead generation is the first step in filling your sales pipeline with potential buyers who may eventually become customers. While it's a marketing task that is essential to business success, not all lead generation efforts are equally valuable – after all, it's no use generating long lists of contacts who seem unlikely to ever be interested in your products and services. On the other hand, quality lead generation programs can cost-efficiently produce Marketing Qualified Leads (MQL) that can easily be nurtured to become Sales Qualified Leads (SQL) and eventually become customers.
This short guide answers essential questions about lead generation, outlines the metrics required to optimize lead generation marketing, provides tips for generating leads through your website, and explores ways that Overdrive Interactive can help you maximize your lead generation potential.
Critical Lead Generation Metrics
Successful lead generation campaigns require constant optimization of efforts, using the right metrics to understand what's working and what's not.
Media Metrics

Spend – the total cost on your lead generation campaign
Impressions – the number of people who see your lead gen ads
CPM – Cost per 1000 Impressions
Clicks – number of visitors who click on your ads
Click through Rate – the percentage of visitors who click on a call-to-action
Cost per Click – the average cost for each click (on platforms where you're paying for clicks)

Conversion Metrics

Conversions – number of leads created
Conversion Rate – the number of leads as a percentage of clicks
CPL (Cost per Lead) – the average cost of acquiring a lead

CRM Metrics

MQL – the number of Marketing Qualified Leads generated
Cost per MQL – the average cost of each MQL
Opportunities – the number of qualified leads or sales opportunities created
CPO – the average cost per opportunity
SQL – the number of Sales Qualified Leads generated

ROI Metrics

Pipeline Growth – percentage of increase in leads
Sales – number of sales closed
Cost per Sale – average cost of lead generation efforts per sale
Total Sales – total amount of revenue
Average Sale – average amount of sale
Return on ad spend – amount of marketing revenue generated per marketing dollar spent
Lead Gen Metric Timeline
Get Overdrive Interactive's new Lead Gen Metrics Timeline and understand which metrics really matter for lead generation programs. The timeline provides the important metrics needed to truly "close the loop," marking the journey from spend to ROAS (return on ad spend).
Get the Lead Gen Metric Timeline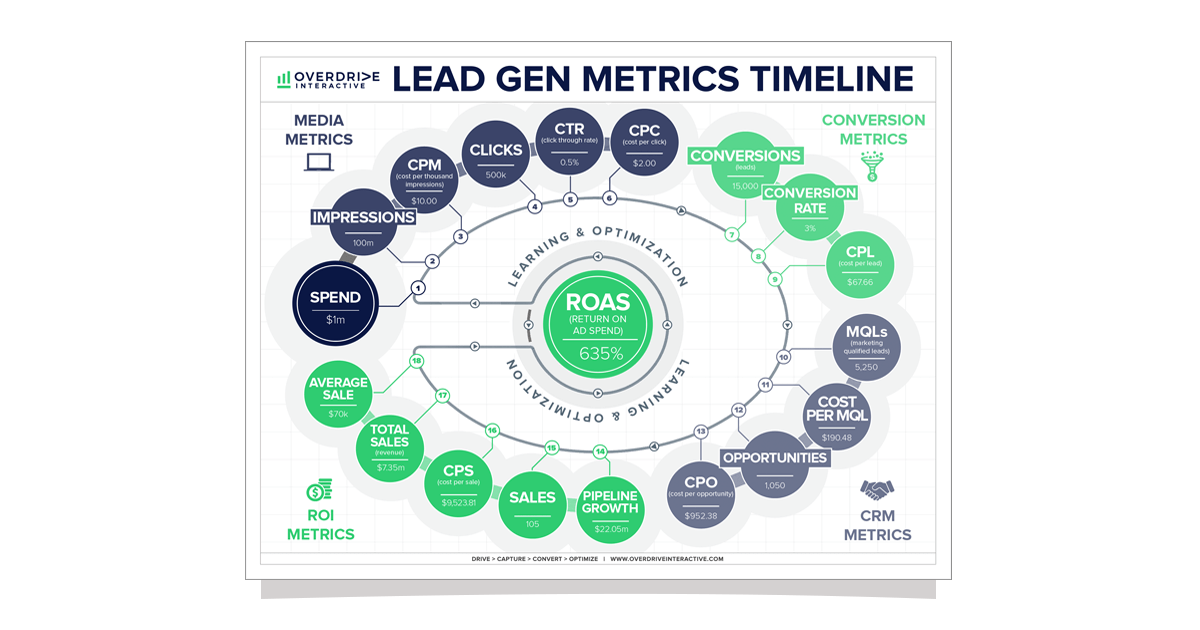 Core Competencies
Our capabilities provide you with the 1001 marketing tasks your enterprise needs to launch high-powered marketing programs that last and yield measurable insights you can take to the bank. Our teams blend the critical talents of modern marketing into a single agile and global solution.
"The offer makes the lead" Harry J. Gold, CEO, Overdrive Interactive
5 Tips for B2B Lead generation
A company's website is a critical component of lead generation. A study by the Corporate Executive Board confirms that 57% of purchase decisions are made before a buyer ever talks to the company from which they plan to purchase products and services. To develop and nurture these self-motivated buyers, corporate websites must be able to inform and convert users easily and without friction.
To optimize your website for lead generation, consider these five tips.
Include authoritative content for all parts of the sales cycle. Using buyer personas and buyer journeys, map your content to every part of the journey for each persona, making sure that each part of your site has the appropriate level of content for the buyer persona and where they're at in the buying journey.
Align expectations of sales and marketing teams. Analyze sales team feedback and lead data to understand what content is working on each page – and which is not. To escalate marketing qualified leads (MQL) to sales qualified leads (SQL), you may need to consider revising offers or revisiting your buyer personas to ensure they're still aligned with business and sales goals.
Help users make the right decision about which content to consume. With content for every buyer and every journey on your website, visitors may easily get confused about which content is relevant for them. Datasheets are great for engineers in a target group, but CTOs likely want content that covers a bigger picture. To help users narrow the options when considering which content to consume, always include benefit, offer, and call-to-action in all metadata for organic and paid search.
Always include a strong call-to-action. Highly visible, low-friction calls-to-action are critical to lead generation. Be clear about what you want users to do and spell it out in large letters. Avoid placing multiple calls-to-action on a page that can confuse the user.
Automate to generate. Use marketing automation software to track and analyze lead generation Automation can trigger an email marketing event, for example, based on a page the user lands on. Email drip and nurture campaigns are effective ways of automatically guiding users through your sales funnel.
Demand Gen Instrastructure
Discover DCCO: Drive. Capture. Convert. Optimize – Overdrive's four-step approach to demand generation. This four-part infographic will help you to visualize the tactics and technologies you need to drive traffic, capture leads, nurture prospects, and optimize for ever-increasing ROI.
Access Now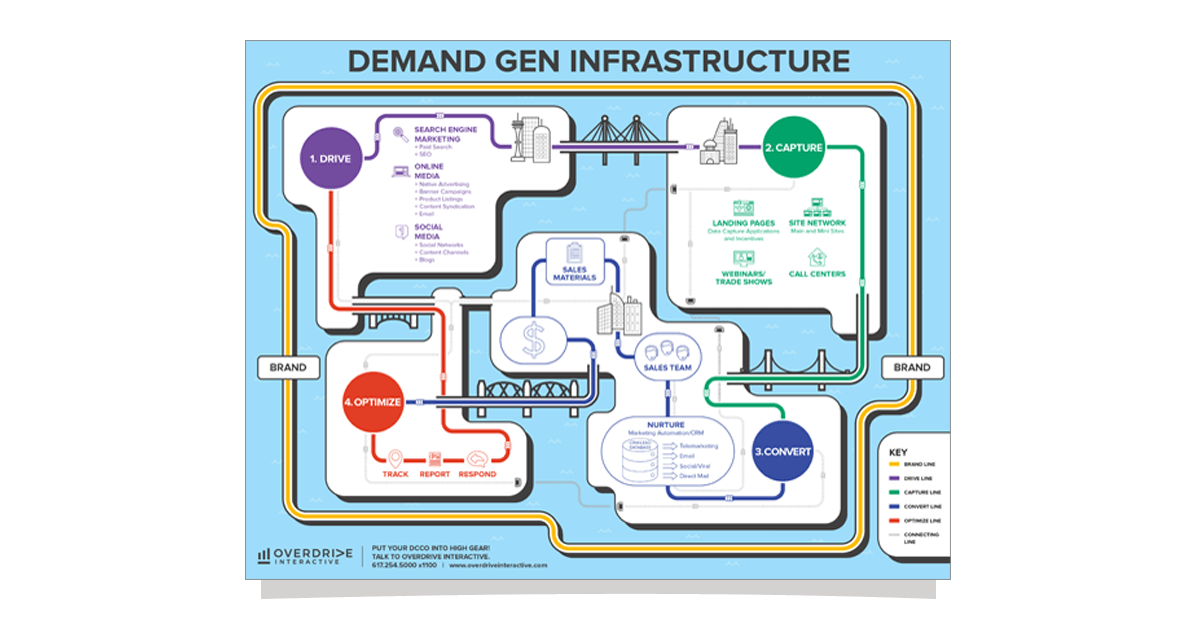 End-To-End Lead Generation with Overdrive Interactive
As a premier digital marketing and lead generation agency, Overdrive Interactive excels at creating, maintaining and optimizing always-on lead generation channels that cover all stages of the customer journey – from first impression to decision to buy. Striking the right balance between cost per lead and lead quality, our lead generation programs are driven by late-funnel metrics that help to keep the pipeline full of leads that will ultimately close.
Our team designs and manages all aspects of lead generation services, including:
Paid search marketing (SEM)
Search engine optimization (SEO)
Account-based marketing (ABM)
Social media and inbound marketing
Paid social media management (LinkedIn, Facebook, Instagram, etc.)
Email list rental and newsletter sponsorship campaigns
Retargeting and programmatic display
Trade and consumer media planning, buying, and management
Content development and cost-per-lead content syndication
Landing page development and testing
Marketing automation and end-to-end nurture campaign development
Digital PR and native advertising
Mobile and click-to-call advertising
Dashboard development and reporting
FAQs
What is lead generation?
Lead generation is the process of identifying individuals or organizations who are likely to be interested in and may eventually buy the products or services your company is selling. Leads may be generated through multiple sources, including websites, marketing and advertising efforts, online content distribution, organic and paid search, calls and text messages, review sites, and word of mouth.
Why is lead generation important?
Since every sale starts with a lead, lead generation is essential to developing a sales pipeline that is full of potential buyers throughout the sales funnel. Failure to generate a sufficient number of quality leads results in fewer sales and lower revenues.
What are common online lead generation tactics?
Some of the most common approaches to online lead generation include:
• Forms and calls-to-action on a company website
• Email marketing
• SEO
• Webinars
• Paid search
• Social media
• Online advertising
What is lead generation vs. demand generation?
Demand generation is the task of creating awareness of and demand for your products or services. B2B demand generation tactics include brand building and developing content to bring new visitors to your website or business. Demand gen supports the entire sales and marketing cycle, from creating initial awareness and interest of prospects to lead generation and nurturing to first sale and cross-selling.
Lead generation is specifically designed to create a relationship with potential buyers, nurturing and escalating them through the funnel toward an eventual sale.
What is lead generation in digital marketing?
Cost-effectiveness and quality are the keys to successful digital lead generation strategy. Generating quality leads is important because it ensures that the leads in your pipeline have the potential to actually become customers and that the money you're spending to nurture them will yield a return on your investment. Developing cost-effective lead generation programs is essential to ensuring that your marketing budgets will produce an optimal amount of quality leads. If your cost per lead (CPL) is too high, you'll may end up with really well qualified leads, but not enough of them to meet your revenue goals.