Build Your Mobile SEO Strategy with Overdrive
Google's recent commitment to mobile-first indexing requires every organization seeking higher search rankings to review their mobile SEO strategy. Mobile search has surpassed desktop search within the last few years, and increased use of mobile devices in eCommerce shows no sign of slowing. Competing in this environment means having a mobile SEO strategy that can increase your engagement, drive more conversions, and secure top spots on search engine results pages.
Overdrive, an integrated digital marketing and SEO/SEM agency, provides a comprehensive slate of SEO services that includes strategy, execution, and analysis for mobile SEO programs. With Overdrive, you get a team of SEO specialists with vast experience and deep insight into the most effective ways of improving mobile SEO traction and integrating SEO into other marketing activities across the board to drive performance and ROI.

Crafting the Customer Journey
In order to optimize your website performance, one must truly be able to visualize an end-to-end customer journey and experience! You need to understand how all the media, marketing stack components and action-oriented creative of modern marketing fit together to drive initial contact to potential prospect and eventually a satisfied customer.
Watch Harry J. Gold, CEO of Overdrive, explain how all the elements of digital marketing work together, so you can succeed!
Access Now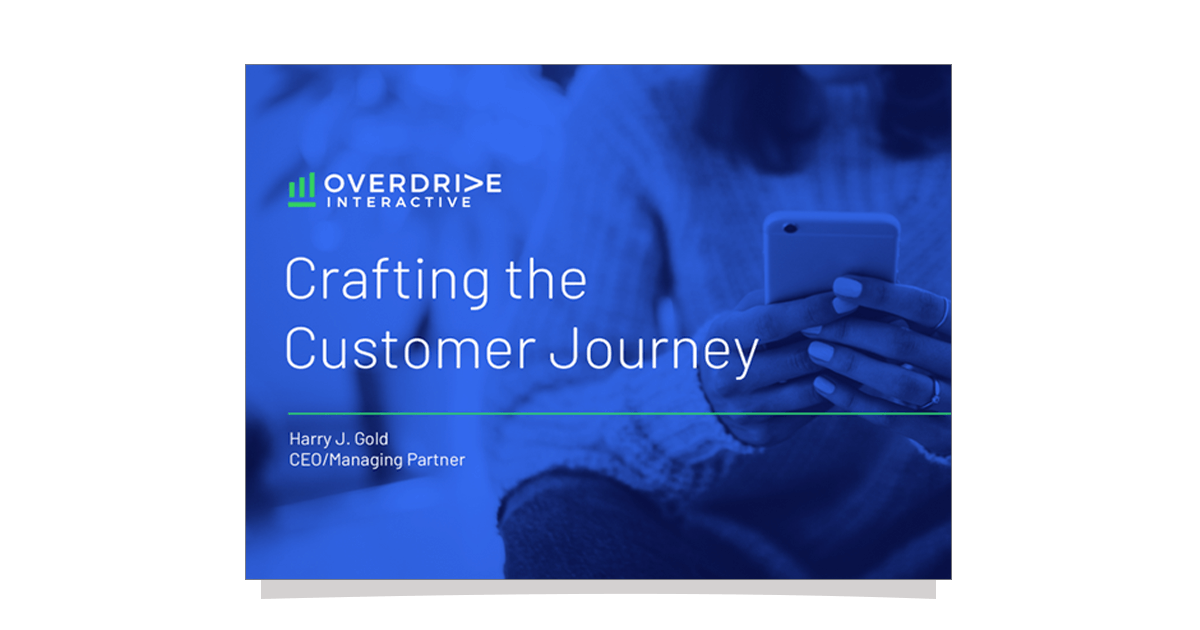 Why a Superior Mobile SEO Strategy Is Critical
If you're unsure whether a robust mobile SEO strategy is important, consider these facts:
Mobile search is the future. More than half the world has a mobile device today, and by 2022, more than two-thirds of the population will have access to mobile. The majority of search today is performed on mobile devices rather than desktops.
Mobile content affects Google search page ranking. Googles new mobile-first index means that the content of a company's mobile website is a primary factor in determining search engine ranking. If you're still optimizing for desktop search and ignoring mobile, you're just leaving money on the table.
Mobile search increases sales. Mobile search enables users to quickly turn to their smart phones for useful advice throughout the purchasing process – from initial research about products and reviews to comparing prices and competing offers to placing an order. Google reports that mobile searches for "best" products grew more than 80% over a two-year period, and that searches for reviews grew more than 35% during the same period. Clearly, having a mobile SEO strategy that puts your products and offers in front of users at these critical stages in the customer journey is essential to conversion optimization and to maintaining a competitive edge.
Search Marketing Map
Wrap your head around Search Marketing with the latest Search Marketing Map. Updated with 26 categories that account for 260 of the best sites, tools and resources of today. The Search Marketing Map helps marketers quickly become better marketers.
Access Now
Elements of a Successful Mobile SEO Strategy
Building a successful mobile SEO strategy for increasing online demand generation requires focus on five priorities:
Optimizing performance. Improving your mobile search rankings depends on successfully giving more users access to the content they want while increasing traffic, session duration, and other engagement metrics. Mobile devices have less computing power and slower Internet connections, causing pages to load more slowly. Yet users have less patience for slow websites when using a mobile device. Consequently, one of the most important aspects of your mobile SEO strategy is speeding up your site with a variety of technical adjustments.
Optimizing content. Because of the smaller screen on mobile devices, it's more difficult for users to navigate, consume, and respond to content. You can optimize content for mobile by writing shorter headlines, sentences, and paragraphs; by minimizing the number of fields on forms; and by making sure that buttons are the appropriate size for large fingers.
Optimizing design. The user experience on mobile is quite different than a desktop, and websites must render equally well on screens of all sizes. Consequently, adopting responsive design is an essential mobile SEO strategy, providing a host of benefits that improve the user's experience. Additionally, navigation must be simplified for smaller screens. Cleaner designs with more white space, legible fonts and minimal use of columns make it easier for users to engage with sites. Pop-ups and interstitials can be problematic, causing users to abandon a site.
Optimizing for local search. When users search with their mobile device, they're often looking for products, services, or resources nearby. To take advantage of this opportunity, organizations must optimize for local search by including local information in metadata using schema markup and adopting a variety of other local SEO techniques.
Optimizing for voice. Increased mobile search means increased voice search, requiring that companies optimize for more long-tail keywords based on the way people naturally talk and ask questions.
Empower Yourself
A good online strategy unites all the moving parts that comprise a consumer's digital journey and the path to purchase.
Visit Overdrive's Knowledge Center to prepare yourself and your team with the practical steps and best practices that organizations need to master to successfully launch a digital marketing platform that delivers the full power of the web.
Get access to guides, reposts, videos, templates and much more.
Access Knowledge Center
Overdrive's Services for Mobile SEO Strategy
As a full-service digital marketing agency, Overdraft Interactive provides comprehensive SEO services – including mobile SEO strategy services – while also enabling you to integrate SEO best practices into copy, content, and campaigns throughout the organization.
Our mobile SEO strategy services include:
Defining mobile SEO strategy, creating roadmaps for implementation, and identifying metrics
Analysis of existing websites and content for mobile friendliness
Optimizing content, pages, and websites to increase mobile SEO traction
Advising on tools for managing and monitoring mobile SEO performance and integrating mobile SEO technology with the marcom stack.
Development of new mobile-friendly content and mobile optimization of existing content
Reporting on mobile SEO performance
In addition to mobile SEO strategy, Overdrive provides a wide range of local, eCommerce and international SEO services.
FAQs: What Is a Mobile SEO Strategy?
What is a mobile SEO strategy?
A mobile SEO strategy is a plan for optimizing web copy, content, pages, and websites to improve page rankings on search engine results pages for mobile search.