International SEO Services
Reach New Audiences with International SEO Services
While international SEO can be incredibly complicated, working with the right international SEO services provider can help to minimize complexity while dramatically increasing results.
Versioning websites for multiple countries, regions, languages, and audiences can be a daunting prospect. It's not enough to build new pages by simply running existing copy through a translation program – international SEO requires detailed audience segmentation, new keyword research, fresh content written with the help of native speakers, and web experiences designed specifically to appeal to and convert international audiences.
Performing these tasks well can yield amazing ROI, but most enterprise SEO teams have neither the bandwidth nor the internal skill set to manage international SEO successfully and efficiently.
Overdrive, a full-service digital marketing and international SEO agency, provides comprehensive international SEO services that enable companies to add deep expertise and experience to existing resources, and that allow SEO teams to continue to focus on the programs and practices they know best.
Crafting the Customer Journey
In order to optimize your website performance, one must truly be able to visualize an end-to-end customer journey and experience! You need to understand how all the media, marketing stack components and action-oriented creative of modern marketing fit together to drive initial contact to potential prospect and eventually a satisfied customer.
Watch Harry J. Gold, CEO of Overdrive, explain how all the elements of digital marketing work together, so you can succeed!
Access Now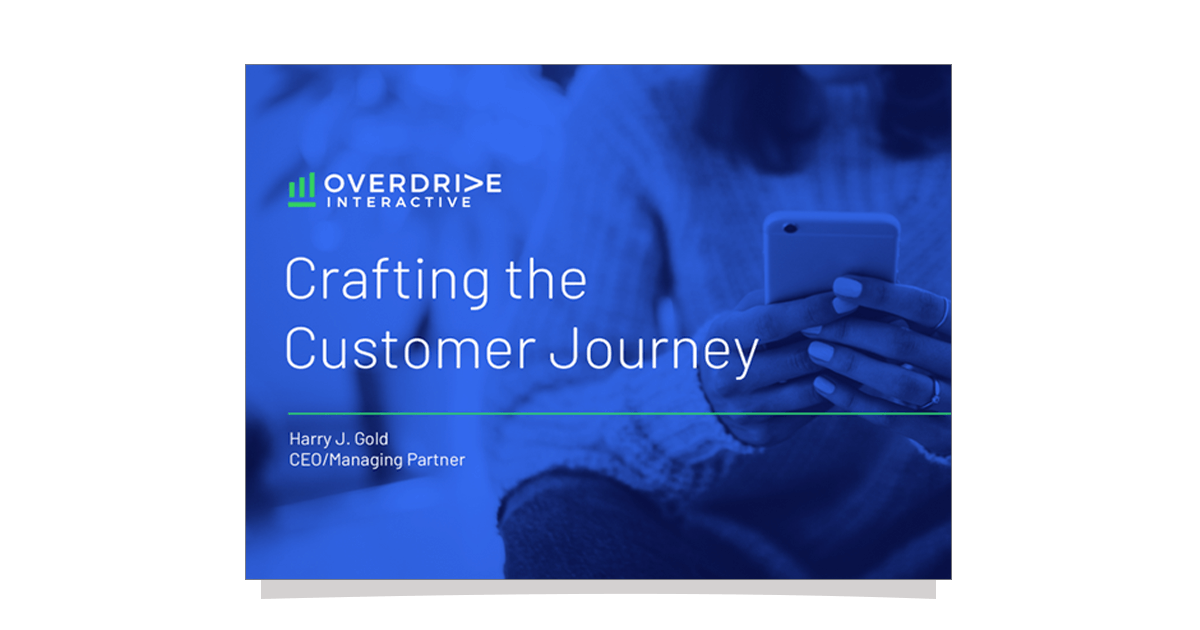 International SEO Services from Overdrive
Overdrive's international SEO services provide end-to-end expertise and hands-on assistance to help design, execute, measure, and report on international SEO initiatives.
Our international SEO services include:
Strategy and planning. From helping to identify target countries, regions, and languages to deciding on URL structures for international sites and knowing which international search engines to optimize for, our international SEO services provide strategic expertise to align strategy with goals and to optimize resources for maximum results.
Research. We provide customer and category research, as well as keyword research that considers the idioms, terms, references, and other language that different international audiences use to search for products.
Content development. Our international SEO services include assistance not only in translating pages but in developing new content and localizing existing content to reflect the cultural attitudes and behavior of audience segments in different markets.
Technical assistance. From implementing hreflang and language tags correctly to selecting tools and integrating new technology, our international SEO services make sure that every technical aspect of your international SEO program works flawlessly and presents no obstacles to the conversion flow..
Linking. Because linking is so critical to SEO rankings, our national SEO services include assistance to create a new linking strategy for international content and to build country- or region-specific links.
Mobile, voice and video search optimization. The continued rise of mobile technology means that international SEO programs must have a mobile SEO strategy in order to capture the growing number of users who perform searches on their mobile devices. Our international SEO services also include strategies for voice and video search, as these technologies are poised to dramatically reshape the parameters of global SEO.
Tracking and reporting. Overdrive's international SEO services include consulting and assistance on identifying metrics, deploying analytics tools, establishing reporting protocols, and interpreting the results of international SEO programs. Our comprehensive analytics and reporting solutions help to optimize SEO programs to continually improve results and drive ROI.
Training. Our international SEO services include training for SEO teams as well as PR, social, and content developers.
Our international SEO services are seamlessly integrated with comprehensive digital marketing services, including account-based marketing, lead generation, strategic marketing services, media planning and management, search engine marketing, social media marketing, creative services, web development, marketing automation, and content creation and marketing.
Ultimate SEO Dashboard for CMOs – Video & Slides
Break through the clutter of weekly and monthly reports by learning the KPIs that are most important.
Harry J. Gold, CEO of Overdrive, shares some of Overdrive's SEO dashboards that dazzle CMOs and makes heroes out of SEO pros.
Access Now
FAQs
What is international SEO?
International SEO is the task of optimizing a website so that search engines can understand which countries and languages a webpage is targeting. The goal of international SEO is to improve ranking on search engine results pages (SERPs) for webpages that target international audiences.
Why is international SEO important?
International SEO is critical for any company that targets markets in other countries and other languages. While a webpage for a product that target U.S. audiences in English may rank highly in a Google search, the same content targeting audiences abroad and in different languages will not automatically achieve the same search results. International SEO practices are designed to help companies improve search engine rankings for webpages that are targeted to international markets.