Demand Generation Services
Fill Your Sales Funnel with Overdrive Demand Generation Services
Generating demand for your products and services requires a complex mix of digital marketing strategies, technologies, and channels. From media, search, and social plans to online media, landing pages, and marketing automation, your demand gen program must integrate every digital marketing tool available to guide your target audience through your sales funnel.
Demand generation services from Overdrive deliver the insight and hands-on expertise you need to successfully launch an online demand generation platform that utilizes the full power of the web. From crafting customer journeys to developing powerful strategy and executing comprehensive campaigns, we develop measurable demand gen services that fill your funnel fast and yield actionable insights.
Crafting the Customer Journey
Today, in order to be a great marketer, one must truly be able to visualize an end-to-end customer journey and experience – and then you need to make it happen! You need to understand how all the media, marketing stack components and action-oriented creative of modern marketing fit together.
Access Now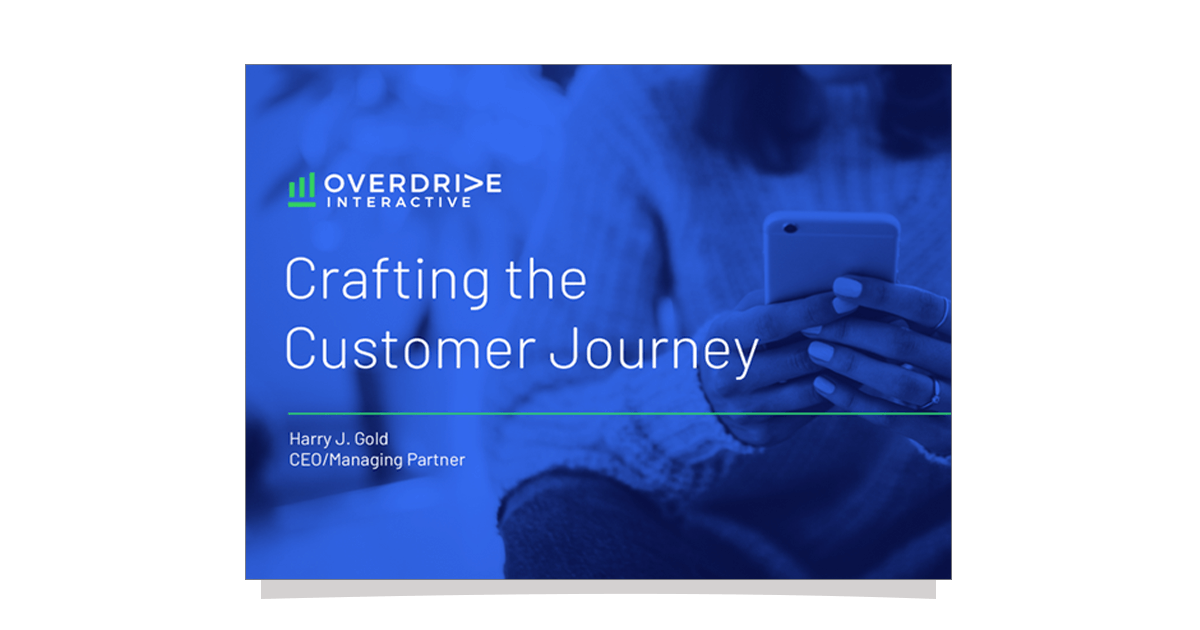 Start with the Right Demand Gen Strategy
Clear and cohesive strategy drives every aspect of Overdrive demand gen services. We start by clearly identifying your target audience and the drivers that impact their buying decisions. We map those insights onto the most appropriate demand gen tactics. And we constantly measure results to refine and optimize strategy for each successive campaign.
Our demand generation strategy services include:
Defining your audience through conversion-based personas that account for the prospect's mindset before and after they enter your sales funnel.
Identifying the buying preferences, habits, and intentions of each audience segment.
Mapping target audience insight onto a broad range of timing- and intent-based digital marketing opportunities and tactics."
Mapping the journey for each audience segment, identifying how all aspects of your demand gen campaign work together, and where the high-impact points of optimization live.
Creating messaging and designing offers that will compel your audience to take action at every step of their buying journey.
Establishing campaign templates that personalize messaging for each buyer while automating and simplifying your work.
Identifying KPIs and metrics that define success of your demand gen campaign.
Helping you configure the marcom technology you'll need to manage demand gen activities.
By structuring your demand gen strategy with advertising, offers, content, landing pages, and nurture campaigns geared toward the mindset of conversion-based personas, you can more effectively accelerate prospects through your funnel.
Demand Gen Infrastructure
Discover DCCO: Drive. Capture. Convert. Optimize – Overdrive's four-step approach to demand generation. This four-part infographic will help you to visualize the tactics and technologies you need to drive traffic, capture leads, nurture prospects, and optimize for ever-increasing ROI.
Access Now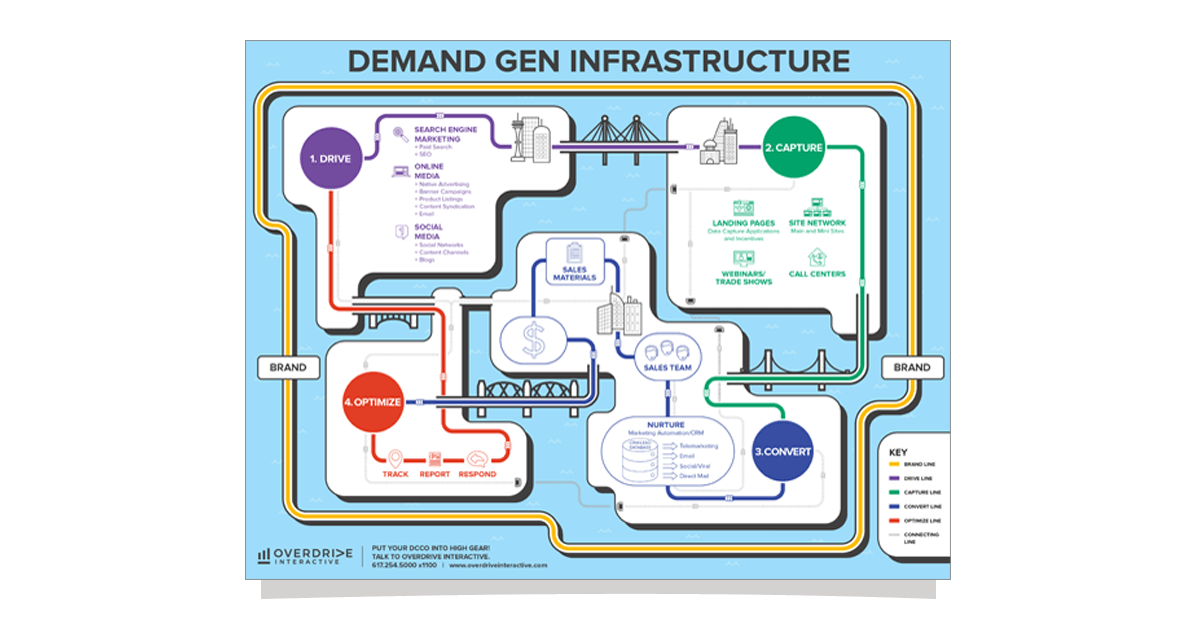 Comprehensive Demand Gen Marketing Services
Effective demand gen requires an all-encompassing effort to connect with your audience. Our end-to-end demand generation services and fully staffed consumer marketing and b2b demand generation programs can complement your internal capabilities. With help from Overdrive, you can produce comprehensive campaigns that keep your messaging and offers in front of your audience at every content and decision stop along their customer journey.
Our demand generation services include:
Account-based marketing (ABM) programs. We help define your audience, deploy always-on programs to reach them, nurture them with content and offers, and produce reports and analytics to track your success.
Paid search marketing (SEM). From keyword planning and landing page development to managing bids and reporting on results, we help you reach your prospect at the critical moment when they are most receptive to your messaging or actively seeking your offering.
Search engine optimization (SEO). We identify SEO opportunities, develop keyword strategies and optimization action plans, and implement specific recommendations for on-site optimization, off-site optimization, conversion optimization, and training for your staff.
Social media and paid social media management. From planning strategy to developing social channels, maintain social profiles, creating content, and managing paid ads on LinkedIn, Facebook, and Instagram, our social team manages the myriad of tasks required to build a social presence and drive interactions that lead to sales.
Marketing automation and end-to-end nurture campaign development. With deep knowledge of the vast array of features on marketing automation platforms, our team uses triggered events, lead scoring, behavioral analytics, and segmentation to design automated nurture campaigns that turn leads into opportunities and opportunities into sales.
Conversion optimization. Our martech-savvy teams analyze and dissect every stage of the buyer's journey to test web pages, landing pages, and calls-to-action, constantly optimizing messaging and offers to improve conversion rates.
Dashboard development and reporting. We help design and implement dashboards and reports that provide constant feedback on critical metrics and B2C/B2B marketing analytics, developing recommendations and insights that continually optimize strategy and execution.
Additional services:

Content development and cost-per-lead content syndication
Trade and consumer media planning, buying, and management
Email list rental and newsletter sponsorship campaigns
Landing page development and testing
Mobile and click-to-call advertising
Digital PR and native advertising
FAQs: Demand Generation Services
What Are the Most Important Demand Generation Services?
Demand generation encompasses the entire universe of digital marketing tactics. The most important demand generation services are the ones that will most effectively engage your audience. These may vary from company to company and with each audience segment. As a demand generation agency, Overdrive can help you identify the most important demand generation services for each campaign.
How Does A Digital Marketing Agency Create A Demand Generation Process?
At Overdrive, we start the demand generation process by defining your target audience – who they are, what they want, how they behave, and what influences their buying decisions. We map out every step of their journey from initial interest through conversion, and we craft messaging and offers designed to accelerate them through that process.
What Is Considered A Good Lead?
The definition of a good lead is different for marketing and sales teams. Leads can be qualified as:
Basic leads – someone who has indicated a vague interest in your product or service.
Marketing Qualified Leads (MQLs) – someone who has expressed an interest in learning more but isn't ready to buy.
Sales Qualified Leads (SQLs) – someone who has the ability and interest in purchasing your product or service now.
The goal of every demand gen program is to quickly convert basic leads to MQLs, MQLs to SQLs, and SQLs to sales.
How Do You Measure Leads?
The quality of your leads can be measured or scored based on demographics and behavior, including:
Online behavior such as downloading material, filling out forms, and visiting important pages.
Knowledge of a prospect's budget, authority, need, and timeline.
Knowledge of or inferences about a prospect's age, demographics, and geography.