Demand Generation Strategy
Drive Revenue with the Right Demand Generation Strategy
Effective B2B demand generation – the task of creating awareness of and demand for your products and services – is the foundation on which all successful digital marketing efforts are built. Yet few enterprise marketing teams truly understand the mechanics of successful demand generation strategy, let alone how to craft one.
As a leading demand generation agency, Overdrive helps enterprise clients develop end-to-end demand generation campaigns that launch measurable customer journeys and sync tightly with sales efforts. Our demand generation strategy services start by clearly defining target audiences and the drivers of their buying decisions, then mapping that intelligence to all the intent-based and timing-based opportunities provided by the world of digital advertising.
Crafting the Customer Journey
Today, in order to be a great marketer, one must truly be able to visualize an end-to-end customer journey and experience – and then you need to make it happen! You need to understand how all the media, marketing stack components and action-oriented creative of modern marketing fit together.
Access Now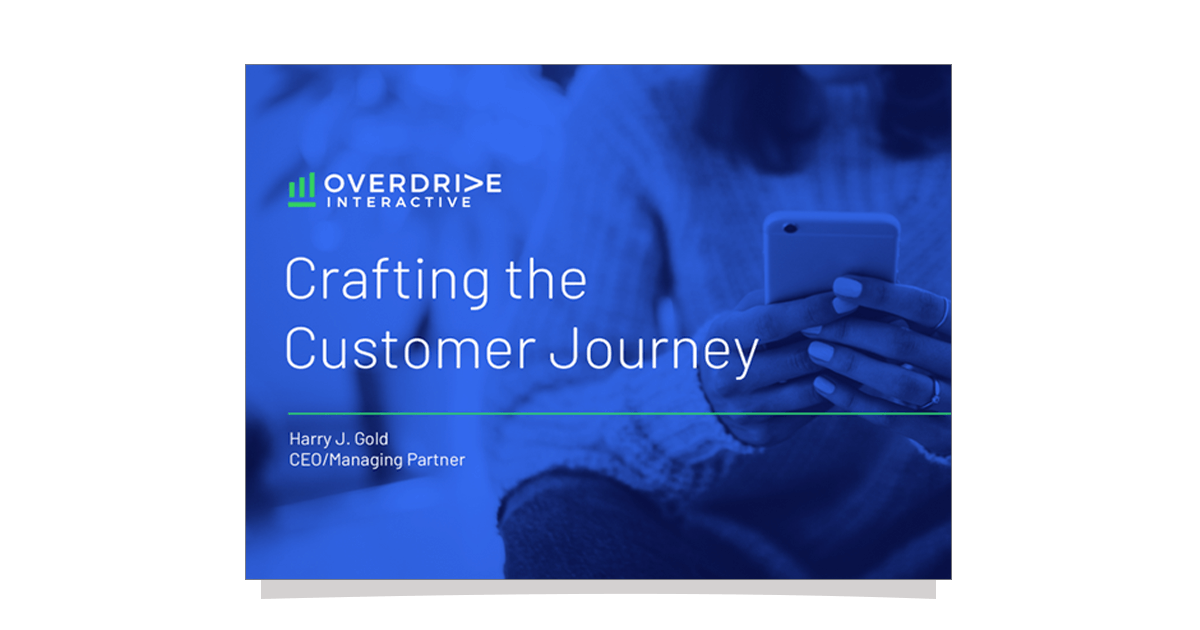 Demand Generation Strategy #1: Defining Conversion-Based Personas
Many marketing teams have embraced personas as a way of identifying potential buyers, segmenting audiences, and personalizing messaging and offers. But few marketing teams understand the power of conversion-based personas as a demand gen strategy.
Traditional audience personas are effective at early engagement. But these personas typically fail to account for the mindset and needs of the prospect once they have entered the sales funnel. The result is a misalignment between marketing messaging/offers and the expectations of prospects after they have decided to engage.
Regardless of what brought them into the funnel, prospects usually fall into one of three personas after they've raised their hand:
The Researcher is a top-of-funnel prospect who wants to better understand a product or category but is not necessarily ready to buy or speak with someone. These prospects will typically respond more favorably to offers like infographics, Top-10 lists, tip sheets and categorical white papers.
The Student is a mid-funnel prospect who is actively seeking to be educated about a product, category or solution and is likely considering multiple options. These prospects may be more interested in offers such as free trials, case studies, product demos and information on rates.
The Buyer is a bottom-of-funnel prospect with a high level of interest and a desire to speak with the sales team. These prospects will prefer hard offers that are designed to drive immediate engagement, with CTAs such as "Get a Quote," "Get Pricing," or "Free Installation."
By structuring your demand gen strategy with advertising, offers, content, landing pages, and nurture campaigns geared toward the mindset of conversion-based personas, you can more effectively accelerate prospects through your funnel.
Demand Gen Infrastructure
Discover DCCO: Drive. Capture. Convert. Optimize – Overdrive's four-step approach to demand generation. This four-part infographic will help you to visualize the tactics and technologies you need to drive traffic, capture leads, nurture prospects, and optimize for ever-increasing ROI.
Access Now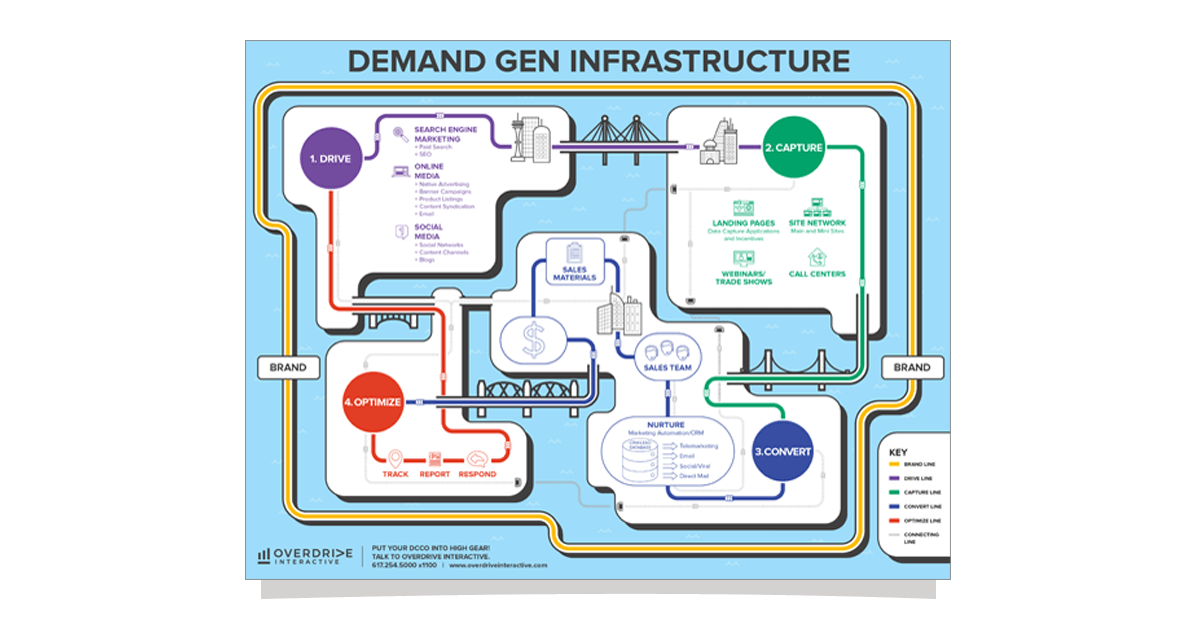 Elements of Successful Demand Generation Strategies
After identifying your target audiences, segments, and personas, along with their needs, habits, and buying preferences, your demand gen strategy must lay out a plan for engaging targeted prospects at every stage of the customer journey.
Driving interest – at the earliest stage, your demand gen strategy will likely engage prospects through:

Search engine marketing – paid search and SEO
Online media – banner campaigns, content syndication, email campaigns, product listings, native advertising
Social media – social networks, content channels and blogs

Capturing contacts – when prospects decide to engage, you'll need an ecommerce marketing strategy to nurture them, converting marketing qualified leads (MQLs) to sales qualified leads (SQLs). Effective tactics include:

Web sites and micro sites that present content and offers for each stage of the customer journey
Webinars that increase engagement and interest
Call centers that can engage interested prospects via telephone or chat

CRM Metrics

Benchmarking: Is your tracking working?
Technology: Is everything else actually working? (Glitches can damage a brand, reputation or media investment)
Martech: Is your martech stack integrated? (Marketing automation and triggered events, tags installed, APIs connected, data fields aligned, etc.)

Converting leads – here's where your demand gen strategy must focus on highly personalized and targeted communication delivered through:

Sales materials
Sales team contacts
Automated nurture campaigns
Total Sales – total amount of revenue
CRO: Where are the high impact opportunities for conversion rate optimization
Branding: Are you building the brand?

Optimizing efforts – by tracking performance and measuring results against goals and objectives, you can optimize execution of your demand gen strategy.
Lead Gen Metrics Timeline
Get Overdrive's new Lead Gen Metrics Timeline and understand which metrics really matter for lead generation programs. The timeline provides the important metrics needed to truly "close the loop," marking the journey from spend to ROAS (return on ad spend).
Get Access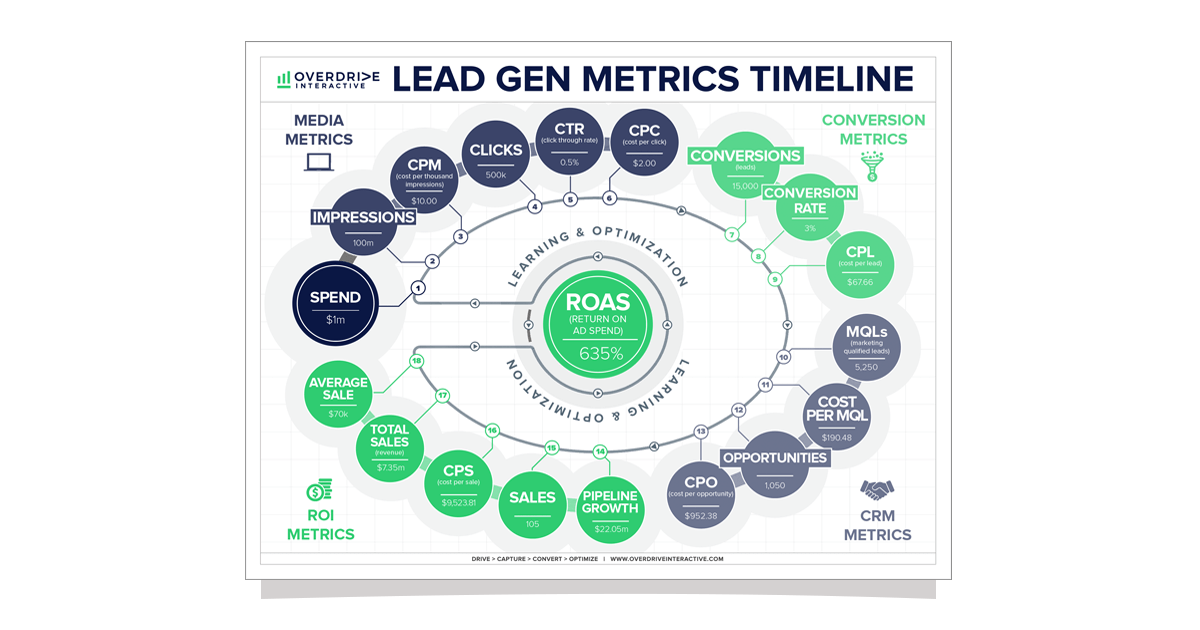 Overdrive Services for Demand Generation Strategies
To help craft a successful strategy, Overdrive offers demand generation services that include:
Definition of audience personas and conversion-based audience personas, identifying the buying preferences, habits, and intent of each audience segment.
Consulting on the right marcom tech stack for online demand generation, which will likely include some combination of a marketing automation system, a CRM system, a content management system (CMS), a business intelligence platform, and a marketing management tool.
Mapping insight from audience analysis to a wide range of digital marketing opportunities and tactics.
Crafting messaging and offers for each audience segment and each phase of the customer journey.
Defining metrics and KPIs for measuring success.
FAQs on Demand Generation Strategies
How is Lead Generation Different from Demand Generation?
Demand generation is typically defined as activities that create awareness of your brand and the benefits of and need for your products/services. Lead generation is typically defined as capturing information about prospects that can be used to engage them, nurture them, and sell to them.
How Do Leads Factor into a Demand Generation Strategy?
A demand gen strategy is designed to address the interests and needs of potential prospects and leads at every stage of the buying journey – from knowing nothing about your company to entering the sales funnel to nurturing prospects toward greater engagement and conversion.
How Do You Qualify Good Leads?
Prospects are often categorized as Leads, Marketing Qualified Leads (MQLs) and Sales Qualified Leads (SQLs). Basic leads are prospects who have shown only casual interest in your company or the content you produce. MQLs are prospects that have shown readiness to receive targeted marketing communications because they have downloaded gated content, attended an event or webinar or are a frequent visitor to your website. SQLs have been identified as prospects who are ready and able to buy. Moving leads through this funnel requires messaging and offers that are highly targeted to the needs and interests of the prospect at each stage of the journey.