Improve your Digital Advertising Performance with Overdrive
Since the first banner ad appeared on a website in 1994, digital advertising has revolutionized the world of advertising and dramatically changed the way that companies reach and communicate with audiences. As digital advertising continues to evolve at a frenetic pace, organizations need partners they can trust to craft the strategy, execute the tactics, deploy the technology, and interpret the analytics that are critical to achieving exceptional ROI.
Overdrive Interactive, a leading digital advertising and online marketing agency based in Boston, provides scalable digital advertising and bolt-on marketing operations teams that deliver the expertise and experience organizations need to survive and thrive in today's digital-first economy. From ABM strategy and email marketing to creative services and lead generation marketing, we provide comprehensive digital advertising and marketing services that complement the capabilities of in-house teams to mount high-powered advertising and marketing programs that yield measurable results.
Marketing Minute Video: Understanding Integrated Digital Marketing
Today it's not enough to just understand search engine marketing (SEO and SEM), online media, persuasive creative, or even marketing analytics. Watch Harry J. Gold, CEO of Overdrive Interactive, explain how all the elements of digital marketing work together, so you can succeed!
Access Now
The Basic Elements of Digital Advertising
Digital advertising encompasses a number of activities and a broad range of media. The building blocks of digital advertising include:
Display ads – the ads that appear on websites as banners, pop-ups, video ads, text, and images.
Video ads – these ads appear in banner ads or are played before, during, or after the viewing of a video on a website.
Search engine marketing – these are the text-based ads that appear on a search engine results page (SERP) in Google, Bing, Yahoo, and other search engines. They are designed to put a brand's message in front of a user at the critical moment the user is searching for a product or service.
Social media ads – ads that appear on social media platforms like Facebook, YouTube, Instagram, and Twitter. Social media has grown so rapidly that there are now Facebook marketing firms that focus solely on producing and managing Facebook ads and content.
Native advertising – ads that appear as a seamless visual continuation of the user experience within a website or an online platform. Native ads don't look like typical ads and may appear under headings such as "Promoted Stories", "Related Stories", or "Recommended Reading".
Crafting the Customer Journey
Today, in order to be a great marketer, one must truly be able to visualize an end-to-end customer journey and experience – and then you need to make it happen! You need to understand how all the media, marketing stack components and action-oriented creative of modern marketing fit together.
Access Now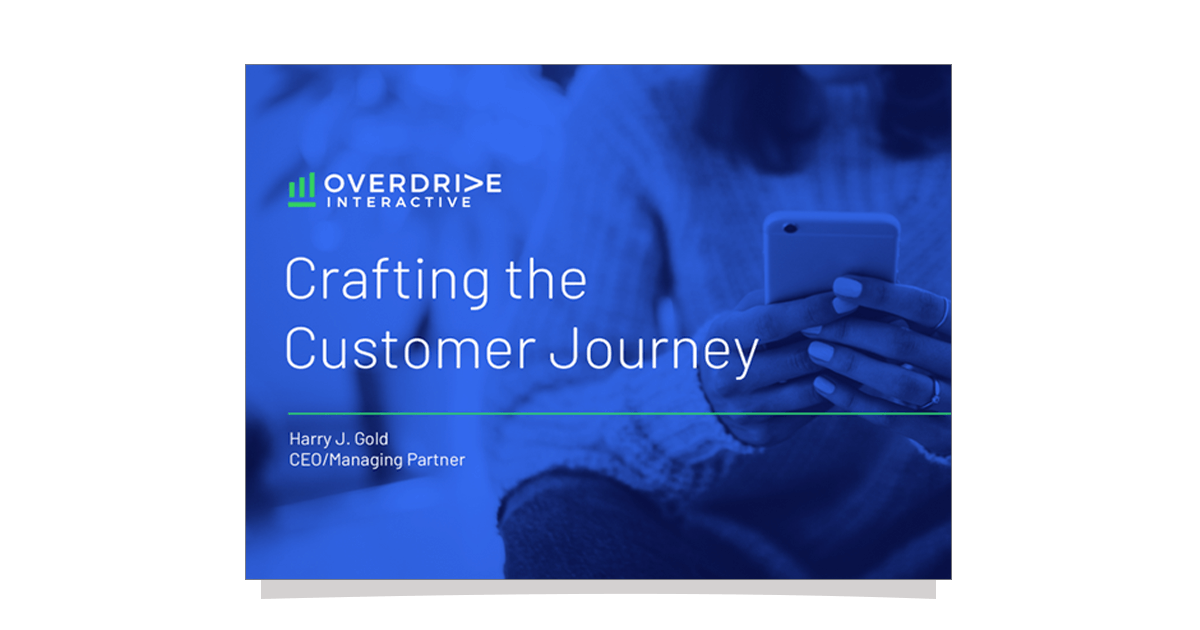 Critical Metrics in Digital Advertising
The extraordinary effectiveness of digital advertising is due to the ability to accurately measure the effectiveness of any campaign. Metrics help to understand what works well and what doesn't, enabling companies to continually refine their advertising efforts to improve results and ROI. The most important metrics to track in digital advertising include:
Reach – the number of individual audience members who saw your ads.
Impressions – the total number of times your ads were viewed by all users, including users who saw your ads more than once.
Click through rate (CTR) – the percentage of clicks on an ad out of the total number of impressions.
Conversions – the number of users who completed an action like clicking on ad to purchase a product, download content, or sign up for services.
Cost per acquisition – the cost to acquire a paying customer, calculated as the cost of a campaign divided by the number of customers it produced.
Lifetime value – the amount of revenue that each new customer brings in. This is calculated by multiplying customers' average transaction amount by the annual purchase frequency and the expected years that a customer relationship will last.
Return on investment – the amount of revenue generated by campaign compared to the cost required to mount it.
Lead Gen Metrics Timeline
Get Overdrive Interactive's new Lead Gen Metrics Timeline and understand which metrics really matter for lead generation programs. The timeline provides the important metrics needed to truly "close the loop," marking the journey from spend to ROAS (return on ad spend).
Access Now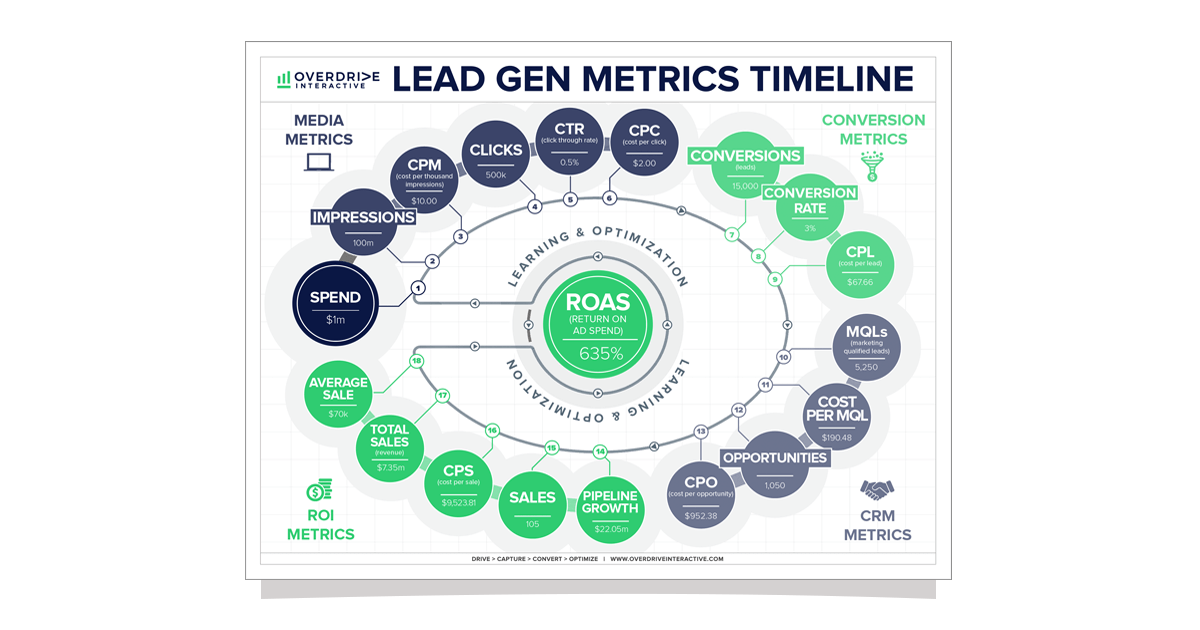 Digital Advertising Trends
Digital advertising is constantly evolving as advertisers seek new and more effective ways to reach audiences, and as the online behavior of audiences continues to change.
Here are several of the most important recent trends in digital advertising:
Video. Video advertising has been steadily rising since 2016 and is expected to continue to dominate users' attention. 90% of customers say videos help them make buying decisions, and the number of people who prefer to watch a video about a product is four times higher than those that prefer just to read about it. .
Native advertising. Native ads are less intrusive than other forms of display advertising. By showcasing content that's relevant to what the user is already consuming, native ads provide value without disrupting the user experience. It's no wonder that spending on native digital display ads has been steadily rising by 50% or more each year.
Augmented reality. Augmented reality technology adds another dimension to digital advertising, enabling audiences to experience and explore products in a new way. With augmented reality, audiences can use mobile devices to see what a product might look like in their home or office or to have a virtual reality experience related to brand.
Voice search. Audiences are increasingly using digital assistants to search the web for products and information, significantly changing the way that digital advertisers will manage search engine marketing.
The Digital Advertising Guide
Our quick free guide for all marketers who want to be great marketers! Includes over 85 pages of descriptions, explanations, examples and images from the world of digital and online advertising. Covers ad formats including banners, rich media, video, mobile, search, social, and native, as well as, targeting and pricing models, ad serving, tracking and attribution modeling, and more!
Access Now
Overdrive Digital Advertising Services
Executing and managing digital advertising campaigns requires a broad array of skills and technologies. Overdrive Interactive digital advertising teams provide expertise, skills, and services to augment the capabilities of in-house marketing teams and enable them to overcome their internal bandwidth constraints. Our digital advertising services include:
Strategic media planning and consulting
Customer, category, and keyword research
Media marcom stack deployment (ad serving, tracking, CRM integration, etc.)
DoubleClick Partner support
Competitive bench marketing and analysis
Google Analytics and Google Tag Manager audits and management
Paid social advertising (Facebook, LinkedIn, Twitter, etc.)
Programmatic
Premium display
Native
White paper and content syndication
ABM advertising
Video advertising
ROI tracking, reporting, and analysis
FAQs
What Is digital advertising?
Digital advertising is the practice of delivering persuasive and promotional content to prospects and customers through online and digital media such as websites, social media platforms, search engines, mobile applications, and email.
How is digital advertising different than traditional advertising?
While digital advertising is highly targeted, traditional advertising can only loosely target large groups of audience members. Determining effectiveness and ROI in traditional advertising is fairly difficult, while digital advertising provides rich tracking and analytic possibilities.
What are the different types of digital advertising?
Digital advertising includes:
Display ads that appear on websites as banners and pop-ups.
Video ads that appear in banner ads or that are played before viewing video on a website.
Search engine marketing ads (SEM), the text-based ads that appear on the results page in a search engine.
Social media ads that appear on social media platforms.
Native ads that appear on a website and are a seamless continuation of the content a user is already consuming.