Lead Generation Marketing
Harness the Power of Lead Generation Marketing with Overdrive
Lead generation marketing is essential to creating a pipeline full of potential customers. Effective lead generation identifies and engages the people most likely to buy what you're selling. There are right ways and wrong ways to manage campaigns – and not knowing the difference can easily result in leads that are poor quality, too costly, or both.
Overdrive provides strategy and services for lead generation marketing to help you optimize your efforts, maximize your return, and generate the kinds of leads your salespeople love.
Optimizing the Whole Customer Journey
In this session, CEO Harry J. Gold reveals how Overdrive optimizes the entire customer journey on the media, martech, and creative levels.
Access Now
Core Competencies
Our capabilities provide you with the 1001 marketing tasks your enterprise needs to launch high-powered marketing programs that last and yield measurable insights you can take to the bank. Our teams blend the critical talents of modern marketing into a single agile and global solution.
Elements of Effective Lead Generation Marketing
The purpose of lead generation marketing is to develop high-quality leads and to keep a steady stream of potential buyers in the sales pipeline. Types of leads may include:
Basic leads – people who have indicated only a passing interest in your business or your content.
Marketing Qualified Leads (MQLs) – prospects who have indicated they are interested in receiving targeted marketing communications.
Sales Qualified Leads (SQLs) – people who have shown they are ready and able to buy.
Understanding Integrated Digital Marketing
To truly compete and win, today's market leaders need to fire on cylinders all the time. They need to be in all the content and decision stops along the customer journey. Watch Harry J. Gold, CEO of Overdrive, explain how all the elements of digital marketing work together, so you can succeed!
Elements of Effective Lead Generation Marketing
Lead generation marketing can involve all the tactics and tools in the digital marketing playbook. The elements of any successful lead generation process include activities that can be grouped into four phases.
Driving engagement
The first phase of lead gen marketing is designed to reach potential buyers and pique their interest with compelling content and offers. Tactics used to drive engagement may include:
Developing valuable content that speaks to the needs of buyers at every step on their journey
Paid advertising, including paid search, mobile ads, click-to-call advertising, retargeting, and programmatic display
Digital PR and native advertising
Optimizing web content for organic search (SEO)
Social media marketing
Inbound marketing
Email campaigns
Account based marketing (ABM)
Content syndication
Capturing information
After you've engaged a prospect, the next step in the lead gen process is capturing their contact information, often in exchange for a trial, information or valuable content. Tactics include:
Landing pages that present prospects with a clear offer and compelling call-to-action.
Forms on webpages that prospects can complete to receive more information.
Nurturing leads
Once you've captured a buyer's contact information, you have started a two-way relationship that can be methodically nurtured toward conversion. Tactics include:
Automated nurture and drip campaigns that use email and telemarketing to increase engagement and buyer interest.
Sales materials designed to answer questions and overcome barriers to conversion.
Contact from call center representatives or members of the sales team.
Optimizing efforts
Tracking, testing, and optimizing every part of your lead generation marketing campaign is essential to continually improving results and increasing ROI. Using dashboards, reports, drill downs, and analyses, you can measure your campaigns against pre-determined metrics and KPIs, adjusting tactics for each new campaign.
Demand Gen Instrastructure
Discover DCCO: Drive. Capture. Convert. Optimize – Overdrive's four-step approach to demand generation. This four-part infographic will help you to visualize the tactics and technologies you need to drive traffic, capture leads, nurture prospects, and optimize for ever-increasing ROI.
Access Now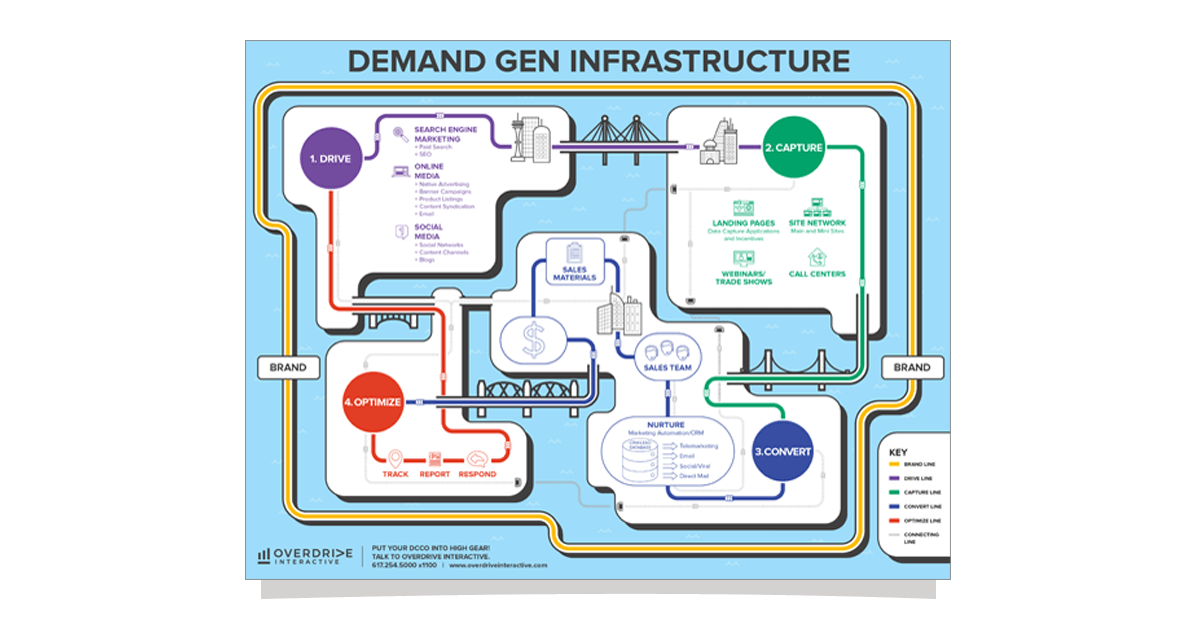 Quality vs. Cost per Lead: the Key to Successful Lead Generation Marketing
As you measure the success of your lead generation marketing efforts, there will always be a tension between two critical metrics: lead quality and cost per lead (CPL).
CPL is essentially the total cost of your campaign divided by the number of leads it generated. A lower CPL means you're generating more leads with your limited lead gen budget.
But CPL doesn't tell the whole story of a successful campaign – lead quality is essential, too. It doesn't matter how many leads you generate if they don't ultimately convert. Yet generating just a few quality leads at a very high CPL won't keep your pipeline filled, either.
Clearly, the key to successful lead gen is constantly striking a balance between high-quality leads and low CPL. There is no simple formula for achieving this ideal balance, but constantly measuring and reporting along with clear communication between marketing and sales about lead quality can help to keep you moving in the right direction.
Lead Gen Metrics Timeline
Get Overdrive's new Lead Gen Metrics Timeline and understand which metrics really matter for lead generation programs. The timeline provides the important metrics needed to truly "close the loop," marking the journey from spend to ROAS (return on ad spend).
Access Now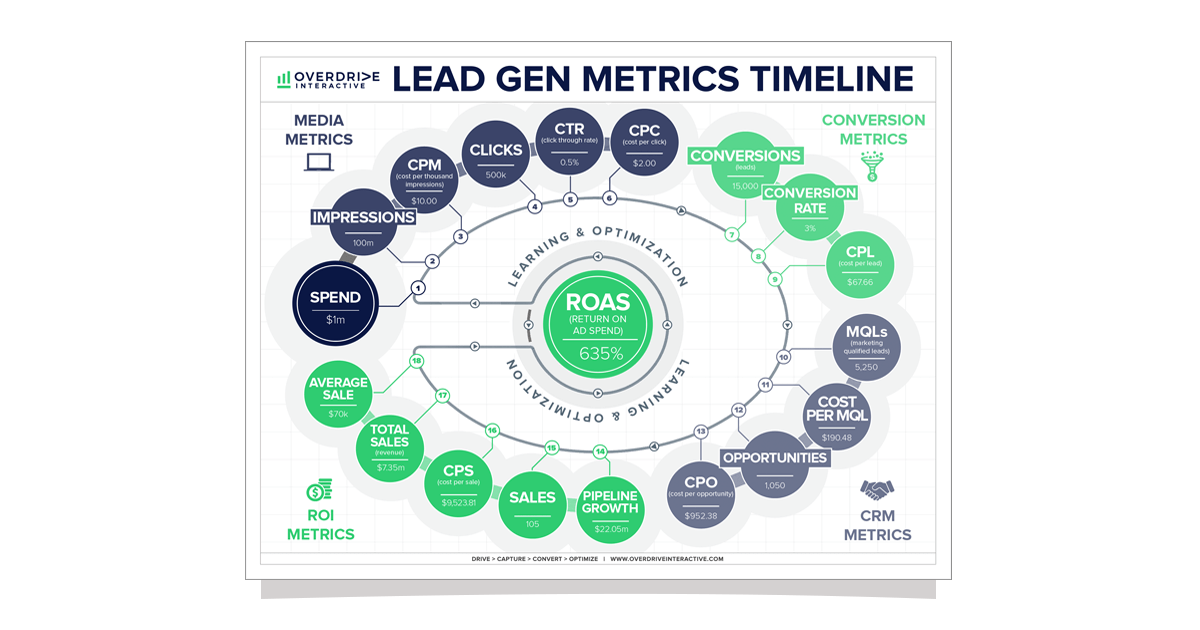 Best Practices for Lead Generation Marketing
Having planned and executed thousands of campaigns, our lead gen experts are constantly evaluating and refining best practices for successful lead generation marketing. Here's a brief sampling of some of the best practices we encourage for every lead gen effort:
Score your leads. Using a sophisticated system for lead scoring can help you get a clearer idea of all the leads in your pipeline and how quickly and successfully you're able to move them through the funnel. Lead scoring also enables you to target leads more effectively with content and messaging that matches their stage in the buying journey.
Pay for social media attention. Attempting to generate leads through organic social media is no longer viable – there's simply too much competition. But paid social media can be a highly effective way to reach your audience where they live and promote your message and offers in a targeted way.
Align content with mindsets. Your prospects have different questions and need different offers at each stage in their journey. By mapping your content to each step in the sales funnel, you can more effectively escalate prospects to leads and leads to sales.
Automate your efforts. As you develop a more sophisticated understanding of who your potential buyers are and what kind of messaging they need at every step of the journey, managing the sequence of contacts becomes increasingly complicated. Automated nurture and drip campaigns can minimize the complexity, communicating with prospects based on their behavior, responses, and other triggers.
Improve conversion optimization. Testing should be part of your lead generation marketing equation from day one in order to optimize every element of your campaigns for higher conversion rates.
Include video. Video on websites and landing pages has proven to be highly effective at helping to improve conversion rates.
Focus on the landing page. Every ad, link, email, and social post should bring the prospect to a landing page that pays off their expectation and presents them with a clear and compelling call-to-action. Failing to deliver what prospects are looking for on your landing page is one of the largest impediments to successful lead gen.
Lead Generation Marketing with Overdrive
Overdrive is a leading digital marketing and lead generation agency that can build, run, and optimize lead generation marketing programs that are always on and always in front of your best prospects. Our lead generation services successfully balance lead quality with cost per lead, expertly using late-funnel metrics to ensure your pipeline is continually full of leads that will actually close.
Our comprehensive services cover all aspects of lead generation marketing, including lead generation strategy, execution, optimization, and reporting and analytics, along with technical services to ensure that everything in your marcom stack is working to create a frictionless lead gen process.
Contact us to learn more about our lead generation marketing offerings and our comprehensive, integrated digital marketing services. We'll share details of our lead labeling technology and our lead generation marketing tactics along with case studies that show proven success and ROI.
FAQs
How is demand generation different from lead generation marketing?
Demand generation is generally defined as creating demand through brand-building activities that create awareness of products/services and their benefits. Lead generation is targeted specifically at identifying potential buyers and nurturing them to become customers. Lead generation marketing is often considered a subset of demand generation services, which support the entire sales and marketing lifecycle.
How does SEO help generate leads?
A huge part of Lead generation marketing is helping your company be found by the right people. Even if your content is well developed to reach out to your target audience, your site still needs to be optimized and updated with SEO best practices to make sure all devices can find your content for the ideal keywords. This means making sure your site is mobile friendly, full of good links, and written in a tone specific to your audience.
How do you qualify your leads?
Qualifying your leads means proactively moving them down the sales funnel from leads, to prospects, and eventually clients. A large part of qualifying your leads starts early on while you're crafting your communication. Using specific language and the correct calls-to-action can ensure that the right kind of audience is engaging with your content. After that, qualifying leads boils down to making sure you're connected with the decision maker requisite for purchase and that you can address their pressing needs. Then, simply step in and volunteer your services.