Paid Search Engine Marketing
Reach More Customers with Paid Search Engine Marketing
Paid search engine marketing (SEM), also known as pay-per-click (PPC) advertising, is one of the digital marketer's most powerful and cost-effective tools. Paid search enables you to reach audiences at the critical moment – the point where a prospect or customer is searching for the very products or services you offer. Paid search allows you to target users with a high degree of precision and to easily test, measure, and optimize your programs. And rather than paying for impressions as you do with most other advertising channels, paid search engine marketing allows you to pay only for results: when a user clicks on your ad.
However, the effectiveness of paid search means it's also a highly competitive channel, and marketers must work diligently and constantly to master the strategies, tactics, and analysis that will drive greater results and outperform competitors. The complexities of coordinating all the components of a paid search engine marketing campaign lead many companies to turn to a search marketing partner to add expertise, capabilities, and bandwidth that they don't have in-house.
When you're looking for a full-service digital marketing and search/PPC agency, Overdrive offers proven methodologies and deep expertise to help identify your most profitable critical moments and apply a laser focus to your paid search engine marketing campaigns to optimize copy, keywords, and, most importantly, conversions.
Search Engine Marketing Map
Wrap your head around Search Marketing with the latest Search Marketing Map. Updated with 26 categories that account for 281 of the best sites, tools and resources of today. The Search Marketing Map helps marketers quickly become better marketers.
Access Now
The Elements of Paid Search – and How to Use Them Effectively
The building blocks of a paid search engine marketing campaign are easy enough to grasp – most marketers are quite familiar with them – but understanding their complexities and nuances and building a cohesive and compliant search management plan is a skill that few marketers have mastered.
The elements of a paid search engine marketing campaign – and how SEM specialists approach them – include:
Keywords – the search terms entered by a user for which you want ads to appear. When selecting keywords, the most effective paid search campaigns delineate and map keywords to each stage of the customer journey, knowing that prospects who are just beginning their search will likely respond to different keywords than those in the late stage of a buying decision. Smart search marketers also know that using negative keywords – terms that prevent ads from being triggered by search queries – are just as important as keywords in helping to get messaging in front of the right audience at the right time.
Ads – the copy you want to appear when a user searches on a keyword. Ads should focus on the benefits for the customer, rather than the amazing features of your product or service. Customers don't want to buy features – they want to solve problems. By focusing on how your offer makes their life better, you can appeal to their emotions and help to meet their needs.
Landing pages – the webpage that users will "land on" when they click on an ad. The most effective search campaigns use landing pages that are not a website's homepage, but that are geared specifically to continuing the conversation and relationship that the user started by clicking on your ad.
Bids – the maximum fee you're willing to pay each time a user clicks on an ad. One effective strategy for minimizing cost-per-click is to stack bids, bidding on both broad matches and phrase or exact matches at the same time (to increase impressions, clicks and relevancy), and bidding slightly higher on the match which yields the lower cost-per-click to ensure that ad gets served more often.
Ad rank – the formula that determines where your ad will appear on the page. Ad rank is based on your bid amount as well as the Quality Score of your ads, the context of the search, and several other criteria. Successful search marketers pay as much attention to optimizing quality scores as bids by making sure the ad and landing page contain high-quality, highly relevant copy and offers.
Targeting – the options you have for limiting your ads to specific audiences. In addition to options for targeting audiences based on demographics, location, device, and day and time, today's advanced paid search engine marketing programs are using Remarketing Lists for Search Ads (RLSAs) that let you customize campaigns based on user behavior in previous visits to your website.
Analytics – the data and metrics ask you'll used to optimize your campaign. While making improvement in all key metrics is important, savvy search marketers focus on conversions and cost-per-conversion – the two metrics that matter most to your bottom line. Improving the number of clicks and reducing your cost-per-click are great, but getting conversions is the true test of success in your paid search engine marketing campaign.
SEM Success for B2B Webinar – Video & Slides
Learn how you can afford to dominate the search engine results for all your keyword terms and maximize conversions while maintaining quality.
Access Now
Strategies to Improve Paid Search Engine Marketing Performance
Improving the performance of your paid search engine marketing campaign requires constant effort and expert insight. Several of the strategies that Overdrive relies on to boost results and increase paid search optimization include:
Bid on your brand. If users are searching on your brand name, they're searching specifically for you. Choose brand-related keywords that help to discover their intent and, rather than sending them to your homepage, send them to landing pages where messaging and offers can address their needs more directly. Bidding on your own brand also prevents competitors from winning bids on your brand and stealing clicks. And when a search on your brand yields both paid ads and organic listings, it means you're dominating the search engine results page (SERP).
Measure conversion rates by device. The type of device a user is searching on (mobile phone, tablet, or desktop computer) may significantly affect conversion rates. Certain conversion journeys may be more suited to different devices, or certain pages or websites may not render well on a small screen, suppressing conversion opportunities. By measuring conversion rates by device, you can quickly adjust your advertising spending to put more resources toward devices/buying journeys that you know are working
Create a highly focused landing page experience. Your landing page is where conversion happens, and every element of the page should help deliver a superior customer experience and encourage the user to take a single action. Placing the offer and CTA above the fold is critical – if users must scroll, they may miss it. Copy and offers must continue the conversation and fulfill the expectation that users had when they clicked on an ad – if the landing page seems disconnected from the ad (or if it simply your homepage), users are likely to be confused and distrustful.
Choose long-tail keywords. Because long-tail keywords are so targeted, they can help to raise your click-through rate and reduce your CPC. Long-tail keywords also enable tighter alignment of copy and landing pages, which contributes to increased conversions./li>
Demand Gen Infrastructure
Discover DCCO: Drive. Capture. Convert. Optimize – Overdrive's four-step approach to demand generation. This four-part infographic will help you to visualize the tactics and technologies you need to drive traffic, capture leads, nurture prospects, and optimize for ever-increasing ROI.
Access Now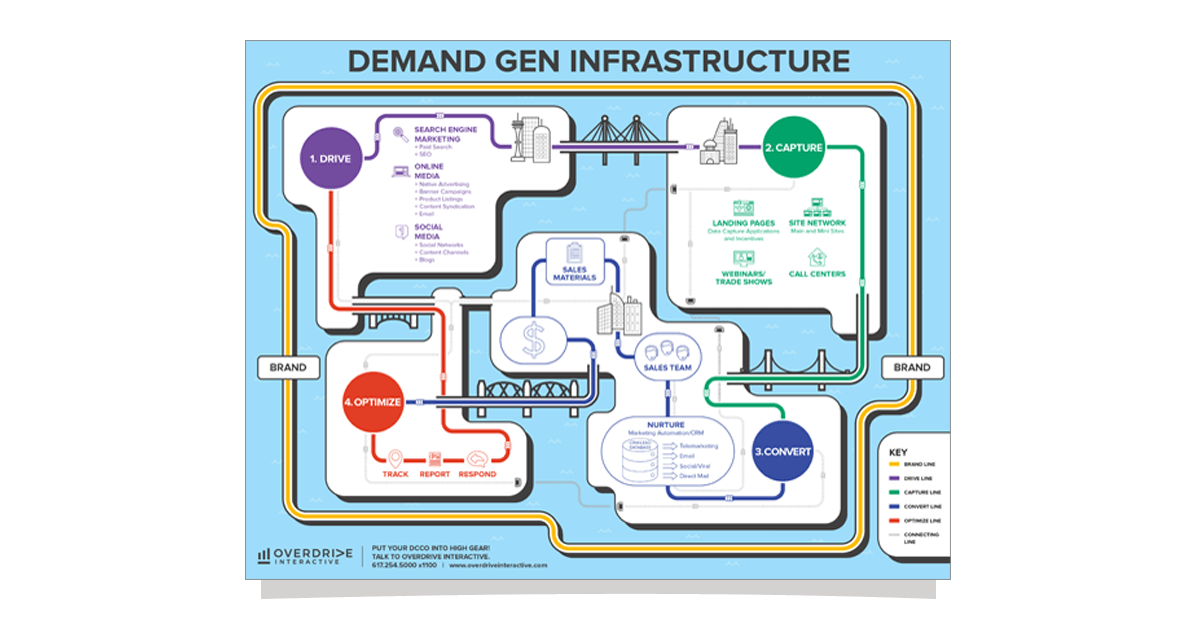 Improving Results Through Testing
One of the most attractive elements of paid search engine marketing is the ability to test every element to continually refine and optimize campaigns. Testing should include:
Ad copy, including headlines, body copy, and the URL link.
Landing page copy and design, including headlines, graphics, body copy, layout, and the position and copy of your CTA.
Offers and the copy describes them.
Dynamic search ads (DSA), testing the effectiveness of adding DSAs to existing campaigns.
Targeting, including your choices for geography, daypart, device, and demographics.
Keyword match types — exact match, phrase match, and broad match.
Optimizing the Whole Customer Journey
Lift the Performance of all the Digital Components Powering your Customer Journey. This deck and video break down the essential ingredients that take a prospect from impression to sale and lists tactics that you can start employing today to improve campaign performance and sales velocity.
Access Now
Paid Search Engine Marketing Services from Overdrive
To help your organization plan, execute and analyze effective paid engine search marketing campaigns, Overdrive provides comprehensive services to add expertise to your in-house capabilities and extra bandwidth to your internal resources. Our paid search services include:
Strategy and planning, including keyword selection and grouping
Development of ads, offers and landing pages, mapping them to each stage of the customer journey
Configuration of search accounts and set up of campaigns
Set up, management and optimization of Product Listing Ad (PLA) feed setup
Ad management for each channel
Development and management of retargeting and display advertising
Implementing and managing Google Tank Manager (GTM)
Integration of media and SEO best practices
Attribution modeling and AdServer management (Dart)
FAQs
What is Paid Search Engine Marketing?
Paid Search engine marketing is the practice of developing marketing campaigns and goals around the tools of paid search. This includes developing landing pages, choosing keywords, placing bids, and optimizing ad placement against your chosen goals.
What are the Key Benefits of Paid Search Engine Marketing?
The key benefits of paid search engine marketing are the precision and immediacy of your ad placements. You can control all the aspects of the title, landing page, and where your ads will rank.
For time sensitive, or location specific campaigns, this makes paid search marketing extremely useful. You can select specific times for your ads to be ranking on page 1, select the geographic locations they will rank on page 1, and the keywords they will rank for. This level of precision is not available with other disciplines of paid search marketing.
How do SEO and Paid Search Work Together?
SEO and paid search engine marketing work together because of the different ways they capture your audience.
Paid search engine marketing is great for outreach and getting your campaigns in front of people who might not otherwise have sought them out. SEO is great for capturing the demand that already exists within your audience. If there's a built-in audience that search for keywords surrounding, for example, auto parts, you can optimize your auto parts website to rank for those keywords. You can use your paid search to rank for things like branded terms, specific parts, or specific car models.
SEO will capture what people already search for, but Paid search can help push your messages into the space.
Why is Paid Search Engine Marketing Important in a Digital Marketing Plan?
Paid search engine marketing gives you more precise control of the message in your digital marketing plan. The ability to manage your bids, control your ads, and direct your offers makes it possible to create more targeted campaigns with more immediate results that other channels of digital marketing.