Manage End-to-End Marketing with Overdrive
As your prospective customers seamlessly move between channels today, an end-to-end marketing strategy is the only way to ensure you can successfully reach, engage, and convert them. It's no longer enough to work simply with a creative agency or an inbound media agency on narrowly focused marketing campaigns. A successful online strategy must unite all the moving parts of digital advertising – from media, search, and social to email, websites, and marketing automation. Only through an end-to-end marketing approach can you integrate all the channels, technologies, and components of online marketing to guide your target audience into your sales funnel and into a lasting brand embrace.
Overdrive, a leading digital marketing and interactive agency, provides end-to-end marketing expertise and services that can complement your resident capabilities to execute successful campaigns and maximize digital marketing ROI.
Demand Gen Infrastructure
Discover DCCO: Drive. Capture. Convert. Optimize – Overdrive's four-step approach to demand generation. This four-part infographic will help you to visualize the tactics and technologies you need to drive traffic, capture leads, nurture prospects, and optimize for ever-increasing ROI.
Access Now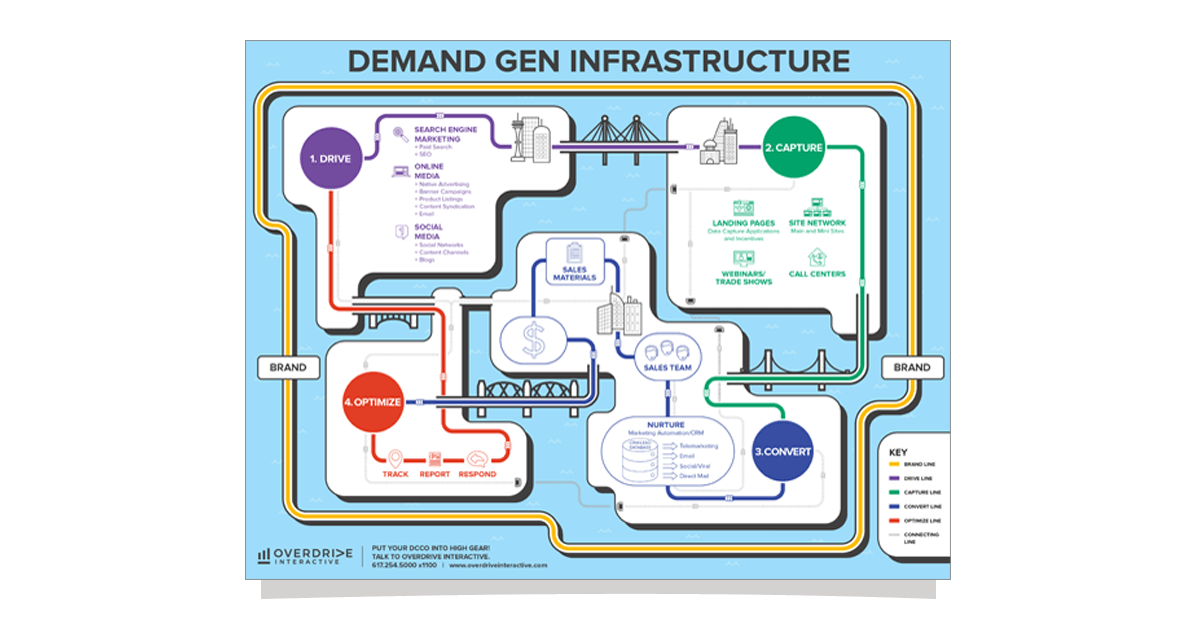 Drive-Capture-Convert-Optimize: Our End-To-End Marketing Approach
To develop an end-to-end marketing strategy, Overdrive employs a digital marketing methodology that we call Drive-Capture-Convert-Optimize. This construct enables marketers to see the big picture of digital marketing, and to see how tactics and technologies work together to produce an end-to-end marketing campaign where all components dovetail in a continuous flow.
Drive – driving targeted traffic to your website and social properties. This is where marketers typically allocate the most resources. The Drive component of an end-to-end marketing strategy includes:

Search engine marketing, including organic (SEO) and paid search (SEM).
Online media, including banners, video, newsletter sponsorships, content syndication, email campaigns, product listings, and native advertising.
Social media, including social profiles, content channels, viral content, and blog outreach.
Offline advertising including television, print, radio, direct mail, and outdoor.

Capture – capturing data and encouraging desired behavior. This is perhaps the most underutilized component of an end-to-end marketing strategy, but where focused efforts and resources can yield significant ROI. The Capture stage must focus on offers and incentives that maximize the number of prospects who buy, respond or opt-in. Tactics include:

Websites and microsites designed to resonate with potential customers at each stage of their buying journey.
Landing pages with offers and CTAs that encourage action.
Call center campaigns designed to engage and nurture prospects via telephone and chat.
Webinars and trade shows that offer opportunities for in-depth engagement.

Convert – escalating leads to sales. This is the phase of your end-to-end marketing strategy that must focus on highly personalized and targeted communication, leveraging your internal databases, CRM systems and cookie/behavioral databases. Components include:

Email campaigns and automated nurture campaigns that continually keep your messages and offers in front of targeted prospects.
Direct mail that provides an offline and tactile approach to reaching your audiences.
Remarketing that keeps your offers in front of prospects as they surf the web.
Social/viral content designed to increase engagement.
Telemarketing from call centers and sales reps to make personal contact with prospects.

Optimize – measuring and improving channel and campaign performance. In this final stage of an end-to-end marketing campaign, you'll identify critical key performance indicators (KPIs) and track performance against them. Discovering what works and what doesn't enables you to continually refine efforts to improve results and ROI.
Crafting the Customer Journey
Today, in order to be a great marketer, one must truly be able to visualize an end-to-end customer journey and experience – and then you need to make it happen! You need to understand how all the media, marketing stack components and action-oriented creative of modern marketing fit together.
Access Now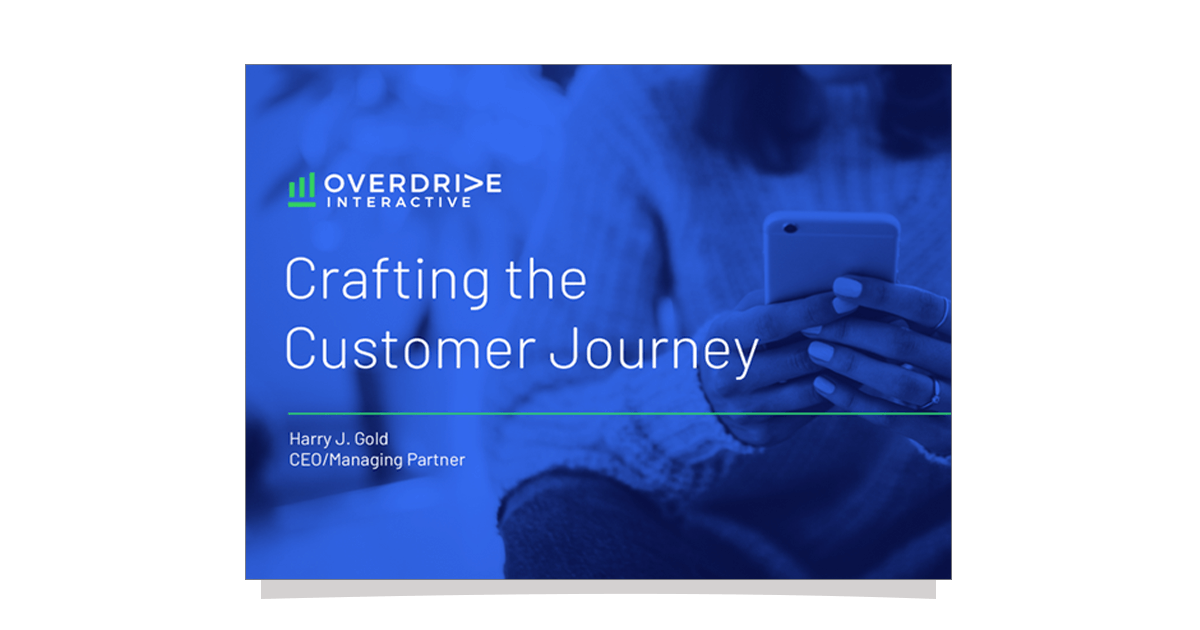 Conversion-Based Personas for End-To-End Marketing Engagement
Developing buyer personas has long been an important tool for marketing teams. But in an end-to-end marketing strategy, marketers must develop conversion-based personas that consider the mindset and intent of prospects at each stage of the buying journey. Traditional audience personas are typically concerned with the mindset of potential buyers before they enter the funnel, but they fail to take into account how a prospect's needs and wants change after they have started to engage with a brand. As a result, the messages and offers put in front of mid-funnel and bottom-funnel prospects are often not perfectly aligned with their mindset.
After they've initiated contact your company, prospects usually fall into one of three categories:
Researchers are top-of-funnel prospects who have a moderate interest in a product or category but aren't ready to buy or to speak with someone. Researchers often respond favorably to offers like Top 10 lists, infographics, tip sheets, and categorical white papers.
Students are mid-funnel prospects who are researching and educating themselves about a product, category, or solution, and possibly comparing multiple options. These prospects are typically more interested in offers such as product demos, free trials, case studies, and information on rates.
Buyers are the bottom-funnel prospects who are ready to convert and are interested in speaking with someone from sales. These prospects typically want offers that enable them to engage immediately to "Get a Quote," "Get Pricing," or "Enjoy Free Installation."
By developing an end-to-end marketing strategy that maps messaging, offers and CTAs to a prospect's mindset at each stage of the journey, you can more easily accelerate prospects through the sales funnel to conversion.
Marketing Minute Video: Understanding Integrated Digital Marketing
Today it's not enough to just understand search engine marketing (SEO and SEM), online media, persuasive creative, or even marketing analytics. Watch Harry J. Gold, CEO of Overdrive, explain how all the elements of digital marketing work together, so you can succeed!
Access Now
Overdrive Services for End-to-End Marketing
Our end-to-end marketing services are designed to augment the in-house capabilities of marketing teams and to enable companies to fire on all marketing cylinders at same time. Our end-to-end digital teams include strategists, creatives, channel specialists, IT experts, and data analysts who can provide the critical skills and bandwidth to design, execute, and measure campaigns for greater marketing ROI.
Our end-to-end marketing services include:
Account-based marketing (ABM), including ABM strategy and custom audience media programs
Paid search marketing (SEM)
Search engine optimization (SEO), including local, international and mobile seo strategy and execution
Retargeting and programmatic display
Social media and inbound marketing strategy and campaign execution
Paid social media management (LinkedIn, Facebook, Instagram, etc.)
Trade and consumer media planning, buying, and management
Content development and cost-per-lead content syndication
Trade and consumer media planning, buying, and management
Email list rental and newsletter sponsorship campaigns
Creative services, including copywriting, graphic design, photography, motion graphics, illustration, video, print, and augmented reality
Content development and cost-per-lead content syndication
Web development
Marketing automation and end-to-end nurture campaign development
Landing page development and testing
Mobile and click-to-call advertising
Digital PR and native advertising
Dashboard development and reporting
FAQs
What is end-to-end marketing?
End-to-end marketing refers to marketing campaigns that encompass every aspect of digital marketing, including search engine optimization (SEO), paid search engine marketing (SEM), digital advertising, email marketing, social media, websites, and more.
What are the benefits of end-to-end marketing?
By focusing on an end-to-end marketing strategy, companies can more successfully reach potential customers at the "critical moment" when they are ready to take the next step in their buying journey. End-to-end marketing enables companies to follow their prospective customers as they seamlessly move between channels, maintaining consistent messages, offers, and calls-to-action that improve response rates.
How do SEO and end-to-end marketing work together?
SEO, or search engine optimization, is an integral part of an end-to-end marketing campaign, enabling companies to more successfully put their messaging and offers in front of prospects as they are in the act of searching for related products and services.