Integrated Digital Marketing
Master Integrated Digital Marketing with Overdrive
"Integrated digital marketing" is not just a buzzword today – it's the essential approach to successful marketing, period. It's not enough to rely on paid search, SEO or email marketing – your marketing efforts must encompass every channel and every touch point, from SEO and SEM to online media, social media, email marketing, website development, and analytics. Integrated digital marketing is an all-encompassing effort that enables you to meet your customers anywhere and everywhere they spend time online, and to effectively follow them no matter where they choose to engage.
Managing and executing a successful integrated digital marketing campaign/program requires a myriad of skills across several marketing disciplines. Successful campaigns have to constantly fire on all cylinders, yet many in-house marketing teams lack the experience and bandwidth to master every area of integrated digital marketing. That's why, for so many companies, having a partner with broad expertise in digital marketing is critical to making integrated campaigns work.
Overdrive, a leading digital marketing agency based in Boston, provides comprehensive services to global companies that help to augment resident capabilities and internal bandwidth in order to achieve marketing objectives, drive ROI, and ensure every part of an integrated digital marketing campaign is contributing to the greater whole.
Demand Gen Infrastructure
Discover DCCO: Drive. Capture. Convert. Optimize – Overdrive's four-step approach to demand generation. This four-part infographic will help you to visualize the tactics and technologies you need to drive traffic, capture leads, nurture prospects, and optimize for ever-increasing ROI.
Access Now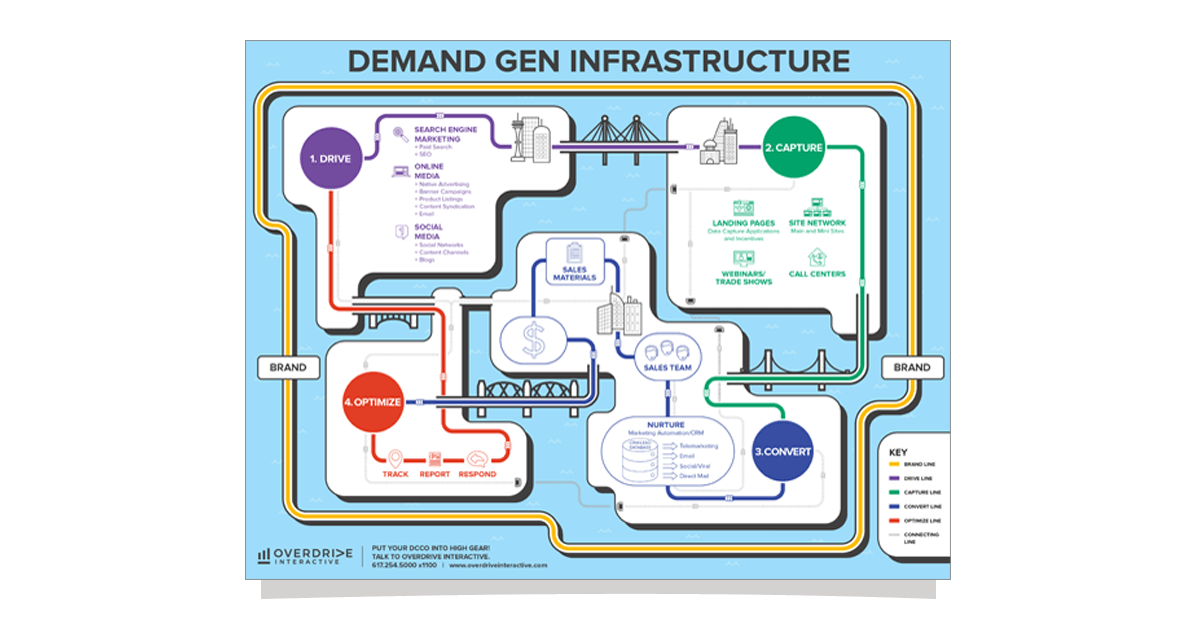 How Integrated Digital Marketing Works
At Overdrive, we use a Drive – Capture – Convert – Optimize framework, or DCCO, to describe how and integrated digital marketing campaigns work. Here's how DCCO looks like in an integrated digital marketing campaign for a fictitious kitchen appliance company (KAC) and an average prospect – let's call her Jane.
In the Drive phase of this campaign, Jane's interested in a top-of-the-line coffeemaker and searches Google to find reviews of highly rated products. KAC's SEM and SEO campaigns ensure that their product comparison page is listed on page 1 of the search engine results page. Jane clicks on a link which takes her to a KAC landing page where she can watch a video about the coffeemaker, read actual customer reviews from KAC's social media feed, and download a sleek brochure that covers features and benefits of different models.
In the Capture stage, Jane's interest is piqued but she's not ready to buy. A cookie on her browser lets KAC re-target her with display ads as she's surfing the web over the next few days, and she eventually clicks on an ad that takes her to another landing page where she signs up for a KAC e-catalog. KAC's email automation technology immediately sends her an email with a link to the catalog and schedules a series of nurture emails with compelling offers and CTAs.
In the Convert stage, Jane eventually responds to an email that takes her to a product page where she purchases the coffee maker.
And in the Optimize section of this campaign, KAC's marketing team uses dashboards to analyze KPIs that provide information about the cost of acquiring customers like Jane, about those customers' paths to conversion, about the performance of different marketing vehicles on each step in their journeys, and about which aspects could be improved to accelerate and increase conversions.
Crafting the Customer Journey
Today, in order to be a great marketer, one must truly be able to visualize an end-to-end customer journey and experience – and then you need to make it happen! You need to understand how all the media, marketing stack components and action-oriented creative of modern marketing fit together.
Access Now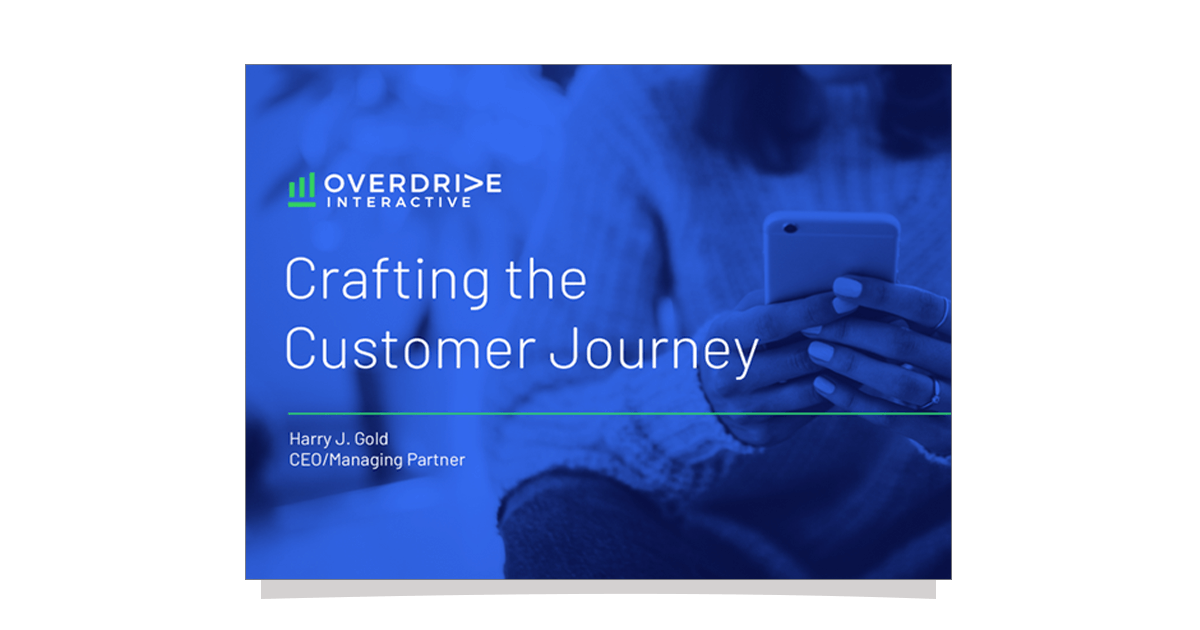 Trends in Integrated Digital Marketing
Integrated digital marketing is constantly evolving, and new trends and best practices are constantly emerging. Here are some of the most significant things to consider as you plan your integrated strategy:
The customer mindset is key. Too often, companies think about marketing from the perspective of what they want to say, rather than what customers need to hear at each stage of their buying journey. For each buyer persona you develop, it's important to understand a customer's wants and needs before they enter the sales funnel and as they move their way through it, providing them with messaging, offers, and calls to action that resonate with their mindset at each step.
Omnichannel marketing is essential. Multichannel marketing – the practice of making sure that customers can engage on any channel – is no longer enough. Marketers must enable omnichannel engagement, where customers can move seamlessly between channels without missing a beat and experience a consistent and relevant shopping experience no matter where they go.
Mobile is everything. Mobile technology is quickly eclipsed other forms of customer engagement and is poised to dominate the shopping experience in nearly every category. Ensuring that all elements of your campaign – from your website, landing pages, and email to your display ads and social content – are optimized for any screen size is critical to delivering an exceptional customer experience on mobile devices.
Customers want video. Users increasingly prefer video content over text as they research products and engage with brands. The average user spends 88% more time on a website when there is video present. Integrating video into websites, landing pages, social content, and email will be essential for any successful digital marketing campaign.
Voice search is the future. By 2020, voice search is expected to comprise half of all web searches. This has significant applications for the way that companies structure the SEO and SEM parts of their integrated campaigns.
Native advertising is rising. Native advertising – where ads are displayed within social media feeds and websites as "recommended posts" or "recommended reading" – are finding success as users increasingly avoid ads that feel intrusive or that disrupt their online experience.
Marketing Minute Video: Understanding Integrated Digital Marketing
Today it's not enough to just understand search engine marketing (SEO and SEM), online media, persuasive creative, or even marketing analytics. Watch Harry J. Gold, CEO of Overdrive, explain how all the elements of digital marketing work together, so you can succeed!
Access Now
Untangling Your Integrated Digital Marketing Technology Mess
Marketing technology, or martech, plays an incredibly important role in integrated digital marketing campaigns. From CRM systems, CMS platforms, and lead scoring applications to technology for social media publishing, SEO analytics, and email automation, ensuring that your technology is working correctly is essential to achieving success and ROI.
But too often, the technologies that companies adopt are improperly configured, poorly monitored, and inadequately integrated, creating glitches, obstacles and information silos that prevent cross-channel marketing success. All your investment in converting a prospect to a qualified lead means nothing if a contact's info isn't passed on to a salesperson, or a critical piece of email communication isn't triggered, or data about the contact's history and buying intent isn't accurately recorded in a CRM system.
By untangling the mess in your martech stack and integrating technologies, you enable the free flow communication that powers a data-driven integrated digital marketing campaign. When your martech stack is working well, you can:
Optimize engagement to convert prospects to leads, leads to sales, sales to loyal customers.
Engage with and track customers throughout the entire buying journey.
Measure performance and track ROI of each aspect of your integrated digital marketing campaign.
Quick Start Marketing Automation Seminar – Video & Slides
By now, most organizations have taken the first step in marketing automation, acquiring an enterprise class marketing automation system such as Act-On, Eloqua, Marketo, Aprimo, or Pardot. However, very few organizations are actually taking advantage of the rich features these platforms offer.
Access Now
Integrated Digital Marketing Services from Overdrive
Overdrive provides comprehensive services that complement the skills of in-house teams to successfully manage and execute integrated digital marketing campaigns. Our services include:
Paid search marketing (SEM). We provide keyword planning, ad copy, bid management, and landing page development to reach prospects as they are searching for your products and services.
Search engine optimization (SEO). Our team identifies SEO opportunities, develops keyword strategies, and optimizes action plans and conversion to increase SEO success.
Social media and paid social media management. We help to plan strategy, develop social channels and social profiles, create content, and manage paid ads on social platforms.
Marketing automation. Our team configures and manages marketing automation platforms to enable clients use triggered events, lead scoring, behavioral analytics, and segmentation in their integrated digital marketing campaigns.
Conversion optimization. Our specialists analyze and test every aspect of the buyer's journey – including web pages, landing pages, emails, offers and calls-to-action – to optimize efforts and improve conversion rates.
Online media. Our teams plan, buy, and manage online media and advertising, including programmatic, native, video, and display advertisements.
Technical integration. Our specialists analyze and configure martech stacks to integrate systems and ensure that everything is working properly.
Content and web development. Our creative teams help to produce compelling content for B2C and B2B content marketing, while our web development teams balance messaging, content, and design to deliver exceptional customer experiences.
Account-based marketing. For business customers, we help to define audiences, deploy always-on ABM campaigns to reach them, develop content to nurture them, and offers and CTAs to convert them.
Dashboard development and reporting. We design and implement dashboards and reports that provide constant feedback on critical metrics.
FAQs
What is integrated digital marketing?
Integrated digital marketing is the practice of combining multiple marketing disciplines to create a cohesive online presence and consistent digital communication with prospective customers.
What are the benefits of integrated digital marketing?
Integrated digital marketing enables all the aspects of digital campaigns – including SEM, SEO, online media, social media, email marketing, websites, and more – to work together to provide an exceptional online experience for prospective customers. As customers move between channels, an integrated digital marketing campaign enables companies to easily follow them and to provide consistent and compelling messaging and offers no matter where customers choose to engage.