Google Ads & Bing Ads Account Creation
Google Ads is Google's pay-per-click (PPC) advertising system where advertisers can bid on specific keywords to have their short, clickable ads appear in the platform's search results. It also comes with a suite of scale-able advertising options, including geographic focusing and retargeting. Unlike other PPC platforms (such as Facebook), however, Google Ads provides advertisers with two basic methods for reaching their audience: 1) through the Google Search Network, and 2) through the Google Display Network.
Bing Ads: Bing Ads, at the end of the day, can be seen as Microsoft's answer to Google Ads. In fact, they both function virtually identically! You can even sync your Ads campaigns directly into Bing if you like. The key difference between the two is that while Google Ads lets you publish ads on the Google search network and their partner networks, Bing Ads enables you to publish them on (naturally) the Bing search network and its partner networks, Yahoo! and AOL – you simply bid on your chosen keywords, like you would with Google. Also similar to Google Ads, Bing Ads will also display along the top, bottom, or sides of the search engine results page (SERP).
So if you're interested in checking all the boxes and setting up your accounts for maximum return, the Paid Search team here at Overdrive Interactive is ready to partner with you. Click to know more about our media planning and management services.
FAQs
How do I create a Google AdWords ad?
First you will need to setup a Google Ads account. From there, you can insert your ad copy, CTA's, and imagery if needed.
What does AdWords cost?
Google Ads cost varying amounts based on the industry you are on, but the average CPC (Cost Per Click) on any given ad ranges from $1 to $2.
How do Bing ads work?
When you create an ad on Bing, you are essentially bidding on specific keywords that are relevant to your ad. Once a user clicks on your ad, you will pay a certain amount to Bing which varies depending on how competitive a keyword is.
This definition is part of the Demand Ops Map. Get your PDF map with links here.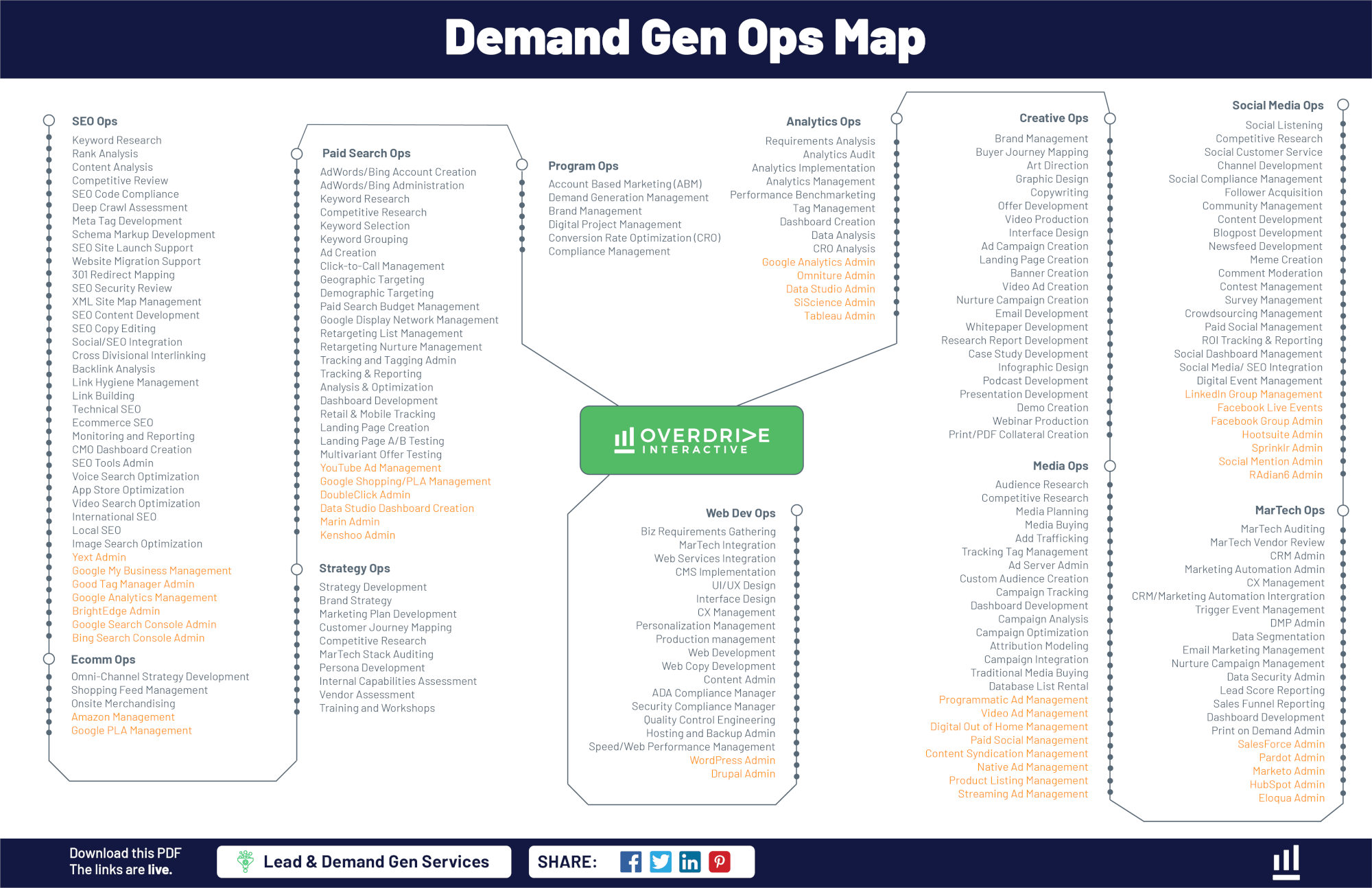 Click here to get the Demand Ops Map
Knowledge Center
Learn. Share. Succeed.
Benefit from our Demand Gen Expertise
Take action. Achieve your goals.