Before you begin down the road of designing/developing a new business intelligence tool, the very first prerequisite you need to fulfill is the requirements gathering process, which includes the collection of knowledge, information, goals, and challenges with the goal of fully understanding what you need in order to create an effective and powerful analytic dashboard/portal. Whether you find yourself looking to create a single chart, a BI dashboard or an analytics hub, you can begin by first identifying the required participants, those who can bring the most to the table and contribute to the project's success (this might include stakeholders, end-users, data scientists, consultants, and executives, to name a few). Once you've gathered your people together, begin talking with them about the project, mostly keeping an ear open for what they have to say and obtaining their unique insights and perspectives. Using this information, you will then be able to construct fictional "personas" for each of them, and then develop unique questions that these individual personas might have, which your analytics can then help answer.
Through the process known as Scenario Mapping, you can discuss and then map out, step by step, how each of these persona questions can be answered inside a BI dashboard (for example: could a user find their answers at the top of the dashboard via a KPI summary, or would a specific chart work better? What are the steps the user will take to find the information they need, and what will they need to do if they run into a problem/error?). These can also be grouped together in similar categories, for ease of review. And finally, the last thing you'll want to do is determine whether your existing data is going to be able to support your goals. Try and measure each of your persona questions against your current data, and decide if your data can answer the questions on a consistent basis. If your current data isn't able to properly answer some of your questions, make a note to try and answer those in later versions of your dashboard. Once you've reached this point, you'll be pleasantly surprised to see a realistic view of your first dashboard beginning to manifest!
So before you dive headfirst into strategy development, let our analysts and strategists at Overdrive work with you to help build personas that increase success rates and make your marketing strategy more effective. Click to contact us.
This definition is part of the Demand Ops Map. Get your PDF map with links here.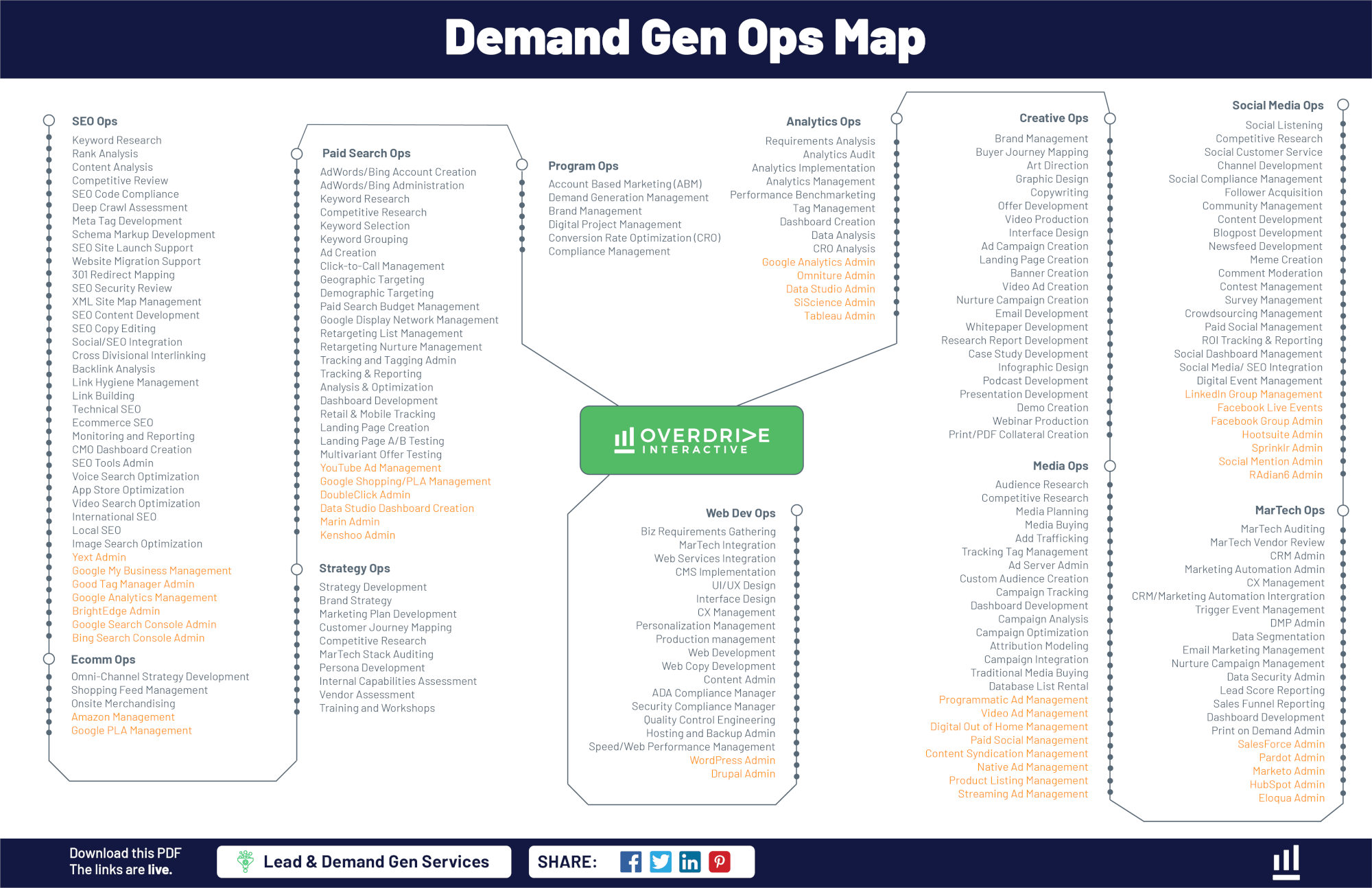 Click here to get the Demand Ops Map
Knowledge Center
Learn. Share. Succeed.
Benefit from our Demand Gen Expertise
Take action. Achieve your goals.