Sales funnel reporting is a step-by-step tracking of your company's sales process. It provides insights into your team's strengths, weaknesses, and progress over time. Ultimately, your success rests on your weakest opportunity stage.
In essence, the sales funnel report shows you your total sales opportunities and broken down by stages.
Typical Sales Funnel Stages:

Lead (or Suspect)

: A lead (sometimes called a suspect) is an individual that has not been approached yet by the sales team. If the lead has a profile matching your business's target customer, perhaps that lead is worth pursuing. Keep track of where you find your most productive leads (the ones that turn into customers).

Prospect

: A prospect is someone that has directly expressed interest in one of your products or services. You have spoken with this person and provided them information about your offerings, and you have both agreed to move on to the next steps.

Qualified prospect

: The most important (and most demanding) sales funnel stage is qualification. To qualify a prospect, you must verify that the prospect 1) needs your product, 2) thinks your product has value, 3) has enough budget for your product, 4) is the decision-maker (or has access to that person), and 5) has agreed to the timeline of your sales process. Qualifying can be complicated and often takes a long time. A stakeholder management chart and Sales Call Talk Track can help keep the process organized.

Committed

: When the customer agrees to proceed with a sale, they are considered "committed." (This stage is also sometimes called "verbal commitment" or simply "verbal.") There may still be some outstanding red flags at this point in the deal, but the client should at least have a proposal in hand outlining key terms in the contract. The next step is to draw up the contract details, including payment and delivery. It's still possible for the client to back out of the deal if you cannot reach an agreement on one or more of these details.

Transacted

: The "transaction" is completed once both parties sign the contract. Generally, at this point, the salesperson moves on to another opportunity, while contract fulfillment is handled by other departments in the organization. However, in some early-stage start-ups, the salesperson is involved in contract fulfillment, as well. Once the contract has been signed, an accountant can book the sale as revenue.
Let's work together to help effectively track your sales process and leads, giving you a clear understanding of your pipeline and the most effective sources. Click to contact us.
FAQs
What are the stages of a sales funnel?
The sales funnel is a visualization for the sales process from initial contact to final sale. The funnel typically has five stages: lead, prospect, qualified prospect, committed and transacted.
What is the difference between a sales pipeline and a sales funnel?
A sales funnel is the process by which you categorize potential customers based on how much they have engaged with your company, whereas a sales pipeline is mainly just the amount of leads that are coming in.
Why are sales funnels important?
Sales funnels are important because they provide an effective visual for understanding your customer's journey of the buying process. Effective sales funnels will eventually turn your new website users to newsletter / email subscribers, and then ultimately, buyers.
This definition is part of the Demand Ops Map. Get your PDF map with links here.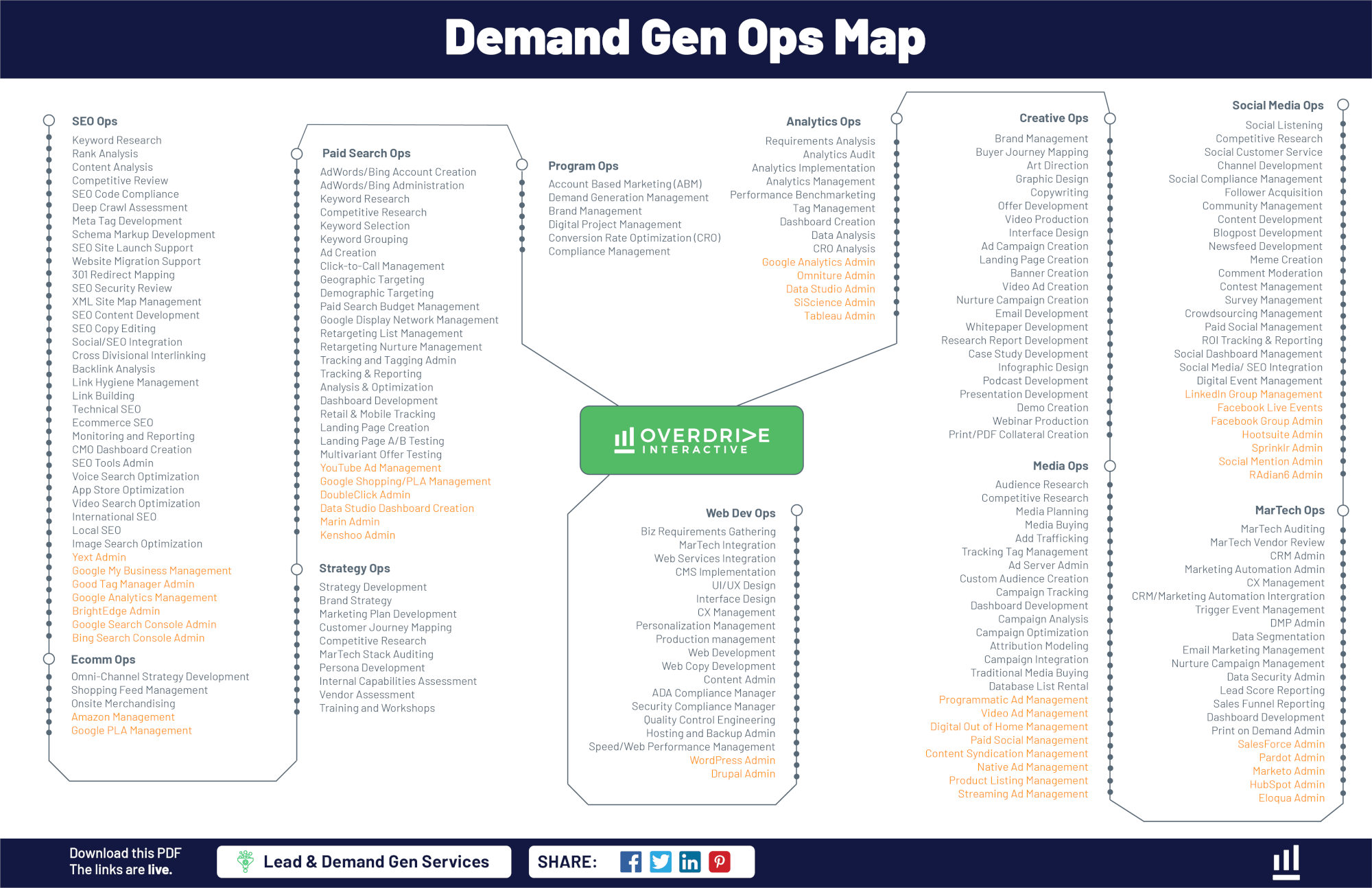 Click here to get the Demand Ops Map
Knowledge Center
Learn. Share. Succeed.
Benefit from our Demand Gen Expertise
Take action. Achieve your goals.