Social Media Comment Moderation
Comment Moderation refers to monitoring and keeping track of outside user dialogue/narrative on your blog or other web and social platforms like Facebook, Instagram or Twitter. Comment Moderation is extremely vital, as it works to ensure that all of your users are equally able to interact with your brand in a (hopefully) positive way, and to have a favorable experience. Neglecting Comment Moderation can potentially open the door for negative interactions as well, such as hateful speech, inappropriate conduct, and spam to come in, completely taking over your platforms' comment sections. Naturally, these things can prove to be hurtful to a brand's image overall, and can even discourage potential customers from engaging with it, ultimately leading to declining social media performance and less business.
Different Types of Comment Moderation You Can Implement:
Spam filters

– programs that usually come pre-configured to eliminate certain types of spam encountered online (such as messages containing words like Rolex, Versace, Viagra, Poker, along with certain lewd words and phrases). Some spam filters also enable you to manually add/remove your own set terms, which will then trigger the spam filter as soon as they come in. Some software also allows you to "teach" these filters what to look for overtime, as you send certain types of comments to the spam section, or conversely as you rescue real comments from the spam section.

Pre-comment moderation

– here, you can set up your software to send out an email notification whenever someone has attempted to post a comment. You will then navigate to the dashboard, read over and check the comment yourself, and then decide whether the comment can go up, be deleted, or sent to the spam section for the spam filter to learn from.

Post-comment moderation

– here, all user-submitted comments get published, but you will be notified via email of each one. This allows you to react quickly and, if necessary, delete or send an offensive/inappropriate comment to the spam section. Sometimes, if someone is posting a comment for the first time, their comment will be held back for moderation and approval – but if that person's first comment is approved, then their next comments will automatically go through.

Sophisticated, graded moderation

– in more recent years, a good number of sites out there have begun experimenting with more layered, interactive approaches to commenting systems. This allows features like "upvoting" and "downvoting" comments (so that upvoted and popular comments get moved closer to the top of the comments section, while downvoted comments conversely head down, and may even become invisible), or granting special badges, icons, and privileges over time to valued commenters, so that their comments might automatically appear at the top of the comments section, along with a special color of text, or perhaps a special icon/badge. Giving users the option to report inappropriate comments to moderators is also a popular option, and some sites are also experimenting with having "annotations" instead of comments.

Engagement

– the biggest and most important aspect of Comment Moderation, however, is having the "author" be present and participating in the comments. When the author joins the readers in their discussion, responding to them and showing that they are acknowledged, heard, and respected, this can be a great way to keep the discussion on-topic, build an organic sense of community, and keep things civil.
Does your brand actively post blogs and social media content? If so, a comment moderation program and partnership with Overdrive Interactive could ensure long-term success with your community and help guard against potentially harmful and negative engagements. Click to know more about our Social Media Services.
This definition is part of the Demand Ops Map. Get your PDF map with links here.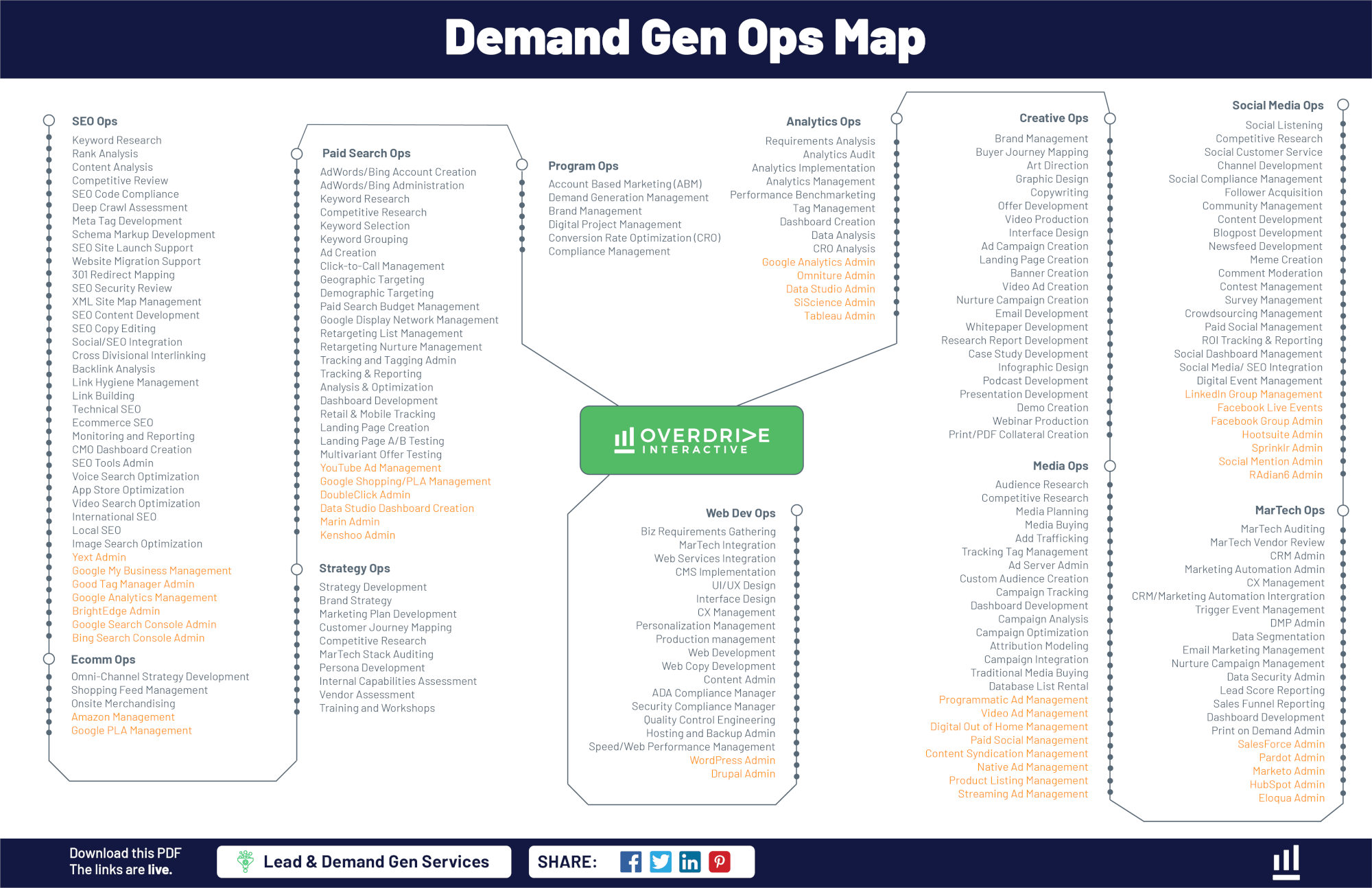 Click here to get the Demand Ops Map
Knowledge Center
Learn. Share. Succeed.
Benefit from our Demand Gen Expertise
Take action. Achieve your goals.