Re-targeting List Management
Retargeting, AKA "remarketing", is the process of contacting previous visitors to your site or app, oftentimes through the use of display ads or by sending out emails. This method is quite effective and can take place across a wide range of marketing channels, such as search, display, social, and email. In fact, you can even opt to display your ads in places that users often like to visit, including the biggest social networking sites. Retargeting creates a unique opportunity for recapturing the attention of potential leads or customers if they originally clicked off of your site without ever converting or otherwise meeting one of your marketing goals, and enables you to connect with them repeatedly, personalize your marketing for them, and increase your conversion rates. 
However, it should be noted that with most of these channels – like search and display advertising – in order to make retargeting work properly and to its fullest potential, your users need to enable cookies on their browsers (small files stored on their devices that enable you to both track user behavior as well as analyze traffic). By having your users allow storing cookies, which then tags them with a unique identifier, you will then be able to use analytics platforms to figure out whether or not users completed a particular conversion goal, such as checking out from their shopping cart or successfully filling out a form. If you discover that these users haven't achieved a certain conversion goal, you can then implement retargeting, in order to show them your ads once again on the next site that they visit.
So whether you want to track your user's habits and organize them to make your efforts more effective, or need to create a conversion generating re-targeting program from scratch, Overdrive Interactive is ready to help. Click to know more about our Paid Search Marketing services.
FAQs
What is a remarketing strategy?
Remarketing (sometimes known as re-targeting) is the advertising technique where ads are displayed to users who previously engaged with your brand. Remarketing is used to attempt to move these users further down your sales funnel.
How do I create a remarketing list?
To create a remarketing list, first be sure to sign in to Google Ads. From there, you can click the tools icon, shared library, audience manager, and then audience lists.
What is the minimum audience list member's size for a remarketing campaign to serve?
Remarketing lists using Google Display Network (GDN) need to have at least 100 active users within the last 30 days in order for your ads to be live. Remarketing lists that target Google search need to have at least 1,000 active users to appear.
This definition is part of the Demand Ops Map. Get your PDF map with links here.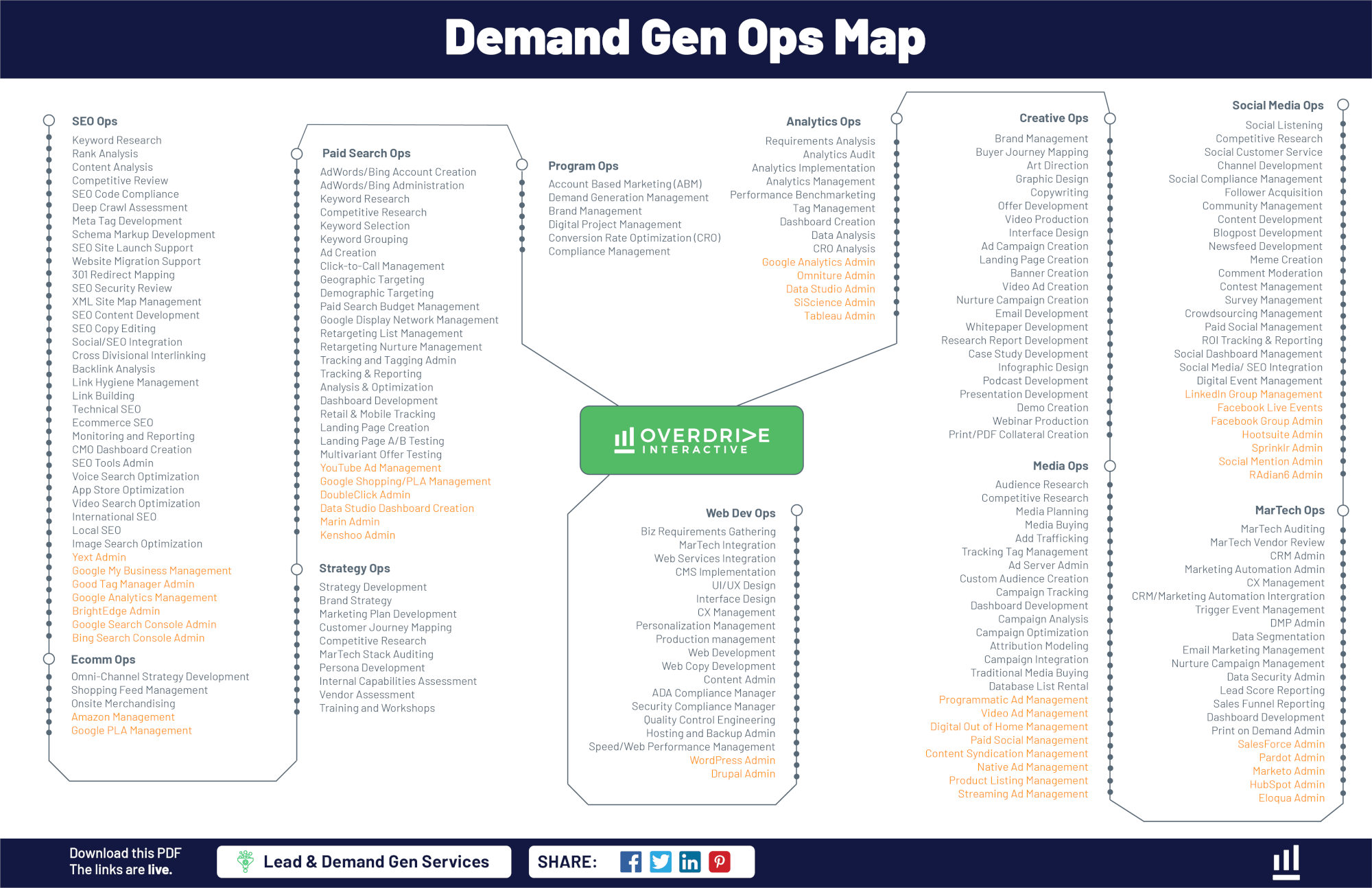 Click here to get the Demand Ops Map
Knowledge Center
Learn. Share. Succeed.
Benefit from our Demand Gen Expertise
Take action. Achieve your goals.