In essence, sitemaps are files that are able to provide a search engine with information that has to do with pages, images, and videos, as well as other types of files on your site, and the unique relationships they share. Search engines like Google and Bing are able to use this information that they obtain from the sitemap to then crawl through the entire contents of your page – which will prove to be an extremely important factor in determining your ranking within those search engines.
"Boiled down to their absolute basics, site maps act as instructions allowing search engines to discover your pages quicker and more accurately than ever before."
Sitemap management helps to ensure that your site has all the necessary framework for helping Google crawlers to navigate it – especially if your site is rather large. If you're building a new page and launching a product, for instance, then sitemap management will enable crawlers to travel and scan all these new pages easily, ensuring that all of your links are coming from consistent URLs, and testing the site map just to make sure there aren't any unwanted errors or frustrating broken links. This process also works to confirm that all third-party and content management tools stay on course, continually updating and providing the most accurate, up-to-date version of your current sitemap. If you don't keep track of this, then this could cause your site to send out inaccurate, out-of-date data to search engines like Google or Bing, which would end in the site beginning to lose its online ranking status.
So if your organization has a huge site, or you simply want to ensure your sitemap is always maintained perfectly, don't hesitate to contact Overdrive Interactive. We've got years and years of experience managing sitemaps for large organizations with complex web operations. Click to contact us.
FAQs
What is a sitemap XML used for?
A sitemap XML file essentially informs search engines of where important content on your website lives. Additionally, it allows search engines to more easily crawl and index your website.
What should be in an XML sitemap?
All pages with important content on your website should be included in an XML sitemap. You can also setup different sitemaps for images, blog posts, news, videos, and more.
How do I find an XML sitemap?
The most common location of a website's XML sitemap is the domain name plus "sitemap.xml" added to the end. Example: https://www.example.com/sitemap.xml
This definition is part of the Demand Ops Map. Get your PDF map with links here.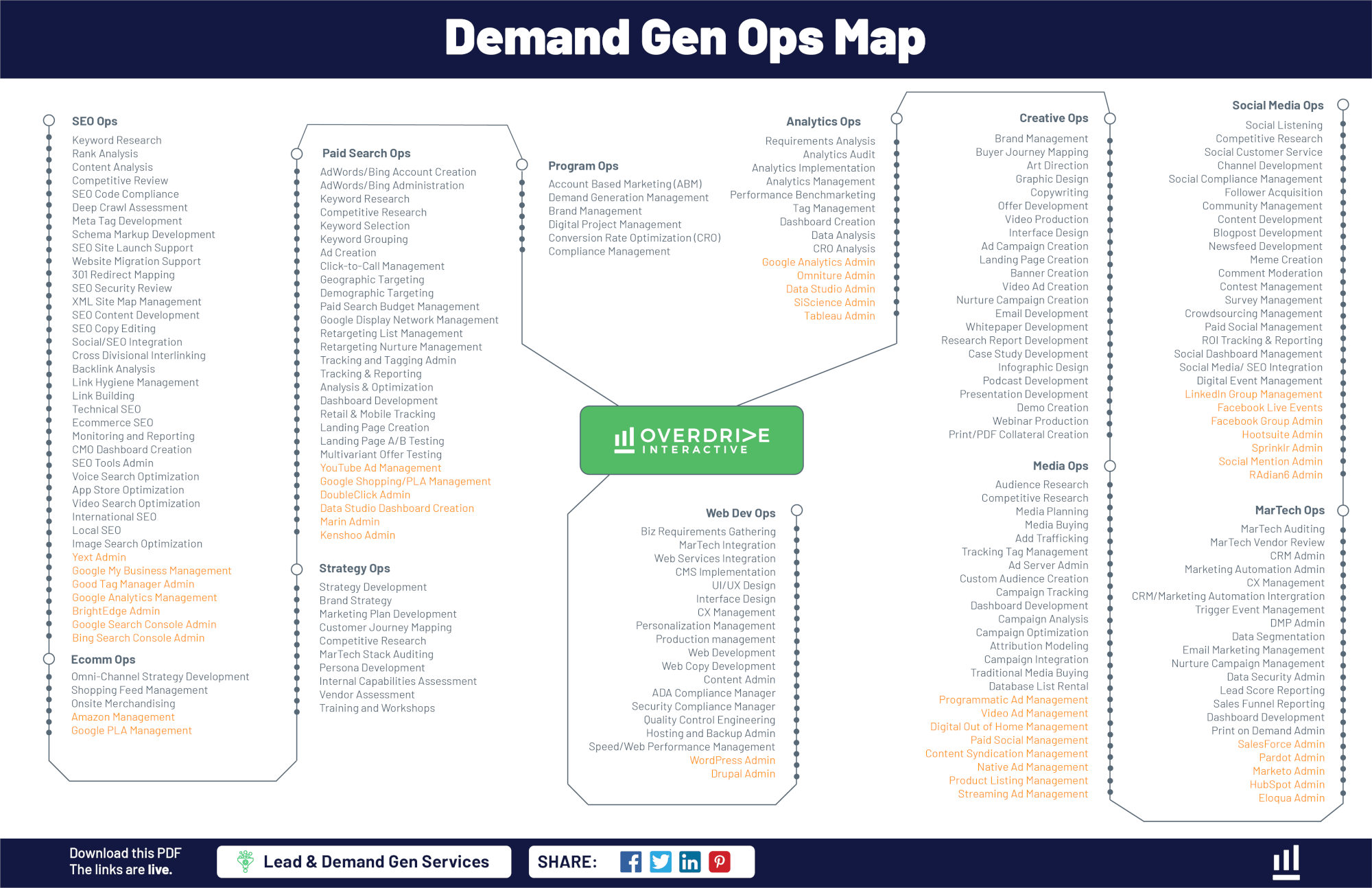 Click here to get the Demand Ops Map
Knowledge Center
Learn. Share. Succeed.
Benefit from our Demand Gen Expertise
Take action. Achieve your goals.