Demand Generation Management
According to Wikipedia, demand generation is "the focus of targeted marketing programs to drive awareness and interest in a company's products and/or services". HubSpot defines it as programs that "help your organization reach new markets, promote new product features, build consumer buzz, generate PR, and re-engage existing customers".
Let's synthesize those definitions: Demand generation is a data-driven marketing strategy that uses technology to ensure that potential customers are aware of and are interested in your company's offerings. An effective demand generation program takes into account every interaction in the customer's journey, from an anonymous webpage or store visitor to a satisfied customer.
The Demand Generation Manager is responsible for the following:
Develop and execute multi-channel campaigns (short- and long-term) to generate leads and keep the sales pipeline flowing

Lead A/B testing across all relevant channels

Monitor and optimize programs and campaigns

Develop customer personas, and understand their buying habits

Know the business's brand and its products from end to end

Assist with content development, with an eye toward targeting consumers in all phases of the consumer lifecycle

Work as a team with digital marketing staff and other departments (including sales and content) to design and strengthen strategies

Identify untapped markets and new advertising methods to enhance business growth

Assure buy-in and budgetary support from top leadership and relevant stakeholders 

Measure and analyze marketing campaign success

Deliver performance analysis reports to relevant leadership and other interested departments
So if you feel like your organization has been struggling with demand generation, let our experts here at Overdrive work with you and your team to maximize revenue. Click to Contact Us.
FAQs
What does demand generation mean?
Demand generation is simply the generation of demand for a company's services / products. Demand generation is one of the many branches of marketing that helps improve product awareness and ultimately, revenue.
How do you become a demand generation manager?
Typically, a demand gen manager holds a bachelor's degree in marketing or a related field. They also have at least 4-7 years of marketing experience, specializing in marketing automation or content development.
What is Demand Generation vs. lead generation?
Lead generation deals more with nurturing existing leads and moving them further down your sales funnel, while demand generation is more about acquiring further demand (and leads) for a specific product or service.
This definition is part of the Demand Ops Map. Get your PDF map with links here.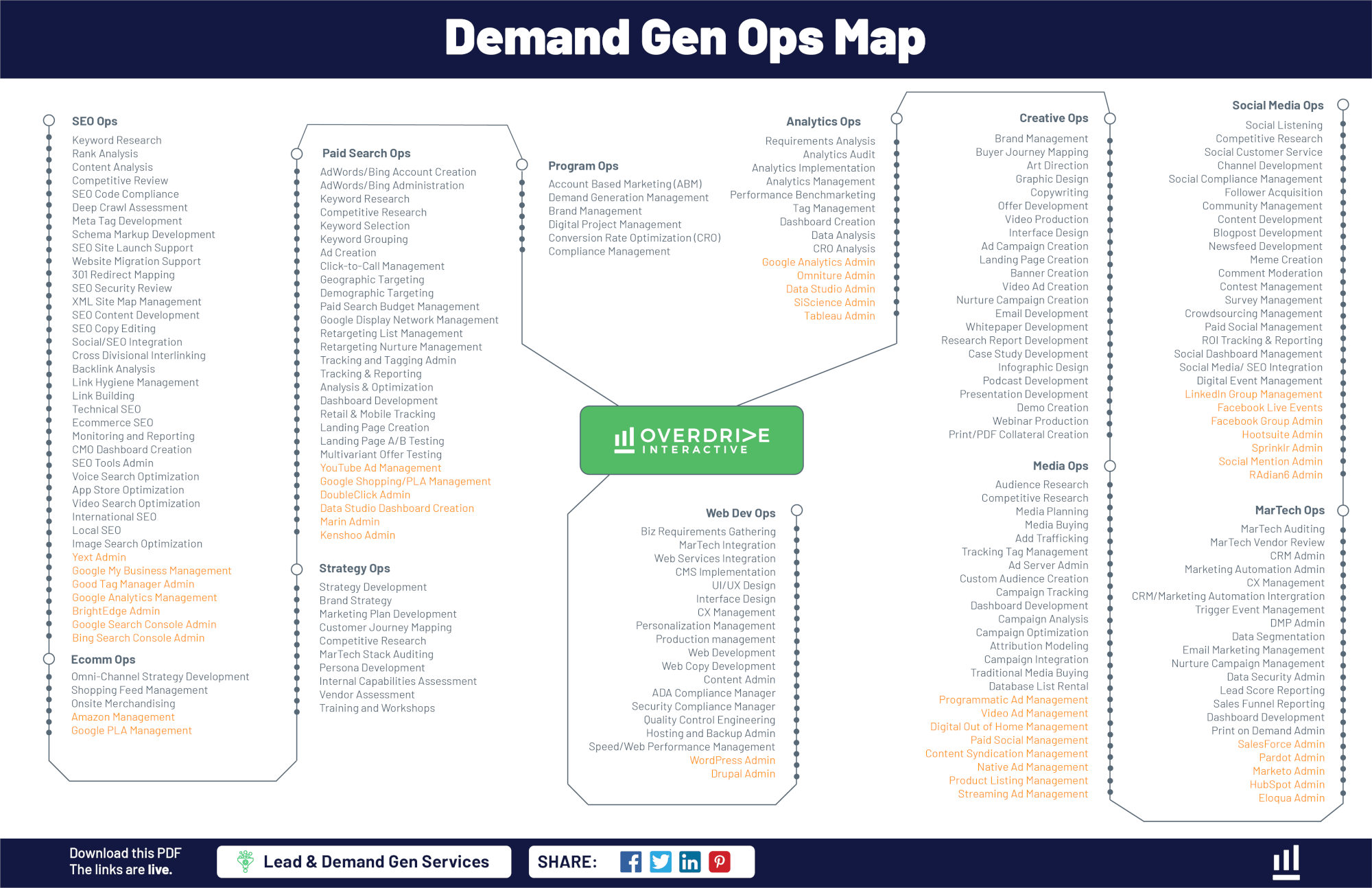 Click here to get the Demand Ops Map
Knowledge Center
Learn. Share. Succeed.
Benefit from our Demand Gen Expertise
Take action. Achieve your goals.