Digital Project Management
Digital Project Management, like standard project management, is an efficient way of administering projects (including resources, vendors, and staff) from start to finish, on schedule, and within budget. 
You do this by: 
Using organizational, creative, time management, and technical skills, 

Providing appropriate maintenance and support, and, 

Working closely with developers, designers, and other professionals as a cohesive team to achieve a successful outcome.

Simply put, digital project managers ensure that all project elements are flowing smoothly by designing and executing projects plans, budgets, and schedules, assigning deadlines and tasks, scheduling regular check-ins, clearing obstacles, escalating problems when needed, and providing status updates to executives and the PMO (Project Management Office) Director.
Initiatives and projects that fall within digital project management include: 
Website Development 

Content Creation and Marketing 

Lead Gen Programs

Demand Gen Programs

Media Planning & Management 

Search Engine Marketing (SEM)
Account-Based Marketing

Social Media Marketing
Do your projects, deadlines and digital campaigns feel chaotic and struggle to meet deadlines? Let Overdrive guide your teams with our expert digital project management and bring some organization and structure to your digital projects. Click to contact us.
FAQs
What is digital project management?
Digital project management involves planning, delegating, tracking, reviewing, and measuring results — typically this is all done using project management software.
How do I become a web project manager?
Most digital project managers have a bachelor's degree, as well as a couple of years experience as a PM (Project Manager).
Why are project managers important?
Project managers are important because they bring a sense of organization, leadership, and structure to your various projects. Additionally, they bring accountability into play, by clearly discussing the responsibilities of each team member.
This definition is part of the Demand Ops Map. Get your PDF map with links here.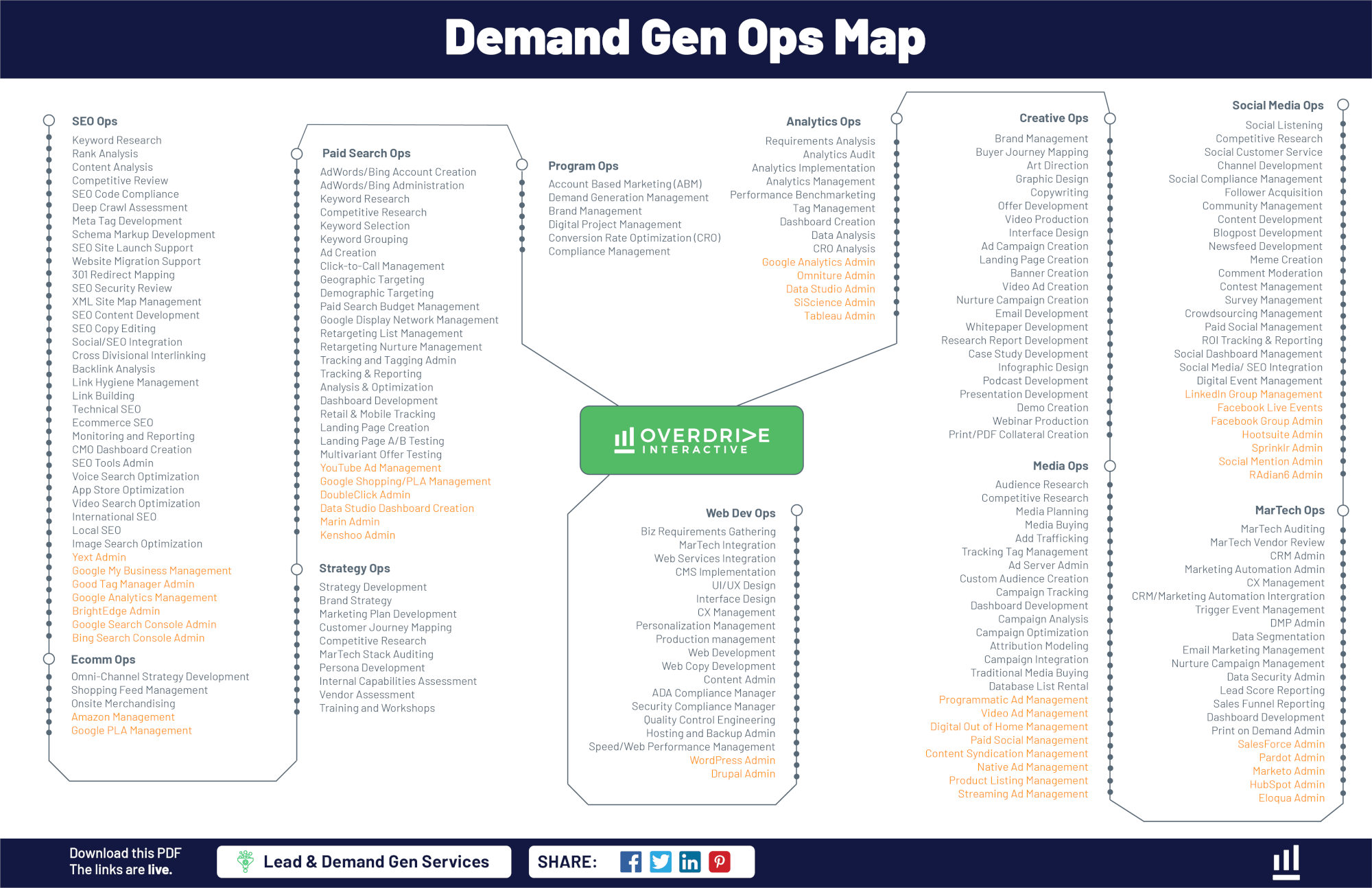 Click here to get the Demand Ops Map
Knowledge Center
Learn. Share. Succeed.
Benefit from our Demand Gen Expertise
Take action. Achieve your goals.