MarTech, or Marketing Technology, refers to technologies or platforms that marketers use to plan, measure, and execute marketing campaigns. It is necessary to periodically audit your organization's MarTech Stack to ensure that you are making the best use of your tools and the integrations originally put in place are still functioning. A MarTech Stack Audit is a thorough check of all users, tools, needs, costs, integrations, and most importantly, benefits of your MarTech.
In large corporations, the collaboration between departments and teams is vital to the company's success. In most cases, this means these companies already have a great deal of technology in place to enable marketing, analysis, and growth. Without regular MarTech audits, the inevitable proliferation of ineffective, redundant tools could damage your business's bottom line and overwhelm your marketing efforts.
If you're feeling overwhelmed by, or have lost track of the tools and effectiveness of your martech stack, we'd be more than happy to work with you to run an audit and see where your company stands. Click to Contact Us.
FAQs
What is Martech stack?
A Marketing Technology (MarTech) stack is a collection of tools and technologies that marketing teams use to optimize their marketing processes through all phases of the customer lifecycle. Many CRM marketers frequently work with MarTech.
How do you make a Martech stack?
When making a MarTech stack, you should first figure out what you will need. It should be laid out in a way that makes sense, works effectively, and most importantly, provides an improved customer experience.
What is the difference between MarTech and AdTech?
AdTech refers to paid media, while MarTech focuses on free channels (social media channels, email, SEO, etc.) as well as methods applicable to nurturing existing customers.
This definition is part of the Demand Ops Map. Get your PDF map with links here.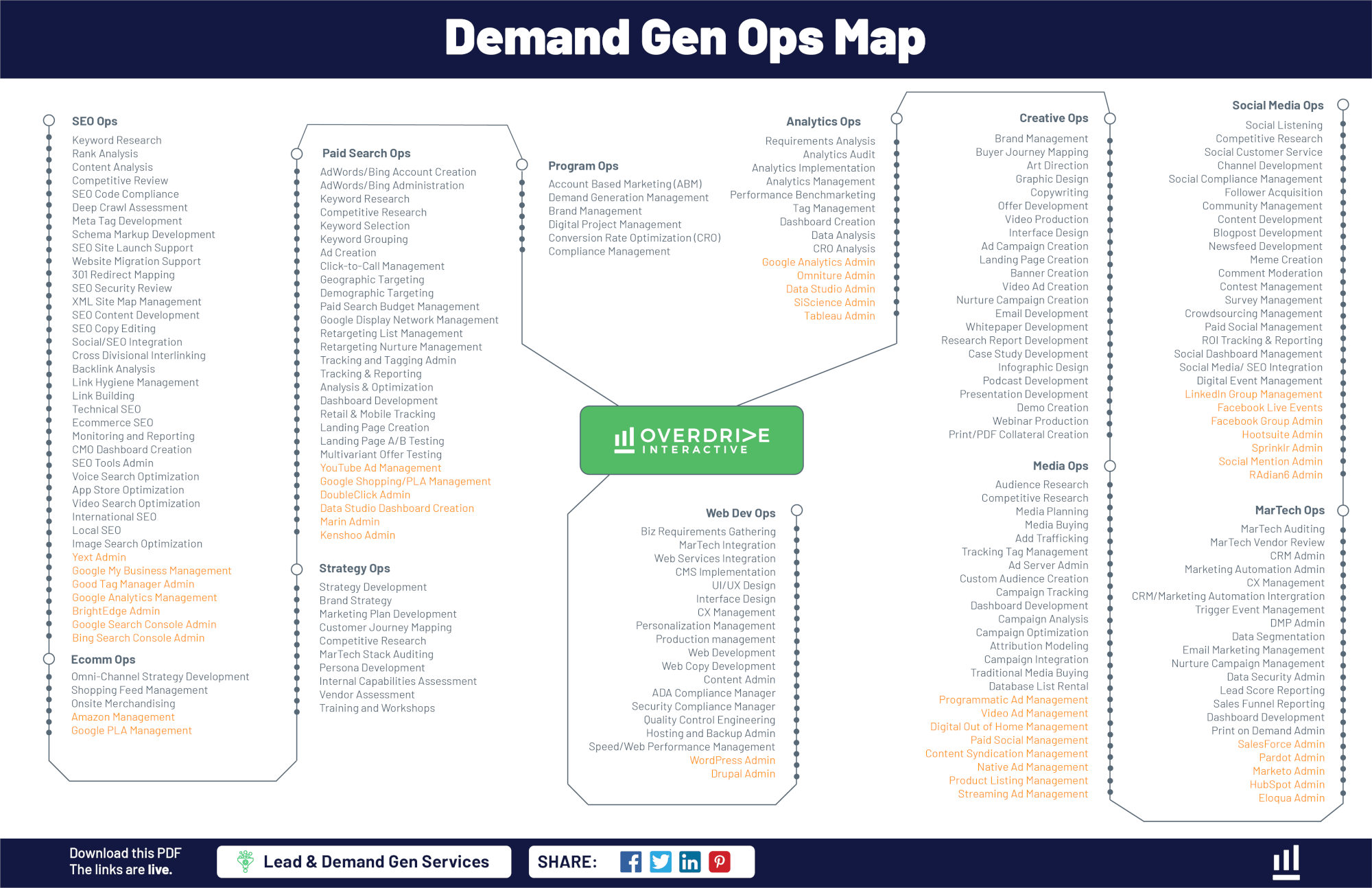 Click here to get the Demand Ops Map
Knowledge Center
Learn. Share. Succeed.
Benefit from our Demand Gen Expertise
Take action. Achieve your goals.