Like a lot of things in life, timeliness can be of the utmost importance. This is particularly true in paid search campaigns. Timing campaigns properly to take advantage of surges in targeted traffic can yield huge dividends for advertisers who plan accordingly.
We are presently in late October, which here in Boston means one thing: World Series time for the Red Sox. Not surprisingly, the terms "red sox", "cardinals", and "world series" have all had a huge spike in traffic over the last 30 days:
This spike in traffic provides a load of opportunity for sellers of baseball merchandise, especially given that Boston and St. Louis comprise two of the biggest fan bases in sports. But to my surprise, and hopefully some merchandiser's gain after this post, nobody is bidding on these terms!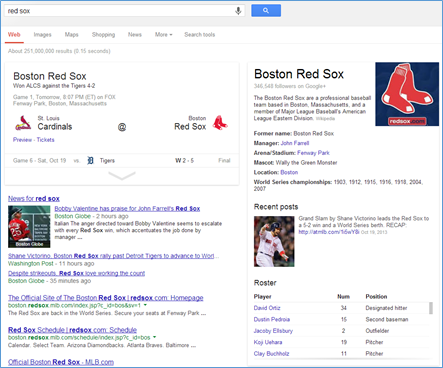 At first I thought maybe Google favored its "knowledge graph" (which pulls in the typically highly relevant data you see at the top and right of the above results page) over paid ads. But a search on "red sox schedule" shows paid ads above the organic content.
It's important to note that there are some merchandisers bidding on "red sox shirts"…
… but the low-hanging fruit that is the term "red sox" far outpaces "red sox shirts" from a search volume standpoint (not to mention a far lower suggested cost-per-click bid):
As with many paid search campaigns, proper timing and a well-structured search plan can reap very tangible, profitable results. In this instance, it could have (and still can!) quickly and fairly simply drive a hoard of relevant, targeted traffic to an e-store for massive revenue gains.
So to summarize, while timing is sometimes difficult (you didn't know the Red Sox were going to make the World Series), being proactive (you did know they were in the playoffs over two months ago) rather than reactive can help you realize significant returns.