With the closing of Google's Relatime search feature, Topsy.com is about to become the leader in social search.  Google's contract with Twitter expired over the Fourth of July weekend but Google says they are going to integrate the feature into Google+. The contract gave Google access to Twitter's live "firehose" of public tweets. Microsoft's search engine, Bing, still has a deal with Twitter; however, Bing only controls about 30% of the market of Twitter's public tweets whereas Google had 65% of the market. In addition, Bing, unlike Google Realtime, does not archive tweets older than three days.  Overall, the abrupt stop in Google Realtime and the lack of sophistication in Bing's real-time program is opening the door for Topsy.
Topsy, which has been around since 2006, is a real-time social media search engine "powered by the largest searchable index of Twitter data." With Google's contract with Twitter expiring and without any current real-time search software, Google is handing Bing an advantage in real-time search. Two years ago, Google was excited about their collaboration with Twitter in creating an evolution in information access.  Now, Google is taking steps backward.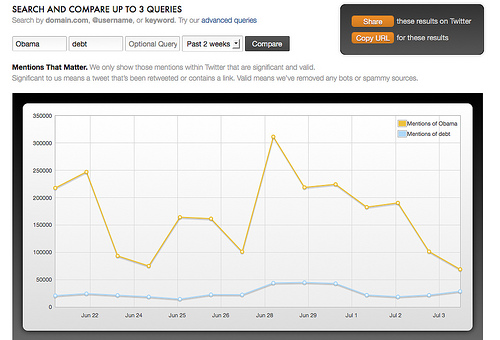 Google, and even Bing, could benefit from Topsy's real-time search engine database. Topsy currently implements their real-time search program onto sites giving them access to searchable, real-time topics.  Benefits with Topsy include an enhanced consumer experience as user engagement increases with real-time searchable content, and, increased monetization.  Integrating Topsy real-time increases page views for target keywords, producing more revenue. In addition, Topsy offers trend analytics, as shown in the graph above, to compare up to three keywords to see correlations. With Bing's contract with Twitter, Google no longer has any access to real-time information resulting in a loss of market share.
Google and Topsy could become a powerful alliance if they decide to work together. Further, whether Google teams back up with Twitter, or reaches out to Topsy, it is crucial that Google reintegrates a real-time program either into Google+, or separately. Do you think Google should work with Topsy in order to bring back real-time search?
Related Posts:
Googlebots Get Even Smarter
Google+ Introduces Real-Time Search & Hashtags
Google Strengthens Patent Portfolio through Acquisition of Motorola Mobility